CO-OP Ramen House now open at 8th Street Market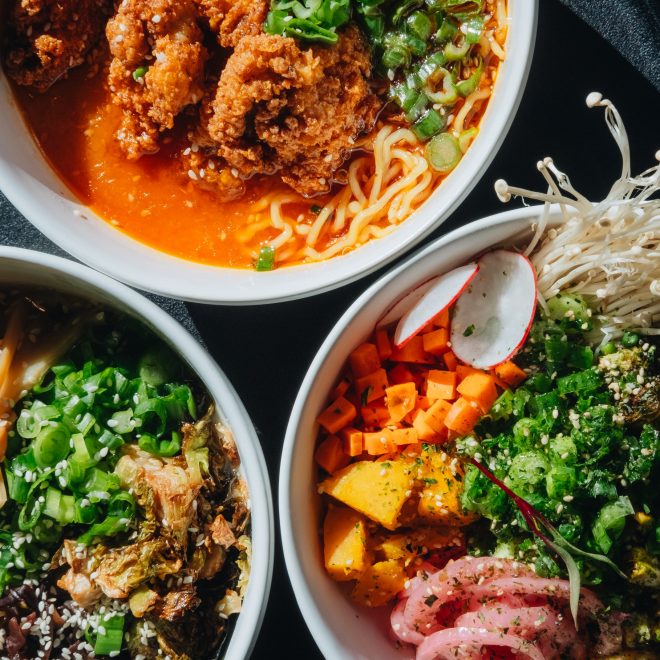 CO-OP, a new ramen shop, is now open for lunch and dinner service at the 8th Street Market in Bentonville, and it's just in time for the incoming cold weather.
With Executive Chef Justin Walker and Sous Chef Nicole Craig at the helm, the team behind CO-OP looks forward to offering the region traditional style ramen utilizing southern ingredients, according to a press release.
"We wanted to pay our respect to the broth – these traditions are centuries old, so it was important to us to create authentic recipes while still using local ingredients," says Walker, who has conducted extensive research on the culinary tradition of ramen and staged at the renowned Ramen Lab in New York during an educational, pop-up collaboration. "We want CO-OP fully immersed within the NWA community by utilizing as many locally sourced materials as possible, and by partnering with our local farms, ranchers and other community members."
Inspired by the Ropeswing Hospitality Group team's travels and an insatiable love for ramen, CO-OP guests can expect to experience authentic Japanese flavors in a modern space for an approachable price, according to a press release. Comfort food at its finest, bowls with ramen noodles are filled with pork (tonkotsu), creamy chicken (classic Tokyo Shoyu) or vegan broth topped with options like braised pork (chashu), fried chicken (karaage), chili oil (rayu), and of course, extra noodles (kaedama). Rice bowls, edamame, gyoza, and chicken soup (for the kids) also make appearances on the Japanese-inspired menu. With the intention to bring community together over multicultural comfort food, the team behind CO-OP has worked hard to bring Northwest Arkansas its new favorite noodle shop.
"CO-OP is a space that's social and comfortable, a place to end your day over a great meal with family and friends. The restaurant's name pays homage to the building's agricultural roots and encompasses the notion of working together to become one – just like a slow-simmered broth," says Chad Williams, Executive General Manager of CO-OP.
The space augments the restaurant's natural flow from the seating layout to the counter service, designed to encourage an intimate dining experience by the Fayetteville-based architecture firm, Marlon Blackwell Architects, according to a press release. With options for bar, communal and intimate booth dining, friends, family and colleagues alike are welcome to gather together over a bowl of noodles–slurping encouraged.
 Charleston, South Carolina -based branding agency, Stitch Design Co. curated the colorful and clean branding and overall design. The resulting vibe is a mix of urban design with a nod to Japanese values.
CO-OP is open for lunch and dinner from 11 a.m. to 9 p.m. Monday through Saturday, and 11 a.m. to 8 p.m. Sunday.  The 8th Street Market is located at 801 SE 8th St., Bentonville.