CAUSING A SCENE IN CURSIVE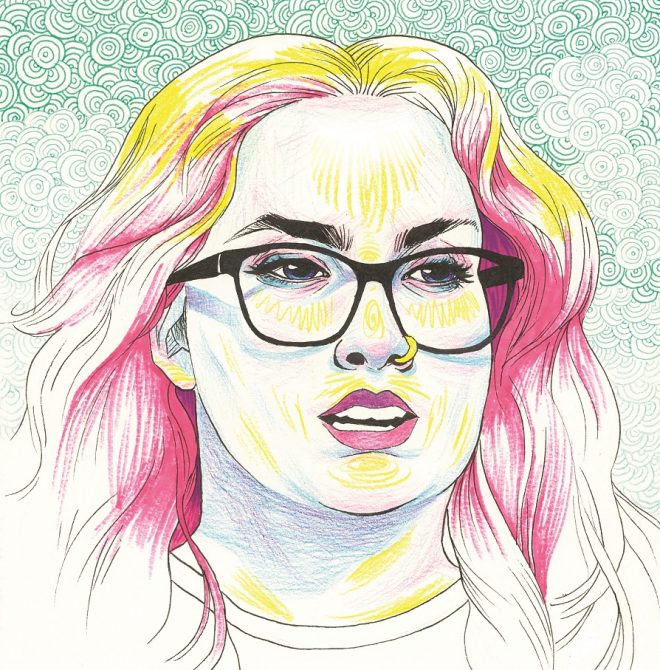 Planning variety shows is no easy feat in a male-dominated field, but two local comedians are teaming up to change the name of the game.
WORDS / JULIA M. TRUPP
ILLUSTRATIONS / JOSHUA BRADLEY
---
Taylor Hern and Elaine Jackson love a good, rich stout.
Ever since a post-show discovery of their mutual love, the comedic duo have hosted high-spirited events as The Big Stout Ladies. The two are each other's yin and yang—while Jackson is the extroverted networker on tour stops, Hern is the introverted researcher looking for the city's best food. Together, they are bringing a new light to the comedy scene and empowering funny women who are or want to be involved.
Jackson is the mastermind behind Ladies Night in Cursive, a comedy show that raises money for featured nonprofit organizations, such as Peace at Home Family Shelter or Planned Parenthood. A social worker by day, comedy has long been an outlet for her to process everything from everyday life to the nuances of sexuality. Inspired by these contrasting pursuits, Jackson decided to fuse the two—produce her own show, invite women to be involved and create the safe environment women often look for in the DIY comedy scene.
"The DIY scene is largely welcoming, but there's not a lot of women. I wanted there to be a better female experience in Fayetteville. I've been cat-called on-stage, probably six months into comedy, and I let him have it, " Jackson says. "Women need more stage time! We work really hard to support women in Fayetteville. I'm really lucky to have landed here."
Hern produces one of the only two female-led open mics in Northwest Arkansas, Southtown Comedy Night at Nomads, and is similarly interested in empowering women comics. Jackson and Hern have both had to bargain and barter for fair payment—the pay gap still exists in the comedy scene—and they feel they have to work twice as hard for laughs.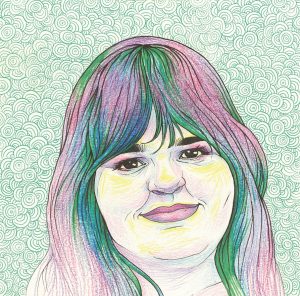 "Why isn't a guy gross for talking about his d— onstage, but I'm gross for talking about sucking it? There are unreal standards I feel I am held to as a woman. How many times have we had to ask to be paid? We're playing the field and I'm tired of it," Hern says. "I try to consciously make an effort to have a safe space for women, nonbinary [people] and people of color. I want people to feel comfortable, and as a woman I've felt so uncomfortable that I don't want others to feel that way, so I'm hypervigilant."
Before the year is over, Jackson and Hern plan to tour through DIY spaces across the country, and their live comedy album is slated to hit shelves sometime this spring. Until then, the Big Stout Ladies are planning a couple shows to celebrate their womanhood, comedy careers and friendship, including a birthday-themed Ladies Night in Cursive on April 11 at Backspace (because, of course, their birthdays are only a day apart).
"I would have never started Ladies Night in Cursive had I not seen Taylor, Meghan (Welch), all the women who have supported me," Jackson says. "They inspired me—I want someone in Fayetteville to come and be like, 'This is a space I can go.'"