Butler Center's August Events: Prehistoric Rock Art, American Music Concert, and more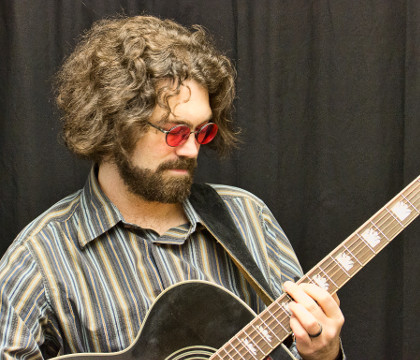 The Central Arkansas Library System's (CALS) Butler Center for Arkansas Studies has a wide array of activities scheduled throughout the month of August. To view the Butler Center's full calendar of events, visit www.butlercenter.org. All activities are free and open to the public unless otherwise noted.
Legacies & Lunch: Rock Art on Petit Jean
Wednesday, August 1, Noon–1:00 p.m.
CALS Main Library Darragh Center, 100 Rock Street
Don Higgins, life member of the Arkansas Archeology Society and certified master naturalist, will discuss the cultural legacy represented by Arkansas's wealth of prehistoric rock art, particularly that of Petit Jean Mountain in southern Conway County, and the threats to it. This area contains 70 documented rock art sites with more than 700 ancient paintings, the majority of them discovered just since 2006 through the use of digital photography. Pictured here is a composite photograph showing a panel of handprints discovered earlier this year. The right side is digitally filtered to better show the images contained on the rocks.
2nd Friday Art Night (2FAN)
Friday, August 10, 5:00–8:00 p.m.
Butler Center Galleries,401 President Clinton Ave. 
Featured musical artist: Jason Lee Hale (solo guitar & vocal)
Butler Center Concordia Hall Gallery
Hendrix College has generously loaned artist Henry Sugimoto's painting Arrival at Jerome to be displayed with the Butler Center's latest exhibition of works from the World War II Japanese incarceration centers, A Matter of Mind and Heart: Portraits of Japanese American Identity. On view through December 29.
In 1942, Sugimoto and his family were among the thousands incarcerated by the U.S. government in response to the widespread fear that Japanese Americans were security threats after the Japanese attack on Pearl Harbor. The Sugimotos were sent first to Arkansas's Jerome Relocation Center; when the Jerome camp was closed in 1944, the Sugimotos were moved to the other Arkansas center, Rohwer, where they stayed until 1945. While in the camps, Sugimoto created about 100 paintings (including Arrival at Jerome), taught art classes, and served as an art consultant to the War Relocation Authority. Sugimoto exhibited fifteen paintings at Hendrix in February 1944, and Hendrix purchased Arrival at Jerome to display on campus.
Finding Family Facts
Monday, August 13, 3:30–5:00 p.m.
CALS Bobby L. Roberts Library of Arkansas History & Art
401 President Clinton Ave., Room 204 
A free monthly genealogy course taught by Rhonda Stewart, the Butler Center's local history and genealogy expert.
 Arkansas Sounds Presents:  The Roots of American Music Concert
Friday, August 10, 7:00 p.m., $10
CALS Ron Robinson Theater, 100 River Market Ave. 
An all-star acoustic band of Danny Dozier, Tim Crouch, Irl Hess, Ken Loggains, and Gary Gazaway traces the roots and branches of American music. These musicians explore country, blues, swing, and pop music, performing songs by a variety of artists including Jimmy Driftwood, Grandpa Jones, Merle Travis, Bob Wills, Bill Monroe, Nat King Cole, Stevie Wonder, Antonio Carlos Jobim, Robert Johnson, and the Beatles.
Sounds in the Stacks
Tuesday, August 14, 6:30 p.m.
CALS Fletcher Library, 823 N. Buchanan St., Little Rock
A series of free community concerts at CALS branches, Sounds in the Stacks highlights local musicians with diverse musical backgrounds as they showcase their talent and skill in an intimate one-hour concert. Sounds in the Stacks is presented by Arkansas Sounds, which is a project of the Butler Center for Arkansas Studies. Featured musician for August: Brian Nahlen, guitar & vocal.
About CALS
The Central Arkansas Library System includes 14 branch libraries located in Little Rock, Perryville, and throughout Pulaski County. CALS has the largest research collection in central Arkansas. Most of its more than one million items may be reserved online and picked up at any branch that is convenient to the patron. Library Square, the library system's downtown Little Rock campus, includes the Main Library, as well as the Ron Robinson Theater, the Bobby L. Roberts Library of Arkansas History & Art, and River Market Books & Gifts.