Brooks Tipton launches AR ART print series for Electric Ghost Printing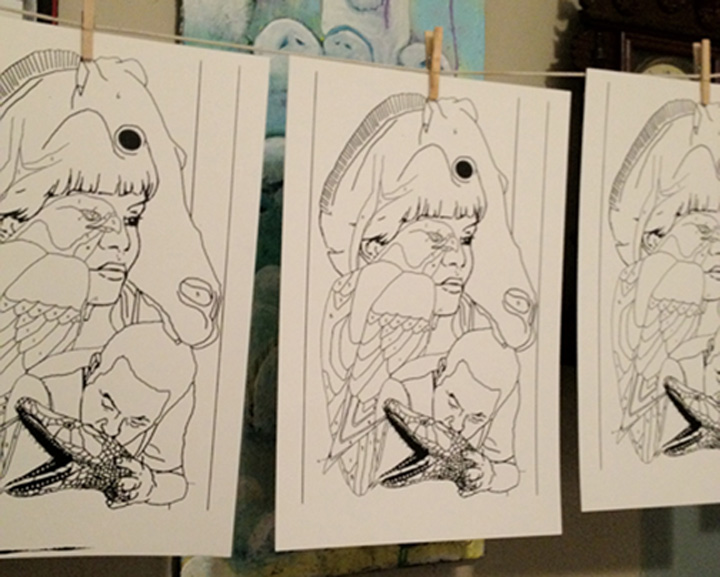 By Kody Ford
Editor
Brooks Tipton, perpetual rocker and central Arkansas resident, recently launched a screen-printing series call AR ART. The effort will allow Tipton's company, Electric Ghost Printing, to highlight artworks by some of the unsung heroes of the art scene in the Natural State.
"There are a lot of truly great artists in Arkansas," said Tipton. "I've found that some of the best ones are hidden. This felt like a way to get their artwork and names out to the public and for people to have great artwork in their home for a very affordable price."
Tipton's first chosen artist is Nate Moore. Moore's large body of work has been featured in an international airport and the Emily Amy Gallery in Atlanta. Jiha Moon of Korea has also done a show with Moore.
In August, Tipton will begin to feature a different artist every month for a series of screen prints. Selections of the artist's works will be screen-printed onto posters and t-shirts, usually highlighting one or two works with limited print runs of 50. These items will then be sold at the Electric Ghost website and various local shops around Little Rock. Tipton hopes to set up booths in various places in the future.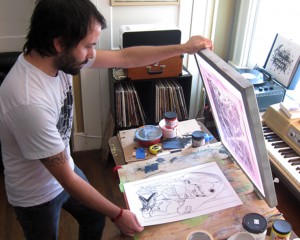 The series acts as a way to find talented artists in the state to promote and to their work through the medium of silk screening, a process Tipton has enjoyed for several years.
"My friend [and artist] Vince Griffin taught me the D.I.Y. methods of screen printing that he had learned in art school. We did it as a way to save money on t-shirts for [our band] Bear Colony," said Tipton. "I fell in love with it and decided to give it a go as a way to make an income when I was home from touring."
Besides Bear Colony, Tipton has played in bands such as Thursday, Colour Revolt, Unwed Sailor, and Chase Pagan. His experience touring and recording taught him the importance of supporting the arts and the symbiotic relationship that exists between music and visual arts.
"I think that artists/musicians struggle to make a living at doing this thing that is so important to our society, both locally and globally," said Tipton. "Art and music have inspired most of the great thinkers and inventors of the world. I've found it to be energizing to fill my house with artworks that inspire me. If we support our local artists and recognize them for their great importance, we can build an inspired community. People think that culture is lost in America, but I think we just need to shine the light on it."
While Tipton has the next few months planned, he's interested in recommendations for artists.  However, some criteria do exist.
"I just want the artwork to come from an honest place in the artist—something pure," said Tipton. "No matter how technically simple or complicated, you can always feel whether or not the creation came from deep within. A place we can all find if we slow down and look. That's how art speaks to us, because we can relate. It's in everyone."
Follow Electric Ghost Printing on Tumblr & Instagram (@boarhoof). Email electricghostprinting (at) gmail (dot) com.