Black Apple Awards, diverse fashion shows kick off NWA Fashion Week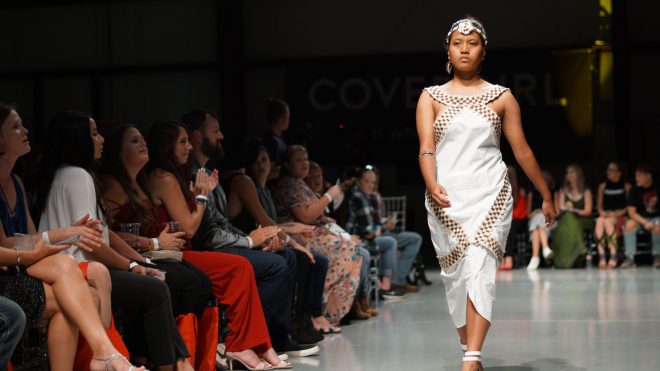 WORDS / YANI KO
Designers in the mainstream fashion industry are often criticized for failing to represent the diversity of their own consumers. We tend to imagine a runway that lacks a variance in size, ethnicity, gender and age. Couture is not for the general public. It is inaccessible. But Thursday night's opening shows for Northwest Arkansas Fashion Week at Drake Field proved that some designers are listening to the conversations about inclusiveness – and it feels good.  
Along with opening night flair, the third annual Black Apple Awards, hosted by The Idle Class, took place between runway walks and DJ sets and featured various nominated designers from the night's events. Because of the new partnership between Arkansas Arts and Fashion Forum and The Idle Class, this was the first collaborative event between both organizations.
"My vibration went up," said Wendy Love Edge, audience member and Black Apple Award nominee, on her first glimpse of designer Rosie Rose's collection Space Oddity. "There were all different sized people, all different sexual orientations and backgrounds and that's what we want to see," she said.
Rosie Rose, a 2017 Black Apple Award-winning fashion designer presented her unearthly collection that included futuristic forms, alien-themed screen prints, glimmering gowns and close-fitting cat suits, but it may have been her diverse casting of models that left viewers feeling like they were on another fashion planet.
Rose invited drag queens, male and female models of varying sizes, ages and races, as well as one transgender model to highlight her unique designs.
"I've never tried to just have that very standard small model because I just feel like it doesn't represent everyone. It's hurtful," Rose said. Rose also added that she had always dreamed of designing for drag queens and that NWAFW made that dream come true.
"[Drag queens] are so gorgeous and brave and inspiring," Rose said. "Growing up in Eureka Springs, I had so many wonderful gay men in my life who were so nurturing and kind to me. I hope that by being an ally to the LGBT community, and promoting inclusion and diversity I can in some small way return that favor."
Princess Dieanne, one of the queens who walked in Rose's show, rocked a glittering beard, a voluminous wig and turned the corner of the runway with a powerful pop of her bright yellow parasol toward an enthralled crowd. Dieanne said that she felt Rose embraced diversity with her inclusion of different sizes and genders and by "playing with that line."
"Guys don't always want to wear guys clothes and females don't always want to be real feminine," Dieanne said.
Rose also explained that although she has never worked with models with disabilities and that she has seen very few at casting calls, she hopes to help change that in the future.
"Maybe if we keep spreading this message that it is inclusive here and that we do welcome everyone then maybe we will get more people of all kinds," Rose said.
A highlight of the evening, and another impressive display of diversity, was the opening show "Likatus in Majel" put on by the Arkansas Coalition of Marshallese.
Melisa Laelan, founder of the coalition and president of the board said that the idea behind presenting the four Marshallese designers was to educate the public on the richness of their culture.
"We have designers that have been enclosed in and non-Marshallese people don't know that because we don't have opportunities like businesses that are specifically [for] designing clothes," Laelan said, "but these designers are as skilled and as perfectly performed as any other designer in the house."
The Marshallese designers mixed traditional floral prints, beaded headbands and straw bags with more structured modern designs. "I like to call it a blend – a combination of both Arkansas and Marshallese cultures," Laelan said.
Laelan also noted that the Marshallese community strongly values kinship and members work better as a group.
"Instead of reaching out to models [at a casting call], you feel more comfortable using your family members as models," Laelan explained. While the models for "Likatus in Majel" were predominately Marshallese, Laelan said that they purposefully chose to include some non-Marshallese women in the mix to show that the designs can look beautiful on anyone.
The fashion part of the evening concluded with the Arkansas Art and Fashion Forum's Student Showcase which celebrated designers at varying levels of experience. Students from the Arkansas Fashion School and the U of A Apparel Merchandising and Product Development program exhibited designs in the showcase that launched the Educational Pilot Program sponsored by the AAFF.
For those who have ever felt under-represented by the fashion industry, last night's events encouraged an optimism that filled the entire airplane hangar.
"I'm not very into fashion. I'm into dressing as comfortably as I can," said Angela Edge. "I do feel excluded sometimes and tonight it was like 'Wow, this is amazing!' I will leave here tonight going 'Yay, Fayetteville! Yay, Fayetteville!'"
Northwest Arkansas Fashion Week 2018 will continue through Sunday at Drake Field.
2018 BLACK APPLE AWARD WINNERS:

PERFORMANCE AWARDS
    Comedy Group:  Comedians NWA

    Comedian:  JJ Molinaro

    Film Fest:  Bentonville Film Fest

    Performance Group:  Artist Laboratory Theatre

    Radio Show/TV Show/Podcast:  The Vinyl Hour on KUAF 91.3 FM

    Reading Series:  Ozark Poets & Writers

    Solo Musician:  Randall Shreve

    Hip-hop artist:  Rhae Rhae

    EDM/DJ:  Theronius Chunk

 Band:  Handmade Moments
CULINARY ARTS
    Food Truck:  Cathead Biscuits

    Cocktails:  Maxine's Taproom

    Sweets:  Briar Rose Bakery

    Chef: Patrick Lane, Arsaga's

    Non-alcoholic beverage:  Onyx Coffee

    Alcoholic beverage:  Black Apple Crossing
VISUAL ARTS
    Arts Event:  The Little Craft Show

    Maker: Andy Baugus, Second Life Wood

    Jewelry Designer:  Keely Wake, Flora & Fauna

    Fashion Designer:  Dr. Dapper, LFLS Shoes

    Graphic Designer:  Brenna Collins

    Photographer:  Brandon Watts

    Illustrator:  Gustav Carlson

    Mixed Media:  Cory Perry

    3D Artist:  Amber Eggleton

 Public Artist:  Olivia Trimble

 Painter:  Joelle Storet
LEGACY AWARD
Zeek Taylor