Before the Boots & the Ballads: Lucero frontman Ben Nichols reflects on his early punk rock days in the Little Rock scene.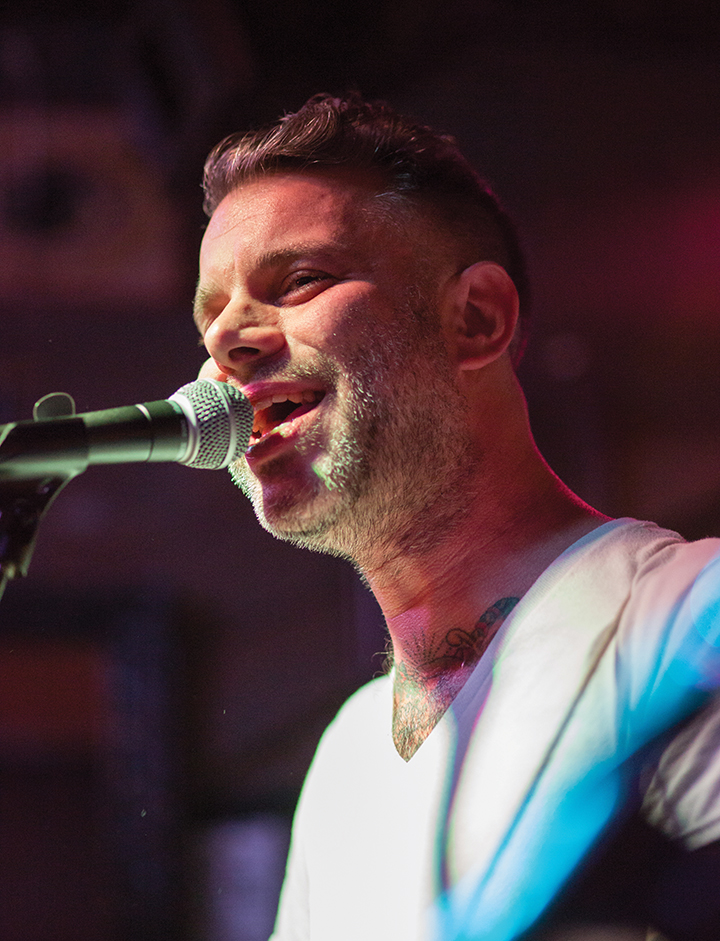 INTERVIEW / DAVE MORRIS
PHOTO / MELISSA BRAWNER
Lucero frontman Ben Nichols is famous for his lovelorn songwriting and whiskey bent live performances. Both of these qualities have served him and Lucero well during their 15+ year career, taking him far from his native Little Rock and humble roots as a graduate of Little Rock Central and Hendrix College. Lucero has released seven albums in addition to numerous other releases and has toured extensively both nationally and internationally. In addition to Lucero's remarkable success, Nichols is also an accomplished solo artist. His song "The Last Pale White in the West" was recently featured in its entirety during a very memorable montage on an episode of "The Walking Dead." His music has also featured extensively in the films of his brother Jeff Nichols (obviously also an Arkansas native) such as "Mud," "Take Shelter," and "Shotgun Stories."
Prior to all of this, he played bass and sang in the pop punk band Red Forty and was a part of the Little Rock music scene during the 1990s, a time fondly remembered by many and which served as the basis for the 2007 film "Towncraft." Even though Lucero was deep into the recording process for their upcoming new record, Ben took the time to reminisce with us about his experiences during this pivotal era of Arkansas music.
In spite of living in Memphis and having great success there and nationally with Lucero, you have still maintained strong ties to Arkansas and the local music scene. Why is it important for you to stay connected to the music of Arkansas?
I have to admit I wish I knew MORE about what was going on with Arkansas music nowadays, but it is getting harder and harder to keep up the older I get. Luckily, Mary (Lucero's merchandise manager and bartender at the White Water Tavern) helps keep me in the loop a bit. But I guess I will always be connected to Arkansas and the music there because that is where I grew up and that is where I went to my first shows and that's where I played in my first bands and that's where I fell in love with music.
Can you tell me a little bit about how you got started playing music and specifically about the formation of Red Forty?
I was 13 or 14 when I got a bass guitar and started learning to play rock & roll songs with a few friends in the neighborhood. There was a band that was playing at high school parties and local shows called SFZ and they needed a bass player. I tried out and got the job and that was the first band I was in. Those were the first shows I ever played in public. It was terrifying. Pretty sure the very first show I ever played was with SFZ at what is now Vino's but back then was called Mandrake's (which is what it became after it was the infamous DMZ). We played a lot of shows with bands like Link Springs and Luwanda. We were influenced by R.E.M. and The Cure and all those '80s alternative bands. After SFZ I started writing my own songs and started trying to sing.  It was terrible, but I was learning the ropes.  I played in various bands in high school and luckily learned enough that by the time I started Red Forty in college I had at least a small clue of what I was doing.  I was friends with Steve Kooms and Collin Brooks just from going to shows and seeing them play with a band called Substance. I convinced them to be in a band with me by letting them switch instruments.  So Steve (who usually played guitar) played drums and Collin (who usually played drums) played guitar. It ended up working out real well.
Can you give me a little bit of a comparison between what it was like being in Red Forty vs. what it's like being in Lucero?
Red Forty never toured. With Lucero that was always a goal. Red Forty was kind of a side project for Steve and Collin, but with Lucero, we were a full-on band right from the start. I learned how to write better songs during Red Forty. I found a voice, I guess. I learned a lot about setting up shows and being a lead singer and running a band. Then Lucero gave me a chance to play extremely slow and quiet songs.  Singing songs that were that delicate allowed me to expand my songwriting skills. In Lucero I discovered how to write songs that weren't limited to one genre.
What where some of your favorite Arkansas bands in your Red Forty days?
Tons of bands were playing before, during, and after the Red Forty days. The local Little Rock scene was a huge influence on me. The "Towncraft" record was important. I remember them taking donations at a bunch of shows to get it pressed. I liked Hatful Day and Substance. Chino Horde was an excellent band. I still listen to that CD to this day. We played shows with The Stoney Jacksons from Hot Springs and Superstar from Memphis. Trusty was before our time but they were huge in my view. They had done it for real. There were a ton of bands: Shake Ray Turbine, Class of '84, Bloodless Cooties, The Big Cats, Generation of Vipers, William Martyr 17, Soophie Nun Squad… there were shows all the time.
Other than people in bands, was there anyone you thought was especially important to the scene back then in a non-musical role?
Stewart Isbell was always taking photos and videos. His house, along with Rice Street, was kind of a center of activity at the time. This is all pre-'96, which is when I moved to Memphis. He ran the space at 800 State Street that put on a lot of good shows. It's hard to think of anyone that WASN'T a musician though. EVERYONE had a band. EVERYONE was a musician. They were artists and writers and students and entrepreneurs and promoters, but they were all musicians.
What are some of your favorite Arkansas venues past and present and why are they important to you?  Have any of them played a specific role in your career or would you consider any of them particularly vital to the scene?
The free shows at Riverfront Park downtown were the most impactful on me.  The place was pretty much abandoned back then and we had the run of the place and the power was on.  The fact that kids just took it over and played shows and made it their own always impressed the hell out of me.  Of course I also remember Vino's, Das Yutes A Go-Go, 800 State Street, and numerous random locations where Burt Taggart and David Burns tried to set up Longer Records.
You mention Arkansas as well as places in Arkansas like the White Water Tavern in some of your songs.  Can you tell us a little bit about what inspires you to do that? Are there any other ways that being from Arkansas has influenced your career?
  I think I'm constantly homesick for Arkansas (even though I live right across the bridge and I come back to town all the time) and that's why it ends up in a lot of Lucero songs. I've always had a huge pride in Arkansas's musical legacy. The place boasts Louis Jordan, Jim Dickinson, Dale Hawkins, Levon Helm and Johnny Cash… yes I'm proud to be from the same place.
So at this point we've established that you still spend a lot of time in Little Rock.  How do you think the music scene in Little Rock today is different than it was in your formative years?
There is still a lot going on there, obviously.  The White Water Tavern has become extremely important to Arkansas music, not only for fostering local musicians but also for bringing in touring folks from out of state.  I'm not exactly sure how things are different now.  I'm old and out of touch.  I figure there is a group of kids there somewhere making awesome music for themselves and their friends under the radar of the authorities or anyone close to my age.
Do you have any especially interesting stories from the early days that you'd like to share?
I couldn't get Red Forty booked at any of the river shows downtown so I had to book our first show myself.  I had it in the back parking lot of my dad's furniture store.  Booked all the bands myself and made flyers and hung them up myself.  From there on out we didn't have any problem booking shows.
Okay so I'm sure any Lucero fans reading this would kill me if I didn't ask about this. I know you're working on new music. What can you tell us about that?
We wrap up recording the new Lucero studio album on April 24. The record should come out on ATO Records this fall. We are recording it at Ardent Studios in Memphis and working with producer Ted Hutt again. I'm playing all acoustic guitar on this record. I've never done that before. So we will see what kind of effect that has on the overall tone of the record. So far I am really proud of some of the new songs. We will see what folks think. But I've still got four songs worth of lyrics to write and that's what I should be doing right now so I'm going to get back to it. God, I've got so much to do before the end of next week.
VISIT: LUCEROMUSIC.COM