Ballet Arkansas to partner with City of Little Rock Parks and Recreation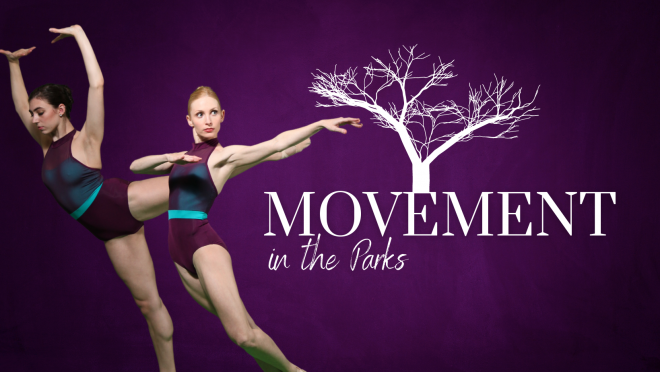 "Movement in the Parks" brings the best of ballet to green spaces throughout the City of Little Rock─free to the public throughout the 2021-2022 season. Presenting a changing repertory of cutting edge contemporary works and classical namesakes, the series highlights the power and range of the Ballet Arkansas dancers, amidst the natural backdrop of the capital city. As a part of the partnership, Ballet Arkansas will also present a series of lecture demonstrations for k-12 students at various indoor and outdoor settings. "Movement in the Parks" programming for young audiences is designed to accommodate the schedules of educators and the need to keep students safe while interacting with the performing arts. Most importantly, it fosters a love for the arts while immersing students in natural environments.
"In a most unusual time, we owe it to the students and the public to find ways to meet the programming challenges of the pandemic," says Michael Fothergill, Executive & Artistic Director. "Movement in the Parks ensures all within our community have access to world class dance performances in stunning outdoor settings, free of charge. Bringing diverse populations together to celebrate the arts and Little Rock's abundant natural resources is a pillar of our partnership, but we also hope to create opportunities for residents to explore Ballet Arkansas's eclectic programming in settings that enhance their appreciation of the capital city."
Public Performance Schedule
Sept. 25: MacArthur Park | Noon and 3 p.m.
Oct. 16: Southwest Community Center | Noon and 3 p.m.
March 12, 2022: Riverfront Park | 2 and 6 p.m.
April 2, 2022: War Memorial Park | 2 and 6 p.m.
"The City of Little Rock Parks and Recreation Department is very excited to partner with Ballet Arkansas, not only because they've been such a stalwart figure in the arts community but because our organizations share in the common goal of creating opportunities for our community to come together for shared experiences," said Maxime Pierre, the City of Little Rock's deputy director of Parks and Recreation.