BACKSPACE: A Hidden Gem of Fayetteville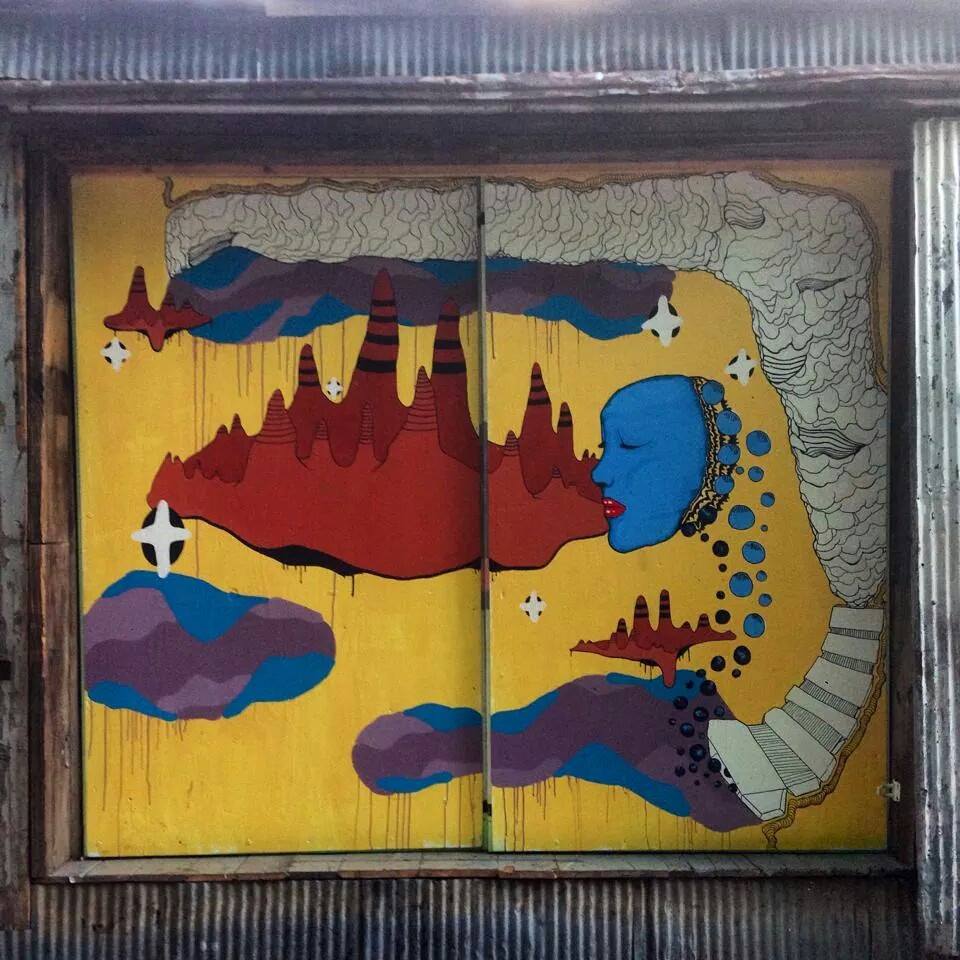 WORDS / NICOLE CAGLE
Samantha Sigmon and Zane Placke are not your average Fayetteville residents; they are the face, strength, and heart behind Backspace, an up and coming local D.I.Y (Do It Yourself) venue, located a short detour off of the bike trail and nestled behind a number of other local businesses on 541 W. Meadow St. in Fayetteville, Arkansas. What is Backspace exactly?  If you are not already in the know Backspace is more than your average D.I.Y venue it is more so a redefined definition of D.I.Y and a place regular patrons hold dear.
"Backspace is created to support community arts programming through events such as music and art shows, readings, performances, and more," said Samantha. "The space was started to give Northwest Arkansas creatives a place to have a voice and a vision, and focuses on participatory and one-of-a-kind experiences. It is a loose collective of passionate creatives, giving them a place to experiment."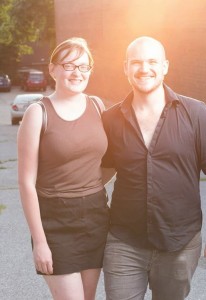 In more ways than one Samantha and Zane have redefined "Do It Yourself" as "Dedication In Your Community." Running your own venue on donations is not an easy feat.  With little complaint they spend the majority of their time and personal funds to sustain the life of their space.  Their positive energy has rubbed off onto their patrons.  Often new comers go to Backspace thinking it will be a house-show or party environment and leave surprised. To quote Zane on the reaction of performers and patrons, "People love it and they either keep wanting to play or keep coming…Backspace isn't bland.  It's a rare combination of good location and non-pretentious vibes." 

Because the space radiates so much positivity, previous performers and regulars are always first to volunteer with cleaning, event set-up, and on occasion assist with maintaining sustainability.  The growth of a tree starts with a seed and over time a new branch adds to its greatness.  Without the passion and dedication of Samantha and Zane the internal community of Backspace may not exist.  Moreover, the possibility to continue growing new support and respect for local art via D.I.Y venues may not be present within' our community.
One could argue that Backspace is changing the local scene in its drawing of crowds, creativity, and diverse line-up of events.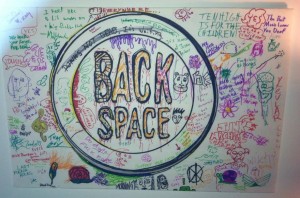 From its initial events of poetry readings and music shows Backspace has implemented other events ranging from Thanksgiving dinners, film projector screenings, nap time relaxation, drawing marathons, art exhibits, square dances, family time at Crystal Bridges Museum of Art, and others to aid local social causes.
In our discussion on Backspace both Zane and Samantha emphasized several points that differentiate the venue, "Backspace has established its own, golden rule of respect for performers.  Welcoming veterans, beginners, as well as experimental projects the space is not just a music venue; very seldom are local artists or traveling musicians turned away."  When asked if there were any competitive vibes with other D.I.Y spaces Samantha responded, "If anything we work together as a community.  Sam King and I coordinate often to share music shows between Backspace and LaLaLand (another local D.I.Y venue).  I also appreciate that former house show venue organizers find their home again in Backspace by offering ideas and assisting with the booking and execution of events."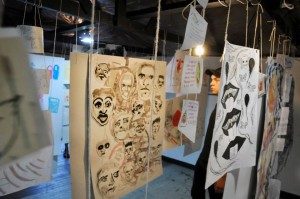 Backspace provides the opportunity to see music outside of the bar scene and transitions focus onto performers.  "I don't like to view Backspace as a venue that takes business away from local bars.  If anything I think Backspace has enabled some new musicians to schedule a bar show; often it is difficult for new musicians to schedule a bar show if their music hasn't been heard and Backspace is one outlet to provide an initial hearing" said Zane elaborating on how Backspace strives for community effort in the music scene.
In my experience of attending various D.I.Y spaces it has become evident to me that it takes dedication, unbiased opinion, and knowledge to be successful.  Samantha displays
all of these qualities in her space.  D.I.Y venues are one of her many passions as she wrote her collegiate thesis over the subject.  What differentiates Backspace from other D.I.Y venues in the area is not the fact that its creator has studied them it goes deeper than that.
Over time Backspace has developed into a hidden-gem of Fayetteville.  When asked why Backspace is one-of-a-kind Samantha responded, "Often touring bands from major cities will play at Backspace and the common response is that our D.I.Y is unlike venues in their hometown.  I think they can sense our passion for local art and creative ideas upon arrival."   Zane added, "Backspace is a place for everyone, not only is it welcoming but it seems to capture the attention of more than just Fayetteville."
Backspace is currently hosting on average one to two events per week.  Zane and Samantha hope the space continues to grow in popularity among Fayetteville residents and attract new-comers both local and from other cities.  "We are open to everyone's ideas if there is help in the execution and promotion of the event.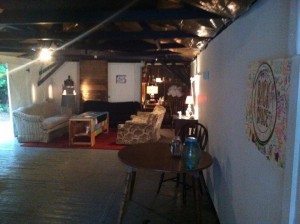 There are a lot of events pitched to us but not all
are carried out because Samantha and I can't do it all alone" said Zane when asked how Backspace could multiple its number of events in the future.
As a regular patron of Backspace I encourage all to check out this local D.I.Y if you haven't already.  In my times there I have appreciated the evident passion and dedication that radiates off of Zane and Samantha and patrons.  Spaces such as Backspace are good for the community and provide a family-like culture between local and surrounding artists.  Backspace is a creative outlet for all and the opportunity for individuals to experience a unique intimacy with art; its sustainability is reliant upon community involvement and donations.  Zane and Samantha hope to see new faces in the events to come at their venue, Backspace.
PHOTO CREDIT IN ORDER:  VIKRAM L. DESAI, SAMANTHA SIGMON, ASHLEY FAYE ATTERBURY, SAMANTHA HUSSEY, JANE KANG, AND OTHER BACKSPACE CONTRIBUTORS.