ARTISTS WE LOVE: Delita Martin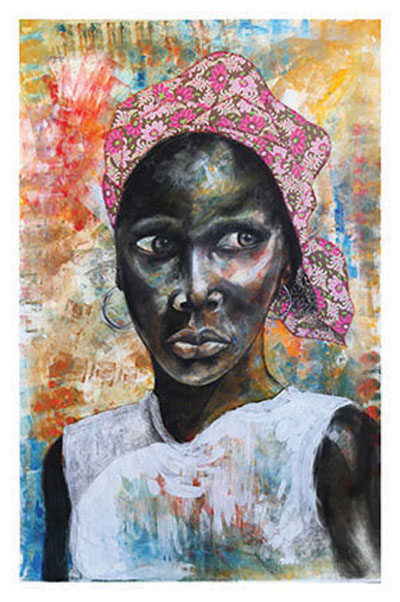 INTERVIEW / KODY FORD
For Delita Martin, working with her hands came naturally.   Growing up in Conroe, Texas, she was surrounded by   painters, writers and quilters. By age five, she knew that she wanted to be an artist. Her father, an oil painter and carpenter, influenced her the most.  He created cabinets and other wood work. She credits his actions for her love of printmaking, which can be found in her work today.
Martin's paintings are striking as they juxtapose the dark skin of her subjects with bright colors and patterns often the result of woodblock printing. Each piece is a work of defiance against the stereotypes of popular culture as she seeks to redefine the look and portrayal of Black women in art. Her efforts have not gone unnoticed. Spend enough time in a Little Rock art gallery and the name Delita Martin will come up followed by praise.  This buzz caught the attention of Chad Alligood, assistant curator for Crystal Bridges Museum of American Art, who visited with Martin at her studio. The museum selected her for the State of the Art exhibit that showcases undiscovered artists from around the nation. Three pieces from her "I Come From Women Who Could Fly" series are featured in the exhibition. State of the Art runs until January 19, 2015.
The Idle Class recently caught up with the Little Rock-based artist to discuss her work.
How was art a part of your life growing up?
I think the simplest way to put it is that I loved to create and I couldn't imagine not doing it for the rest of my life and more importantly no one said I couldn't.  According to my family, anything was possible.
What made you become a full-time artist?
Becoming a full-time artist has always been my dream but it has been a long road. I spent most of my life with some sort of job either in a classroom or behind a desk. I told myself this is so I can support my art. I look back now and I think I may have been hiding from what I was supposed to be doing. So when my husband came to me and said, "Look, you are meant to be in the studio. Let's come up with a plan. You may never have this chance again." Those last few words struck me — "You may never have this chance again" — and I knew I had to take the jump.
I'm sure there are some high points to being an artist.  What are those and what sort of challenges come along as well?
The high points for me are being able to wake up every morning and do what I love. The challenges are realizing that's not just something that you love, but it's also your job. You have to have discipline and there is also the challenge of learning general business practices.
You approach portraits in a very stylized manner.  Is there anything you are trying to convey or is this just the natural state of your work?
Although I admire artists who are able to create super realistic portraits, I have never been interested in working this way. As an undergraduate student, I had the opportunity to visit the home of an artist who had her portrait drawn by Dr. John T. Biggers. The portrait looked nothing like her; however, you could instantly recognize it as being her. I realized that Dr. Bigger had captured her spirit and it was this aspect of capturing the likeness of a person that I was interested in
You work with everyhing from sewing to collage to painting. What is your preferred artistic medium?
I am asked this question a lot. The answer is always whatever medium I'm working in at the moment. The fact is that I love working in all the mediums because they each provide a different function for me. Printmaking provides a level of excitement and anticipation that the other mediums do not. I find painting very calming so when I am stressed, I paint. Drawing on the other hand centers me. When I feel that I have lost direction in my work or life, I draw. Sewing acts as a form of meditation.
Your work focuses on redefining the portrayal of African American females. What is something that popular culture gets wrong about the roles of black women in American society?
I feel like women of color are still marginalized in that a lot of the visual imagery that we see still have the undertones of the stereotypes like Mammy, Jezebel and Sapphire. These images do not give a true narrative of the role that Black women play in the community and the family structures. For example, we see a single Black mother who does not need a man to provide for her family. Well, when you look at Hollywood, this is translated into Sapphire — a strong-willed, man-castrating woman — when in fact this does not mean she does not wish to share her life with someone. She is simply a woman who has been dealt a hand by life and has done what she has to [in order] to survive…With these types of images that are offered, I feel that it is extremely important for women of color to create their own images and tell their own narratives.
Has exploring the identify of black women in your art led to any self-realization?
Yes, I think I understand myself and the women I surround myself with a lot better. I have realized how important my role as an artist is in offering a narrative of the women who influenced and raised me. It is a job I do not take lightly. I also try to encourage artists to tell their stories or let their voices be heard through whatever medium they have chosen. It is important to understand that my story is not the only one. There are so many others' stories and they are all important.
 
Currently, Martin is working on a new series entitled "Crown and Glory." She is represented by Boswell-Mourot Fine Art in Little Rock.
Visit: blackboxpressstudio.com/