WELCOME TO THE NEW NOW: Artist's Laboratory Theatre brings site-specific performances to NWA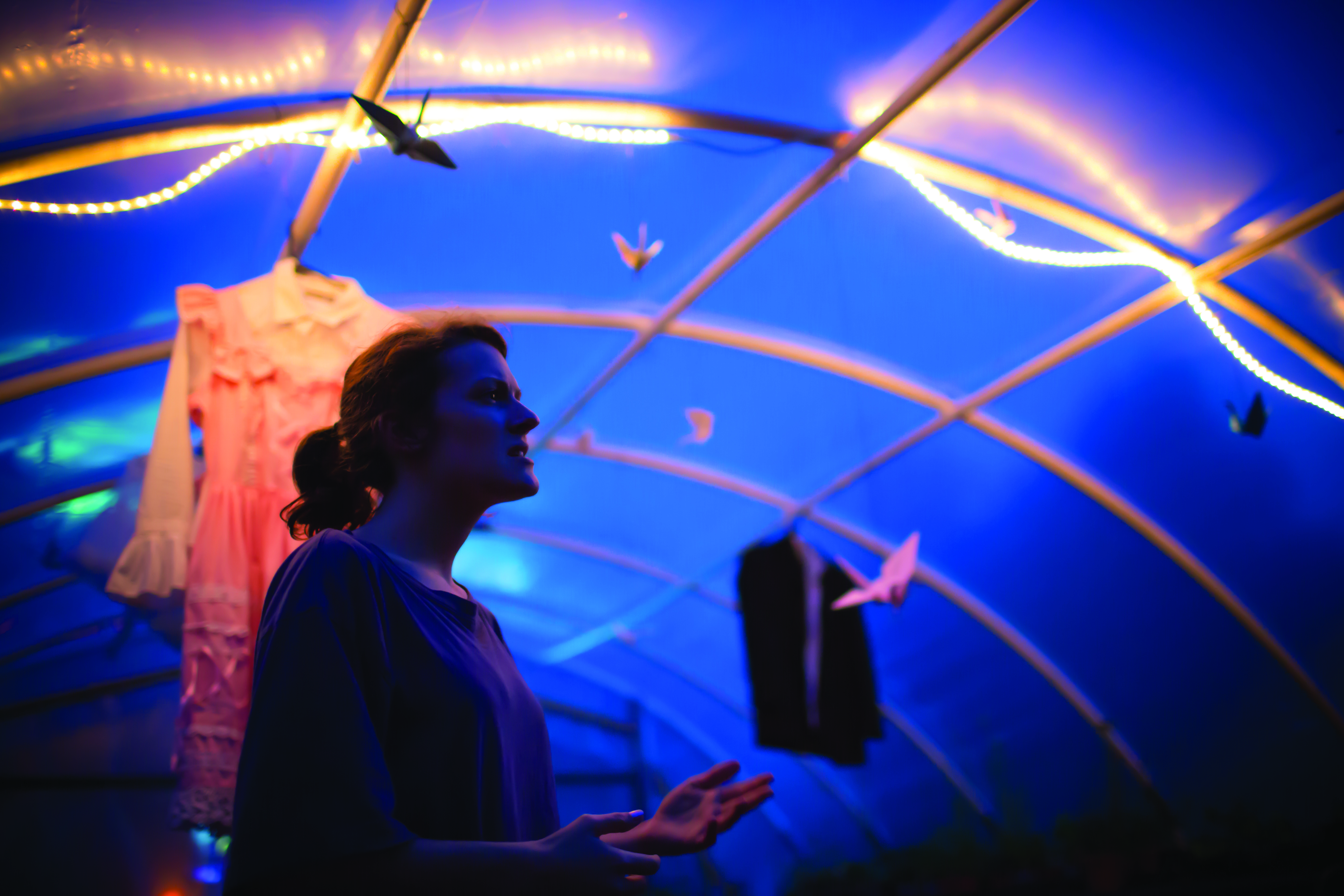 WORDS / KATY HENRIKSEN
PHOTO / COLLEY BAILEY
"We can't follow that old paradigm. Our brains are new now. That's ok. Let's have fun with that. Let's exploit that." – Erika Wilhite, founder and artistic director of The Artist's Laboratory Theatre
The experimentation of Erika Wilhite's Artist's Laboratory Theatre is a fierce vision, at once playful and thought-provoking. With each handcrafted theatre experience, the audience is not simply viewing a performance, they're connecting and being engaged. Whether through the odd juxtaposition of an office culture whose cubicles and break rooms are set amidst the heirloom tomatoes and Thai basil backdrop of an urban farm, or community members telling personal stories within the whimsy of a giant sheet fort, barriers crumble, lines blur and storytelling becomes an interactive experience that enlightens, delights and asks us all to think anew.
"We're interested in the way we're changing, how our brains are changing, how our attention spans are changing therefore our storytelling modes have to adapt," says Wilhite. "We want it to be intimate and we want it to be personal. We attempt to do so by putting you in a familiar situation in an unfamiliar way. It's not just weird. It does something that alters your view."
The company's most recent topic is what they deem "The New Now," which they've described as  "an immersive theatre experience that explores connections, conflict, romance, food, identity and death in world of technology and social media."
Joseph Fletcher, associate company member and co-conspirator for so many of ALT productions, elaborates on this concept and why it's worth an exploration. "We are on a cusp right now," he says, talking about pivotal societal moments such as the industrial revolution or when the plow was invented with big developments spaced thousands of years apart, then hundreds until the new now's rapidity. But "The New Now" has this shift happening faster and faster.
"The new now is going to happen to us regardless of whether we want it to happen or not. If we're aware of it we can shape a bit of it, decide what we value and what's important and keep things in the past that did have a value and add on new things that have value. It's an exploration of identity, how we relate and what our values are."
Held at Tri Cycle Farm, an urban community farm in a small plot of land behind an unimposing house on Garland Avenue in Fayetteville, the audience is greeted in the front yard by an ensemble cast of seven, adorned in blue denim work suits and chanting: "I'm alive, I'm well, I'm enthusiastic! More Users. More Users. More Users. More Users. More Content. More Content. More content. More content. New now. New now. New now. New now. New now. New now. Neeewwww nooooooow!"
We're then encouraged to use our cell phones to text, tweet and FB, rather than the usual "please turn off your cell phone" message when going to a black box performance. Cast members introduce themselves with titles such Senior Operations Manager and Human Resources Director and we're inundated with office jargon, told via a computerized intercom voice about Taco Tuesday and to join a meeting in the conference room in ten minutes all within the confines of the open evening sky, underneath trees and surrounded by food grown by and for the community.
This is participatory theatre, one I've had the pleasure encountering as an audience member, performer and, in one case, even as a game show panelist for a live game show hosted once a month as part of the theatre's ambitious Maxine's "Sunday Night Service," now also airing as a 30-minute variety show on KUAF 91.3 public radio, where I work. The experiences of ALT are what you'd expect from a troupe on a big city in the coast, or maybe Chicago, but not here in the quaint hills of the Arkansas Ozarks.
"When I landed in Fayetteville there wasn't that model for me. I'd spent four years studying with a professional internship and everything and was ready to go as a professional artist," says Wilhite, who moved here in 2009 after finishing her MFA in theatre at the University of Central Florida when her husband Rodney Wilhite was accepted into the poetry MFA program at the UA. "There wasn't an opportunity for me so I made one."
She couldn't find a typical black box venue for her first production "Bombs, Babes and Bingo" in 2010 and instead signed a short term lease to perform in a storefront. "That's when we turned into a site-specific theatre company and that's when things got really interesting for me," Wilhite explains. "In theatre, in a black box, you control with lighting and sound but it still feels manufactured. It doesn't feel organic."
Sparks flew when she realized she was liberated from the need for overhead to rent a traditional venue and ALT became site-specific. A limitation became a way to think anew. "That obstacle became an opportunity because it's part of our identity now," she says. "We create theatre by collaboration with community and that's important to us.
"Now the stuff we make is written with the community expanded [from] ensemble-devised to community-devised," she explains. That means that not only does she come up with theatre via an ensemble where actors develop a script together, many ALT productions pluck inspiration from the community — asking them to tell their stories — and incorporating that into their productions. "It seems like all my dreams are coming true. We're starting to look like the companies I admire," she says, also acknowledging she couldn't have done this in LA, NYC or Chicago, where the niche is already saturated.
Instead Artist's Laboratory Theatre's made its home here, shrouded in the rugged hills entirely off the beaten path. In each performance this tiny theatre company with a grand vision asks us to question, engage and most importantly revel in wonder at the mystery of existence in participatory theatre meant for us all.
VISIT: ARTLABTHEATRE.COM