SOMETHING IS AMISS: For 10 years, Art Amiss has provided support & exposure for artists, designers, musicians & writers
WORDS / TINA PARKER
PHOTOS / BO COUNTS & AMY WEBB
It is Thursday night, and for the first time ever at 21c Museum Hotel, a group of designers readied themselves for Northwest Arkansas Fashion Week. Tonight is the local designer showcase for the three-day fashion event.
On the second floor of the hotel, a handful of designers with Art Amiss are adding the final touches to their eccentric expressions of counterculture fashion. Some of the models are dressed in leather, faux bones and roses, others as twisted Disney princesses or draped with plastic cages that resemble metal.
Fayetteville-based artist (and Idle Class contributor), Joëlle Storet, who frequents many of the Art Amiss events, says that out of all the events she is the most excited about tonight. "Thursday night is the real night when creativity and eccentric designs come out," she says. "There's just more spontaneity with the shows that go on tonight."
"We give complete and total freedom of expression to the artist/designer collaborations and this, I believe, is what creates such beauty behind the scenes and on the runway," says Melissa Arens.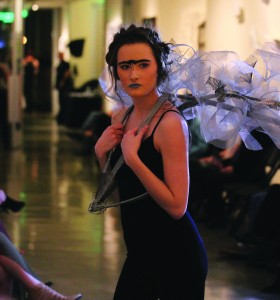 Arens is the fashion director for Art Amiss and has been participating in events for more than seven years. After helping with hair and makeup for an event in 2009, she was asked to take the role as director.
"It isn't all rainbows and butterflies," she says about the events she helps produce. "It takes lots of hard work and lots of time and dedication. It took years of showing up and working hard for little-to-no recognition before I actually landed the title."
Her position, like all the positions within Art Amiss is an unpaid one, and is strictly done on a volunteer basis.
***
Based in Fayetteville, Art Amiss is a non-profit art collective that provides an avenue for local artists to create fun and innovative art not generally seen in the region. The collective is made up of artists, designers, authors, poets, actors and musicians, who have separate events to bring more focus to the specific subjects.
"Art Amiss is a smorgasbord of all mediums of art," says president Bo Counts, who has been with the art collective since its inception. "It doesn't matter what your medium is – it's open to all types of creative expression."
Until four years ago, the art collective would come together for two large-scale events – one in spring and one in the fall.  Since that time, the grandiose art parties that happened bi-annually were broken up into smaller, more focused events.
"It was a way to get artists to channel their medium so that it could be properly showcased," Counts says. "And now we can really focus on the artists we were helping."
Over time, Art Amiss turned into an artist organization, with 501-C3 designation. This allowed the group to provide micro-grants up to $300 to help artists bring projects to fruition.
"Art Amiss is really the go-to source," says music director Eric Jensen. "We make money from fashion week, t-shirts, and music compilation CD sales and we turn it into grants that we award to artists."
Art Amiss awarded a $300 grant to Candy Lee, a Fayetteville singer-songwriter, which helped her fund her new album Human Conditions. "I was very honored to receive the grant from Art Amiss," Lee says. "I've been a big fan of Art Amiss' work ever since I learned about them in 2009 when I was asked to be on the Art Amiss 11 compilation CD. They've been doing good things for the underground art community in Fayetteville and around AR for a while now. The grant from Art Amiss was a big help in funding the pressing/packaging of my album."
"Artists started coming to us when they needed help finishing their product," Counts says, adding that his favorite thing about the organization is helping people with diverse goals.
***
"I also enjoy scouting out local artists and designer that are already established or I know can become more established with the right outlet to allow expression, obtain exposure and to show under Art Amiss at fashion events," Arens says at the NWA Fashion Week show.
Jacqueline Manhattan and Chadd Wilson are showing their collaboration, BADDJaxx, under the Art Amiss fashion event. Their designs are unlike any others at the event – they are dark, twisted and have a deeper underlying meaning.
Their design is based on fairy tale rebound concept where each princess fell in love at a different time with Edgar Allen Poe. To further perpetuate the sense of mystery with the line, each article of clothing and accessory is made from recycled materials picked up from thrift stores or trash
Katie Shingleur is dressed as Virgin Mary Ariel, with a bubble wrap fin tied with zip ties, a halo made from a large metal gear and a chain shawl. Her left breast purposefully exposed.
"The concept is weird…" Shingleur says. "It's going to leave a lasting impression."
Manhattan agrees. "It's dark. It's about being love sick. And BADDJaxx is about what you're not supposed to do, pushing the limits to see what you can get away with," she says.
This is just one of the ways that Art Amiss encourages all types of creative expression. Whether it be poetry, prose, music, theatre, fashion or art, Art Amiss hopes to change the perception of art while filling the artists needs of the community.
"If we can change spaces and the environment by using art people will see things in a different and positive way," Counts says. "And I think the presentation of art should be just as creative as the creation of art itself."
VISIT: ARTAMISS.ORG
Writer's Note: I have known Bo Counts and Eric Jensen for a little over a year. We have worked together in different capacities at KXUA, the student-run radio station at the University of Arkansas where I am employed.