Art Ventures announces new home in Fayetteville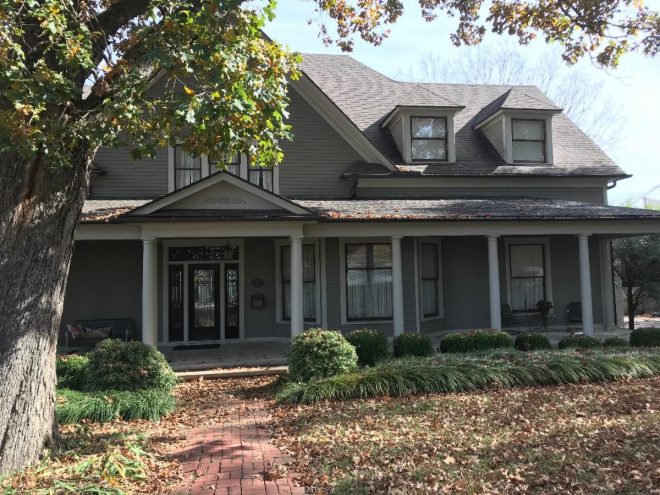 Art Ventures
recently announced its new art gallery and office location at 20 S Hill Avenue in Fayetteville. The property is just off Center Street, west of the Greenway Trail and the Fayetteville Public Library within the Cultural Arts Corridor.
The Putman House was recently acquired by Fayetteville native Kevin Curry who has offered a generous lease to Art Ventures for headquarters and gallery where they can promote the visual arts in Northwest Arkansas, collaborate with micro-communities, support artists, encourage education and public engagement in the arts, and provide accessibility to under-represented communities. Curry, who lives in Rhinebeck, New York, maintains his ties to Northwest Arkansas. Upon his first visit to Art Ventures Gallery on the Square in 2018 he realized the value in the ongoing work to advance the arts. Since his initial support two years ago, Kevin has seen the development of AV's K-12 Gallery Initiative, the Curatorial Internship program, and monthly culturally relevant arts programming that touch an array of diverse communities that make this region vibrant.
"We are thrilled to receive this extraordinary opportunity to have a new gallery space that we can call home, where staff can conduct business within our own framework, where we can have our gift shop, Gallery exhibitions, where our artists feel they belong," says Sharon Killian, president of the Art Ventures Board.
Beginning in March 2020, Art Ventures launched online exhibitions and live exhibits at our longstanding collaborator, the beautiful AV@Faulkner Galleries at FPAC, the boutique gallery at Eclectic Kitchen and for Ozarktober celebrations in Springdale with a focus on keeping people safe during the pandemic. These and other collaborations will continue. Art Ventures is pleased to continue work at its new home proximal to the Arts Corridor and the Windgate Studios of the School of Art.
Art Ventures is a 501c3 charitable and educational non-profit organization that promotes the visual arts in Northwest Arkansas by actively collaborating with the community, supporting artists working to the highest standards, encouraging education and public engagement in the arts, and providing accessibility to under-represented communities. Operational support received from the Windgate Charitable Foundation. Their vision is: "Art for Everyone improves quality of life. We envision inclusive communities characterized by mutual understanding and respect and communication across cultures through art."