Art Night Out fuses the arts into an unforgettable evening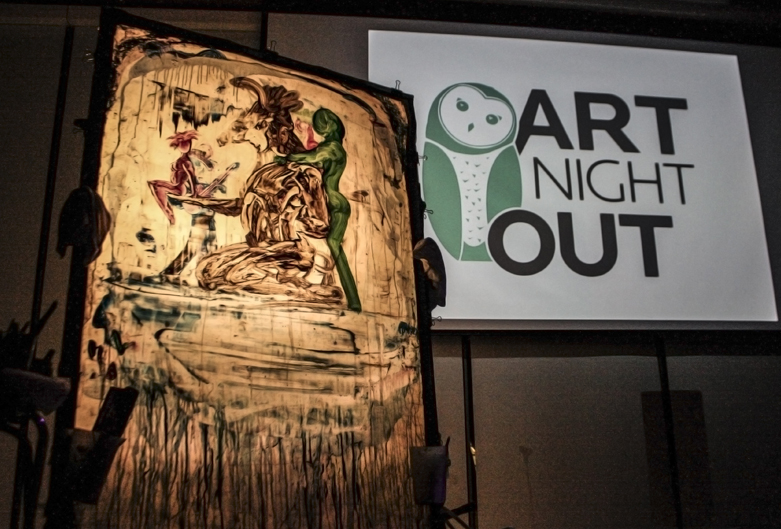 By Kody Ford
Photos by Jamie Holland
Everyone once in a while, you stumble upon an event that integrates the arts so well that it leaves you a bit dumbfounded.  That's how I felt when I attended Art Night Out at Crystal Bridges Museum of American Art on Jan. 24.  In case you missed it, Art Night Out featured short plays by the Artist's Laboratory Theatre, music by Space Camp, a performance by Tulsa Modern Movement and art by performance painter Norton Wisdom.
See the Light exhibition performance featured vignettes inspired by James Turrell's question about the viewer's relationship to art: "How do we come to the Light?" The vignette's interpreted several works at the museum such as No. 210/No. 211 (Orange) by Mark Rothko and Sloan Red by Turrell.
Tulsa Modern Movement performed three dances Upon First Entering, Light Release and Windows, which focused on the primal power of physical communication; behaviors and properties of light; and how architecture affects the people within (respectively).
In the Great Hall, the Northwest Arkansas Community College Chamber Singing Group and Jazz Ensemble each performed while Mr. Wisdom painted. After the NWACC groups finished, Space Camp, a Fayetteville band that sounds like Muse started a jam band (this is a compliment) also performed. Space Camp was the perfect way to close the evening.  Their trippy light shows coupled with Mr. Wisdom's art performances brought Art Night Out to a fitting dénouement.
According to Public Programs Director Sara Segerlin, Art Night Out began in February 2012, celebrating their permanent collection with an event themed "Time Traveler," based on the chronological format in which the permanent collection is exhibited.
"In doing some research prior to the museum opening, we discovered that visitors enjoy participating in a multi-level museum experience, an event that allows experiencing art rather than just viewing it," Sara says. "These events always connect to works in our collection or exhibitions, for instance this event tied in to our See the Light and Moshe Safdie: The Path to Crystal Bridges exhibitions, which [closed on] Jan. 28. This was a special 'last look' at those exhibitions."
Sara says that a focus for the museum and their programming is to forge an alliance with nonprofit art groups from around the region.  They look at which groups are unique, progressive and can do site-specific performances. Also, they look to collaborate with NWACC and the University of Arkansas to provide a platform to showcase their artistic talents.
Those who missed out on Art Night Out will have to wait until July 25 for the next one, which will be inspired by the temporary exhibition Angels & Tomboys, Girlhood in 19th-century American Art, which will be coming from the Newark Museum. The final Art Night Out will take place on November 13 and relate to artwork from the 1930s. More details will be released closer to time.
VISIT:  http://www.crystalbridges.org.
Click on a picture to enlarge.
[AFG_gallery id='19']