ArkansasStaged to host climate change-inspired staged reading "Your House is on Fire"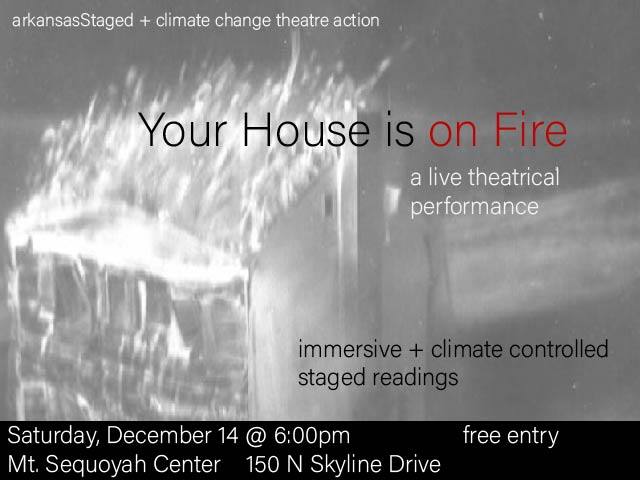 WORDS / MISCHA HUTCHINGS
ArkansasStaged joins international theater movement Climate Change Theatre Action to bring Northwest Arkansas an immersive staged reading at Mt. Sequoyah's Great Hall.
Funny, foreboding, and absurd, "Your House is on Fire" presents several 5-minute plays by celebrated playwrights Katie Pearl, Alister Emerson, Yvette Nolan, and others – all focused on current climate change questions.
Artists Rachel Lynette, Cole Wimpee, Lacy Post, Abdelrahman (Abud) Metwally, Michael Bell, Ana Miramontes, Tre Smith, Huân Thiên Bùi and Mischa Hutchings collectively-create a surprising theatrical piece interwoven through the short plays.
ArkansasStaged is honored to be the only theater company in Arkansas to represent Climate Change Theatre Action (CCTA). CCTA is a national program that presents staged readings of Climate Change Awareness Theatrical Staged Readings in all 50-States with the mission to enhance awareness, through dramatic narrative, of the national urgency for environmental projects, advocacy, conservation, and protection.
Thanks to the generosity of Mt. Sequoyah, the piece will be performed for an exclusive engagement at Mt. Sequoyah's Sequoyah Hall on Dec. 14, 2019 at 6 p.m. Tickets are free. RSVP on Facebook page. There is a suggested donation of $10