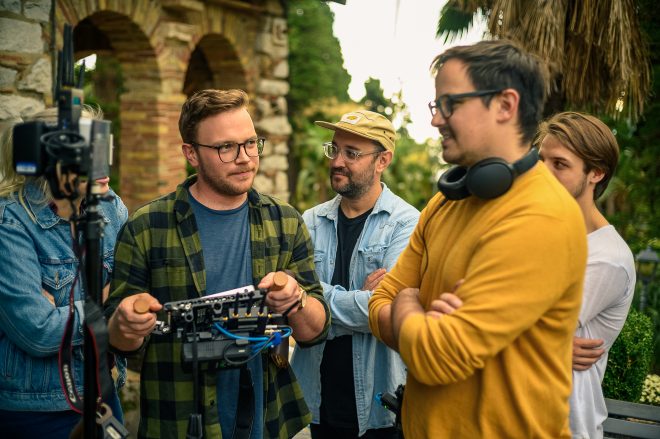 Making an independent film can seem like an impossible task, so we spoke with a group of filmmakers about how they did it.
WORDS / KODY FORD
The myth of movie making involves Hollywood lots, smokey rooms and massive amounts of cash. Taking a story from the page to the screen can seem beyond daunting; it can seem downright unachievable. But you don't have to be John Wick to complete this impossible task. We talked to several Arkansas who have made independent films here in the Natural State without large studio backing. They're going to tell us how it's done.
THE SCHWARTZMANS
Ryan Schwartzman headed west from Fayetteville to attend college at University of California, Santa Cruz. He majored in theater and moved to Los Angeles to pursue a career in acting after graduation. After landing a gig at a children's theatre, Schwartzman met his future wife and collaborator Jennica, who grew up acting. One of her older brothers, Marc Hampson, had gone to film school so she was able to soak up as much as possible about being behind the camera during her time in front of it by working on his projects over the years. This time was a masterclass for the couple and greatly shaped their desire to become producers. Over the next few years they continued to work with this group and worked on more short films and web series as actors and writers.
Fast forward to 2009, they collaborated as producers for the time on a short film called "Bed Heads," written by Schwartzman's uncle Scott Merrow. Two years later, they entered that film and an animated short directed by Hampson in the Offshoot (now Fayetteville) Film Festival, which brought  back to his hometown where he met many people who would go on to work with them in the near future. This trip inspired the two to return in 2012 to Northwest Arkansas to film Gordon Family Tree, the first feature they wrote, produced and financed themselves for their company, Purpose Pictures. 
Jennica held onto the program from the Offshoot Film Festival and visited each sponsor listed on the back to determine how film friendly the businesses were. She took notes on what had filmed around the state and learned the politics of Arkansas' burgeoning film community. Because they had never produced their own feature, the Schwartzmans found themselves unable to get investors from the West Coast so they self-financed the film through credit cards, loans and Kickstarter. They were the first film in the region to rely on the crowdfunding platform for their production and many of their supporters were from the 42 businesses Jennica had met along with friends, movie lovers and members of the NWA film community. The funds were used for equipment, actors and other necessities while food, locations, housing and transportation were donated from members of the community who came on board due to Jennica's extensive outreach efforts and 's previous relationships within the NWA area. But Jennica believed that they shouldn't just take from the community, but give back as well. They brought resources and education. They spoke at the film festival. And as a sign of goodwill, Jennica took headshots and made IMDB pages for the actors. Along with headshots, the Schwartzmans made copies of their production bibles to give to aspiring filmmakers in NWA as a way to give back to all of those who helped. Many productions have utilized their structure over the years. 
For anyone looking to produce their first film, Jennica offers some advice, "My big tip is talk to a producer, who's done it before and get a copy of their paperwork and then make your own version. That's better for you and better for your community. I think the number one thing in sponsorship is what can I bring to your business that you might want? And it's not always customer or awareness. Sometimes it's just prestige and legitimate connection to the community. There's things that businesses might want but what they can afford to do and what they can support varies widely on the size."
Schwartzman also stressed to be upfront about what exactly you need with a potential sponsor rather than use a foot-in-the-door approach so the business or person does not feel used and don't be afraid to be honest about what your project is as some sponsors may not be comfortable with the content at-hand.
Two years after their first visit, the couple returned to premiere Gordon Family Tree at the Malco Razorback and the Fayetteville Film Festival. Their efforts with the movie helped them develop relationships that continued as they brought two more features—The Man in the Trunk and Parker's Anchor—in 2015 and 2016 respectively. The Schwartzmans produced The Man in the Trunk and  starred in the film with Hampson directing. The script was originally written for a desert setting, but the creative team enjoyed the Ozarks so much they decided to shoot in NWA. The film was released theatrically and digitally in 2019.
While Jennica had stayed behind the camera for Gordon Family Tree, this was her time to shine on screen in the lead role in Parker's Anchor. Having two films produced under their belt, they were able to raise more funding and expand their crew and scope for the project. Jennica remained as the local liaison for the film. They utilized their previous funding model, but only used Kickstarter for a smaller amount this time, but shifted more of the financial responsibility to themselves. Because they were able to bring a DVD of Gordon Family Tree with them, the Schwartzmans found many doors had opened that had been closed their first go round. Since 2012, many other filmmakers had begun to shoot indies in the area so their previous crew and actors had grown stronger in their craft as well. Parker's Anchor was released in 2018. 
Recently, Jennica, Hampson and collaborators Aaron Fairley and Joshua Mauldin announced a new company, Elekhan Films, that will bring three films to Arkansas starting in 2022.
ALEXANDER JEFFERY & PAUL PETERSEN
In 2013, while working as First Assistant Director on Ray Noori's film, The Philosopher King, Alexander Jeffery found himself in awe of Sweden and especially making a movie in Europe. The small crew lived together in a home and spent their time together, part summer camp, part family vacation. During this time, a seed was planted, one that would grow into a screenplay within a few months of his return to the United States. Jeffery wrote a script—boy meets girl…in Italy. He loved the idea, but there was only one problem. The script wasn't any good. So, he shelved it. 
Over the next few years, Jeffery helped launch the El Dorado Film Festival where he reconnected with his old friend Paul Petersen who'd come to town for the festival. The pair began collaborating on films together and won the $50,000 Louisiana Film Prize for their short film, "The Bespoke Tailoring of Mister Bellamy." They wanted to do a feature, but none of their ideas really caught fire. So, Jeffery dusted off that old "Italy film" script for a major overhaul. Inspired by their poetry and music respectively, Jeffery re-wrote it with Petersen in the lead opposite his friend, songwriter Andrea von Kampen. He considered how to incorporate music into the plot like films such as Once. The previous story of a European whirlwind romance faded away into a tale deeply inspired by films like Before Sunrise, Lost in Translation and Inside Llewyn Davis. However, turmoil in Jeffery's and Petersen's lives at the time—Jeffery had just lost his grandfather and Petersen had lost his father—permeated throughout the story.
Along with family tragedy, they were under the pressure of their own brief success after winning the Louisiana Film Prize for "The Bespoke Tailoring of Mister Bellamy." Jeffery said, "I was personally feeling massive pressure to follow that film up. Molto Bella became a love letter to the creative process and taking that leap of faith to share a part of yourself with the world, even if it might fall flat on its face."
In early 2019, Jeffery and Petersen completed a first draft of the script and took it to their friend, Richard Wharton, who loved it, but suggested the film be set in Taormina, not Tuscany. Jeffery started researching Taormina and Mount Etna, and thought the area would be a perfect backdrop for the story, so he rewrote the script for Sicily. In September 2019—one month before filming began—Jeffery and Wharton headed to Italy to scout locations. During this trip, Jeffery found more inspiration and revised the film again after having actually been to the region. Finally, in October 2019, they packed their bags and headed to Sicily to film for three weeks, wrapping in early November 2019, only weeks before Covid-19 struck Italy.
During Jeffery and Wharton's initial visit, they had connected with the owner of our bed and breakfast, Michele Scimone, and he became an incredible help to their production, connecting them with the local restaurants and shops to get permission from the owners. Also, their Unit Production Manager, Amelia Clay, lived in London and traveled to Sicily before everyone else to get things set up. Gear was also an issue. They had to be creative with what they could bring over from the U.S. and what they could rent locally. During the El Dorado Film Festival, Jeffery had connected with Roman filmmaker Eitan Pitigliani, who helped them secure permission to film in the public centers of Taormina and cast actor Vincenzo Vivenzio to play the role of the Sicilian Waiter in a key scene. 
While they had permission to film within the town, they could not interrupt tourism, which led to some strategic decisions with how and when they filmed scenes in public. Once, they were in the public gardens getting ready to film an argument between Andrea and Paul. Rain moved across the water, closing in on the town. Time was limited to get the shot and when they arrived, an Italian singer was making a music video, dancing around while a drone zoomed overhead recording the spectacle. As the clouds grew near, the singer and crew wrapped up leaving Jeffery with just enough time to get five takes of the scene before the rain began to fall. 
Jeffery's favorite moment took place in Savoca where they had just finished filming an emotional scene in front of the church that served as the setting for Michael Corleone's wedding in The Godfather. He said, "It was amazing to be there, knowing it was such a part of cinema history. The sun started to set, several cast and crew walked up over the hill, and we had this spectacular view of Taormina in the distance. It was incredibly calm and quiet and then, in the distance, church bells started to ring. It's hard to describe how magical it really was, but it was definitely a moment that will stick with me for a long time. Even though we were filming in this incredible place, it was very stressful at times, and I think that moment grounded us."
SETH SAVOY & JASON MILLER
The story of Echo Boomers is long and winding. Co-writers Seth Savoy and Jason Miller met as film students at the University of Central Arkansas where they shot music videos and short films together. After two years, Savoy transferred to Columbia University so he could be in an area with active film and television productions.
In 2014, they began writing the script for Echo Boomers; seven years passed from beginning of writing to the film's release. Savoy had moved to Chicago and got the idea for the story from an article in the local paper about a burglary ring and then they expanded upon it to form a story of disenchanted Millennials breaking into the homes of Chicago's wealthiest citizens and selling the wares on the black market. 
One night at a dive bar on the northside of Chicago, Savoy played Pop-a-shot basketball for fifty cents a game with a stranger, who went on to become the first investor in the film. The script was optioned and they used the small amount of seed funding for various pre-production tasks such as hiring an entertainment attorney from Chicago, who helped them get accepted to the screenplay competition at Sundance Film Festival. For the contest, the judges selected the top 20 scripts submitted. Savoy and Miller made the cut and were asked to come pitch the film. Savoy had studied up on what buyers and sellers of films liked to hear so he felt fairly confident going into the event.
"Your script has to be good, but I think a lot of it comes down to the pitch and how you spin it," Savoy said. "And so we'd probably gone through maybe two drafts, maybe three drafts, and then we started pitching it pretty hard. And I think that pitch was so good that we could kind of spin that this is like a fun, relevant thing that people are loving and that's just kinda what people latched onto. So we took it out pretty quickly once we got the pitch down."
After their three minutes for the pitch ended, Savoy and Miller watched out of the Sundance competition as the winners. 
With such a crowning achievement at Sundance, offers poured in to buy the script, but no one wanted Savoy to direct, so they set out on their own to make Echo Boomers a reality. They brought on Byron Wetzel and Sean Kaplan as producers, who got Michael Shannon secured as the antagonist. They had several up-and-coming buzzworthy actors attached to play the lead, but things eventually fell through. Then they connected with Patrick Schwarzenegger. After meeting with Savoy, the family scion landed the role of Lance Sutterland, who unwittingly enters the world of high stakes burglary. Towards the end of pre-production, Savoy and Miller brought on Northwest Arkansas businessman Tom Gordon as an executive producer. Gordon solicited additional investors to help them meet their $3 million budget.
While Echo Boomers is set in Chicago, the film shot in Salt Lake City with the exception of the scenes of Schwarzenegger's character arriving at Union Station in the Windy City. Savoy directed and Miller served as a creative producer. Though initially intimidated to work with Shannon, Savoy found him to be a true collaborator who was open to feedback but also willing to provide teachable moments for a first-time director. Looking back on producing their first film, Miller offered a word to the wise—beware of those who make promises they cannot fulfill—a mistake that set their production back a good bit in the early years of development. Trusting your investors, producers and crew is a necessity he believes.
Echo Boomers premiered in 2020 during the midst of COVID-19 shutdowns. They secured overseas distribution and streaming rights. The film provided a return on investment for their financiers and provided Savoy and Miller with a great experience and one hell of an IMDB credit. Despite the intensity of production, Savoy felt it all came together in the end. 
"It's super intense, but at the end of the day, we should all just be grateful that we get to do this thing," he said. "Not many people get to make it to this point and you really get to collaborate with some amazing creatives."