ARTISTS WE LOVE: Angela Davis Johnson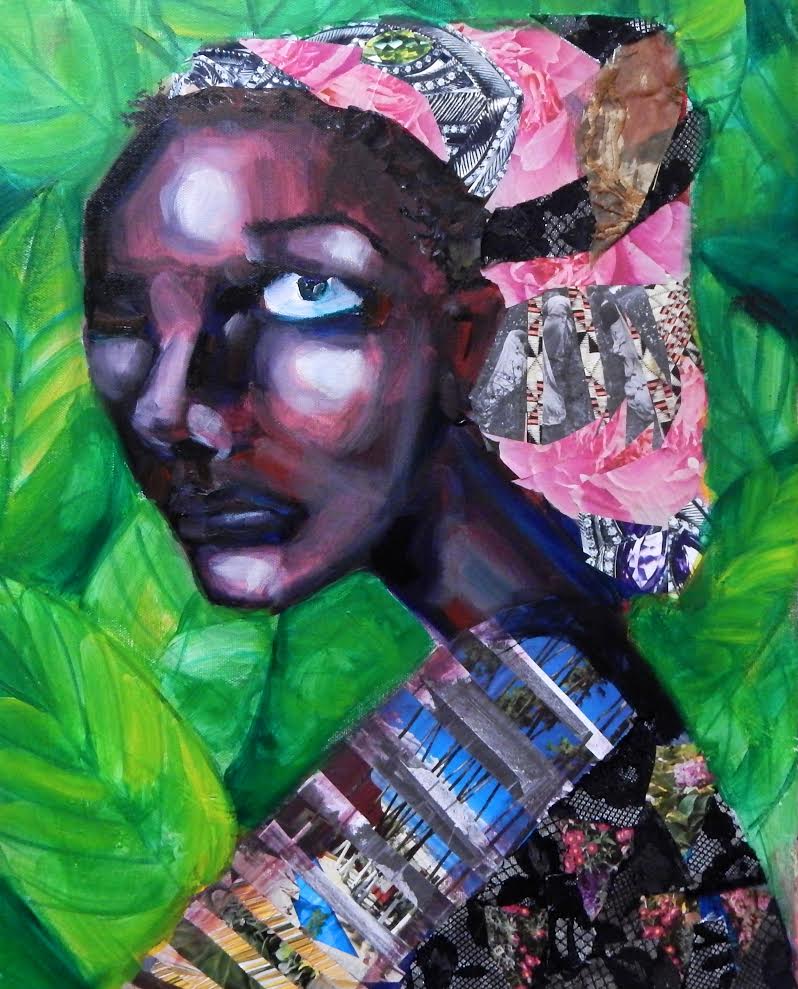 Occasionally, you just come across an artist you just immediately like. You are impressed by their work, but also, you enjoy their spirit and willingness to truly be engaged in a community. Angela Davis Johnson, a painter and maker working in both Little Rock and Atlanta, is one such artist. Johnson's works include a wide range of mediums and subjects from mixed media paintings of missing women of color from across the globe, to practicing performance art through #3everyday, an organization providing awareness and openness about domestic abuse. In the midst of preparing for shows and finishing a new mural with artist Jose Hernandez at the House of Art in North Little Rock's Argenta district (it looks amazing, so go check it out), Angela talked with us about her work and finding the balance between her own voice and storytelling.    
The use of color and shape in your paintings feels very modern, despite artists using those devices throughout the history of painting. What helps you keep your practice fresh?
I think the key to staying fresh is to remain authentic to my own vision yet always be open to learn from other artists. When I first started painting, I was in love with so many artists' work – Bearden, Gauguin, Wangechi Mutu, Dana Schutz. I referenced their work in my paintings so much that I had to learn how to digest that admiration. For me, it is important to find that balance between trusting my own visual voice while observing what other artists are doing to expand my vocabulary.
Many of your works have titles that lead me to thinking about narrative. Do you have a certain storyline in place to draw from when you're painting? Is each work sort of a snapshot in a narrative you've drawn from?
Storytelling is most definitely intrinsic to my practice. I find that in a simple image a story lives and breathes within it. When I am in the studio the paint follows the story and I easily become lost in it. Telling a compelling story in a single frame is what excites me and I feel that the titles are hints into understanding that world.
How do you find your subjects? Are they of actual people, historical or from the present time?
My subjects vary from spirits to dreams to actual people. Last year, I started painting missing women of color, including women from Little Rock to the missing Nigerian schoolgirls. I was inspired to create that series after I almost became lost in New Orleans. This year, I was asked to create a work for the ACANSA Arts Festival in conjunction with the play Blood at the Root. For that work I painted a series of ashes personified as women to tell the story of American lynching.
You mention on your site that your studio practice incorporates influences from both academic and outsider work. I think some artists worry about the "folk" line of making, as if that were a bad thing. How do you meld the two worlds, or do you see a difference between more structured, academic thoughts about painting and what might be considered "other"?
As a self-taught artist, I had the advantage of learning from whatever source that I needed to gather from; whether it was the entire Janson's History of Art to experimenting with farmers to create works on saw blades in East Arkansas. Melding the two worlds is natural for me because I consider both ways of approaching art to be valuable, critical and essential to my process.
In Kinfolk and the Apothecary Dream series, you also use empty glass bottles as part of the installation. What made you decide to add additional elements to the work's in that space?
Kinfolk and the Apothecary Dream was the first time I created an installation. I had a dream that I was being led out of the city by a strange character, through an apothecary, into the woods and when I came out of the other side I found all my ancestors working in the field. I wanted to recreate the apothecary by hanging empty bottles from the ceiling and placing them on the wall. I asked participants to write on a piece of paper to add their dreams, fears or anything they wanted to release into the bottles. I remember a particular note – someone forgave their father for dying. It was that moment that I understood the potential and power of installation art.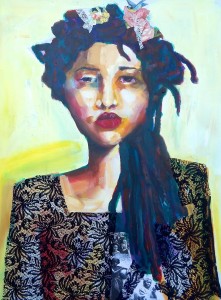 In several of your works, I see the addition of pattern either through lace, text or something I can't quite recognize. By layering these materials, how do you see that providing extra context to the subject you're portraying?
So much of my art is about relating a story or revealing untold stories. By including texture and text, I believe it adds another level of understanding that paint alone will not articulate. I recently completed a public art project called Autumn. Love. Cycle. Stories of Love told from Atlanta's Unheard Voices to amplify the voices of the homeless population in Atlanta. I created structures with reused wood, plastic, lace and fabric. The materials conveyed a sense of who my subjects were and particular beauty through the layers.     
Most of your paintings showcase a female subject. Does the work ever become autobiographical for you and you find yourself as the subject? Or do you try to stay away from too much specificity?
Although most of my subjects are actual people, certain artworks act as a signifier to my interest and personal life changes. For instance, when I see my series Mouthless Mabel and Dollbaby, I think of being pregnant with my first child. The idea of becoming a mother was so new and overwhelming, I couldn't put it into words. I created Mouthless Mabel to express that feeling of not being able to verbalize my concerns and fears of motherhood.    
Can you tell us a bit more about the work you're creating for #3everyday? How did you get involved with this project?
I was honored to participate in Jessica Caldas's #3everyday project that brought awareness to domestic and intimate partner violence during the month of October. I met Jessica when we were both selected as Joan Mitchell Visual Art Scholars for the organization Alternate ROOTS. Jessica choreographed movements paired with questions abused women are confronted with to spark conversations about domestic violence. She invited several artists to perform the piece with her at various locations throughout Atlanta. I am proud to say I performed several times alongside her. It was an amazingly emotional experience.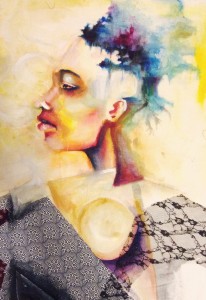 You spend time in both Little Rock and Atlanta. Do you feel that both places influence your work? How have you seen the art scenes in both areas develop over the last few years?
Little Rock's arts community has been like a family, supportive and encouraging. I have learned a great deal about being a professional artist and I have gained lifelong friends in the process. When I moved to Atlanta over a year ago, it was challenging because I didn't know anyone, but I was infatuated with its energy and vibe. Now that I am starting to know other Atlanta artists, I am expanding in ways that I could have never imagined. As far as the art scene, I get the sense that both cities are on the edge of a renaissance and great things are stirring in the pot.
If you had to use any other medium to create work, what would you use?
I am really interested in film. One day I want to combine my interests in painting, installation and performance art. I think film would be a cool way to pursue that kind of work.
What are you working on currently in the studio?
I just completed a mural at the House of Art with one of my favorite artists – Jose Hernandez. In the mural there are flying children of color who escaped the grief and constructs of this world. Now that I am back in the studio, I am working on a body of work that focuses on what that liberation can look like. I am still painting missing women of color. I think that will always be a focus of mine.    
Where can readers see your work? Are there any upcoming shows we should know about?
You can find my work at The Butler Center Retail Gallery and Matt McCleod Gallery in Little Rock  and Argenta Gallery in North Little Rock. In January, I  will be starting a residency with a collaborator Muthi Reed in Jackson, Miss., at the Mississippi Museum of Art. have a show at Thea Foundation in North Little Rock (on Feb. 5) and an exhibition in Baltimore. My cup is running over.
VISIT:  angeladavisjohnson.com
Instagram:  @angeladjohnson