Steve Adair Unveils "Leaf Forms" Installation at Art Center of the Ozarks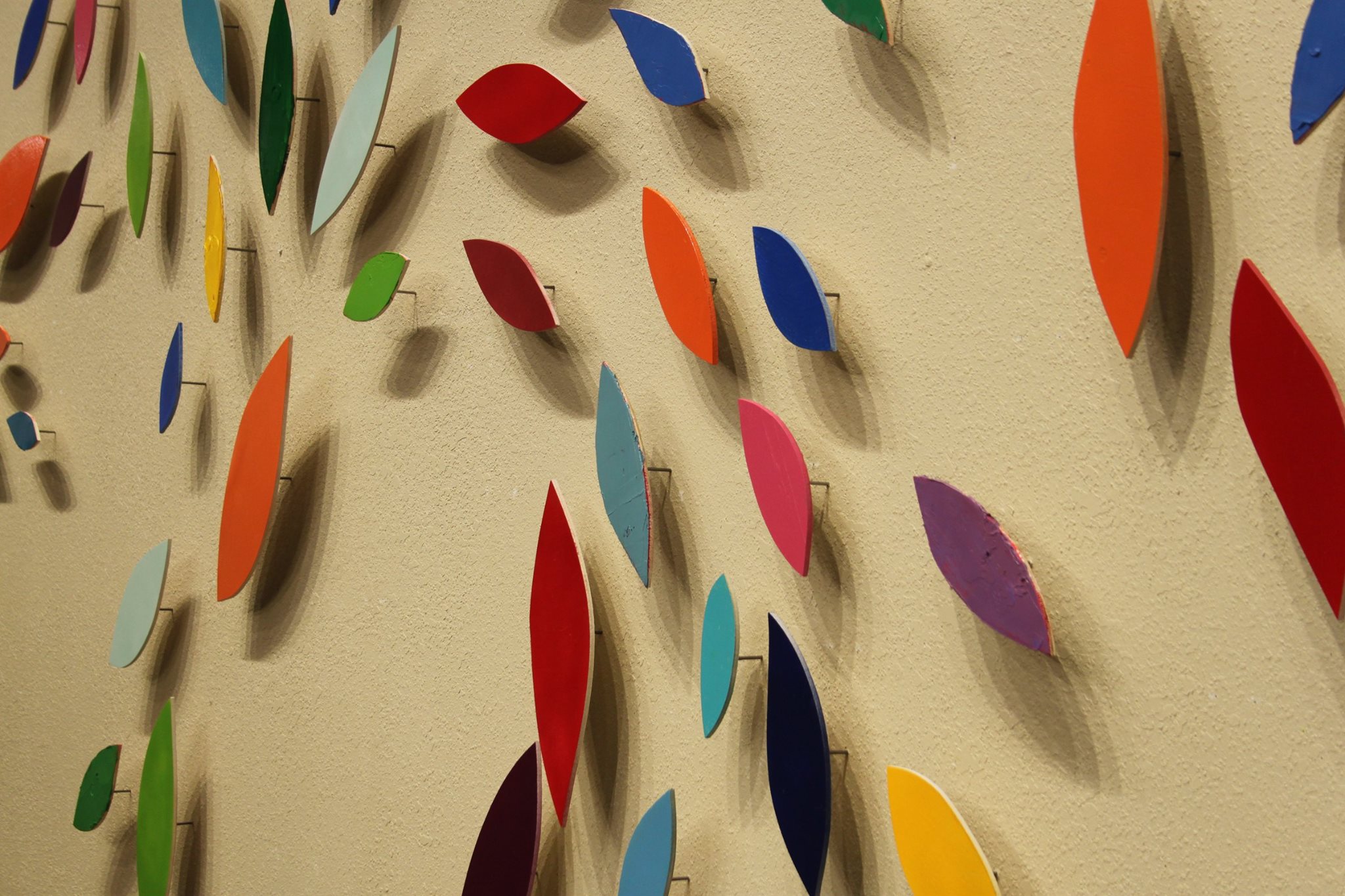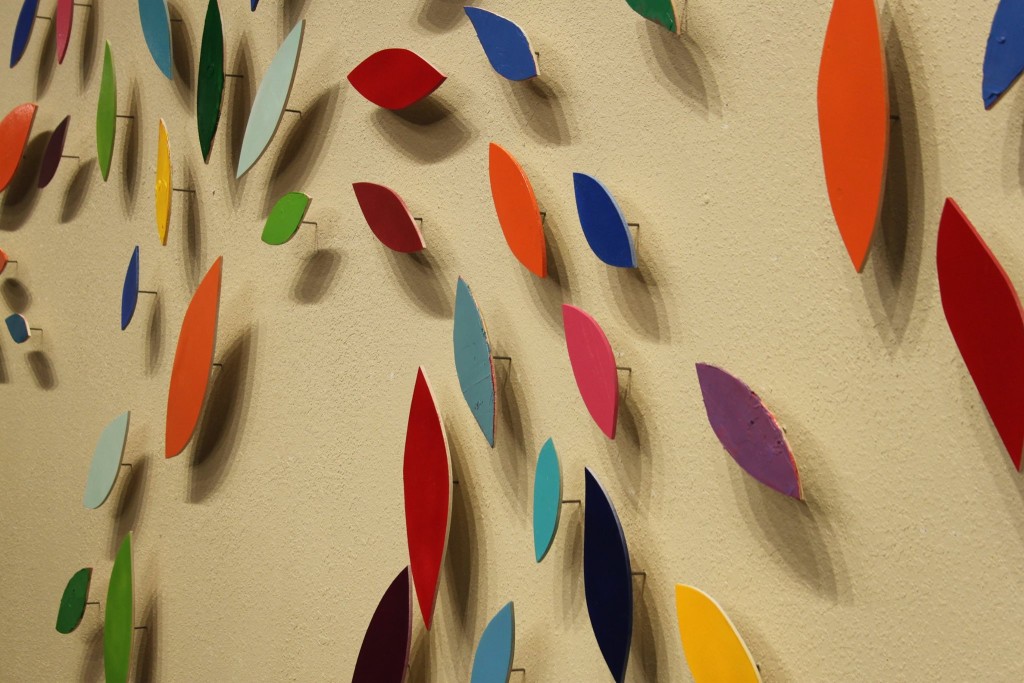 INTERVIEW / DAVE MORRIS
Jonesboro native Steve Adair saw inspiration all around him. Though he recently relocated to Northwest Arkansas, Adair spent a lot of time back home taking in various scenery, especially old and abandoned houses, sometimes simply photographing it, and sometimes translating it on canvas. Adair considers his most recent work Leaf Forms – part painting, part sculpture – to be an installation. It is currently on display at the Arts Center of the Ozarks in Springdale and will run until January 29. Adair was nice enough to discuss Leaf Forms and his career with us via e-mail.
You're originally from Jonesboro and you've worked out of there for many years. You graduated from ASU. Can you tell us a little bit about your formative years?
Living in Jonesboro has had a huge influence upon my work, both with my inspiration and with some of the imagery I was using for paintings. During my undergrad years I spent a lot of time exploring and documenting old abandoned houses and building with my camera. I would probably spend hours just driving around aimlessly across northeast Arkansas looking for interesting locations. If I found a good place I would spend a lot of time getting to know the place, walking around, and looking at stuff. At that time is was drawing on inspiration from Ed Kienholz, a Californian artist who used found objects to make assemblages and tableaus. Often simply taking pictures wasn't enough and I would end up hauling things away to bring back to my studio. A lot of my earlier work included found objects that I collected, some of which were painted or drawn on.
Towards 2011-2012 I did a series of figurative paintings that were painted upon doors that were taken from these abandoned homes. I always liked the notion that object sometimes had a previous life or history. It's not like picking up a canvas or sheet of paper from the art store, but dealing with something that isn't a blank slate to begin with. Around that time I was toying around with using the source imagery found in homes on the doors. I liked the idea of merging the two narratives, and even creating a new history within the work by juxtaposing the disparate elements. 
Another huge influence was David Salle, whose paintings often combine multiple images that often look like they are digitally collaged together.
I learned a lot while studying at ASU. I would say I was exposed to a lot of good art theory while in school. From there I got a lot of inspiration that has led to the figurative and installation based work I am doing currently. 
The Leaf Forms, which are my current project, have strong roots in those explorations. Often times I would stumble upon a house that had bushes and plants growing within a house, from floor to ceiling. It's a very surreal experience, and I think that it speaks to how we often try and control nature throughout every aspect of our lives. It's interesting to see when these houses eventually return back to nature.
Speaking of Leaf Forms, what was your process in creating it and how did the exhibit at the Art Center for the Ozarks (ACO) in Springdale came together?
Yeah, Leaf Forms is an on-going work that has been boiling for a few years now. It's been a bit of a side project for my daily studio paintings, which consist of medium and large scale figurative paintings. Once I started making the Leaf Forms, I realized I couldn't realize them in any studio space, they were much too large. I always wanted the installation to be large, and consume a wall space. So, the more I thought about making these I realized that I needed to seek out gallery and project spaces to make them a reality. With a few exhibitions under my belt, I inquired to Eve at the Arts Center about doing a show, and she made it happen! I'm pretty stoked because it's a beautiful space! So the timing for the show was pretty crazy, I usually make work a year or so in advance for an exhibition. For this show it was a bit of a rush because of my teaching schedule, not to mention moving to NWA and buying a home! But it came together, and I couldn't be happier!
Leaf Forms is an installation but most of your work is on canvas and a lot of it features images of women. Do you have any specific goals or messages you're trying to convey with this work?
I think most people would pick up on the source imagery used in the work, it has a bit of pop to it I think. I had one recent show at the Fayetteville Underground last year and another artist mentioned that the work looked a bit like Pop Art, but the color was a bit off. I use a lot of earthy colors that often work with and against the images collaged onto the canvas. I would say that I want the paintings themselves to feel like relics, so I take time to compose the figures in the paintings as well as take time to scrape away and distort. 
You've had many exhibits in Arkansas and Leaf Forms was previously shown in Texas and Illinois. How is showing your work in Arkansas different than doing so in other states?
I love showing work in my home state! It's always fun because I feel like I get a lot of support when I have a show here. 
In addition to your own art, you also teach art to K-8 students. Does working with kids inform your own work in any way?
It definitely does! I'm inspired by how uninhibited and creative children are! It's a pleasure to be able to facilitate that in art. I try to carry that same mind set when I'm working in the studio.
Before you went to ASU, you actually lived in NWA for a while and attended the University of Arkansas. During your time as a student at the U of A, you played drums with local bands Friday, Maybe Saturday and The Inner Party. What caused you to step away from music and focus solely on art? Do you ever plan on returning to music?
I really miss playing music and I hope to return to it at one point or another. However playing in bands didn't really give me a chance to develop my own voice. Since working on my visual art I have been able to hone in on that and realize some pretty huge projects. I would like to eventually find some balance between the two.
You've lived and worked in two of the major population areas of Arkansas and you've shown your work in other areas of the state. You've also lived and worked in other states. Do you feel that Arkansas is a hospital environment for an artist to work?
For sure! I have received nothing but support from showing and working in Arkansas.
What's next for you after your ACO show?
I'm happy to be pretty busy this upcoming fall. I'll be doing another Leaf Forms exhibition this August at Three Rivers College, in Poplar Bluff, MO. Then in November, I'll be doing a group show with a rad painter and friend, Dustyn Bork, which will be at Local Colour Gallery in Fayetteville.
VISIT: STEVEADAIR.COM