21c Museum Hotel Bentonville releases Top 5 events for spring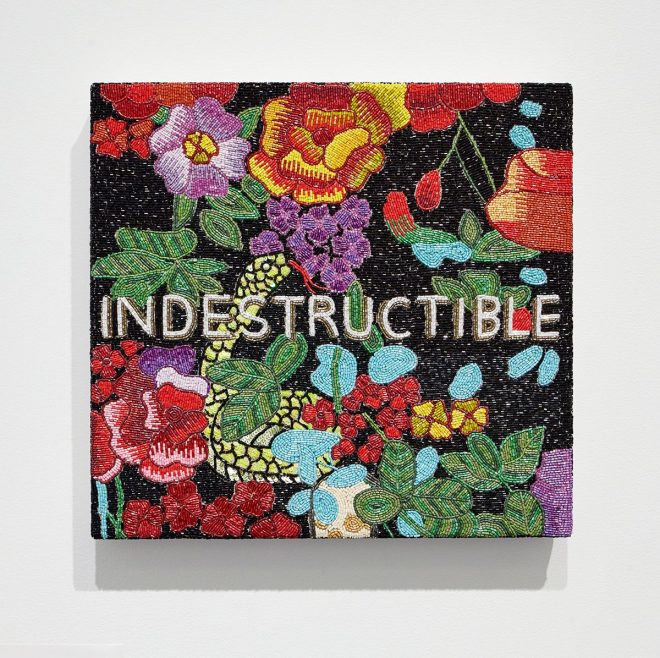 WORDS / SUMMER EL-SHAHAWY
1 Gaela Erwin Artist Talk
Artist Gaela Erwin gave a special lecture on March 4 at the 21c Museum Hotel Bentonville in partnership with Northwest Arkansas Community College's 2019 Spring Arts & Culture Festival. The Spring Arts & Culture Festival is an annual event at NWACC that sparks conversations about social issues and understanding culture, and serves to promote creativity, diversity, and the arts. The 2019 theme for the festival is home – broadly defined. It addresses the division between public and private, what it means to make a home, feelings of alienation and displacement, and the body as a home.
In addition to the lecture, two of Erwin's paintings are featured in 21c Bentonville's current Exhibition, The Future is Female. Erwin's paintings include her pastel painting Portrait of my Mother in her Wedding Dress and her series Self-Portrait with Blue Eyeshadow.
Erwin does most of her work in oils and continues to center her pieces around feminist themes, as evidenced by her small portrait series Looking at Men: Objects of Desire. Other themes in her paintings include morality other psychological aspects.
2 Fork + Beer: Ozark Beer Collaboration
6:30-9 p.m. March 27 || $40 per person
There will be a celebration for the release of a beer named Colony, which was created through a collaboration between The Hive in Bentonville and Ozark Beer Company in Rogers. The event will take place at The Hive and tickets are available for $40 per person. This special lager, Colony, is pale in color and is can be purchased exclusively at The Hive. The taste is described as crisp and clean and was made with Danish lager yeast, Hallertau Mittelfruh hops, and Mandarina Bavaria, a German brand of hops. In addition to the beer, attendees can enjoy a light meal of Americana food by Chef Matthew McClure and Ozark Colony.
3 Elevate Artist Reception
March 29 | 21c Museum Hotel Bentonville
There will be a reception for three NWA artists that have work featured in the Elevate at 21c program. The artists include Shabana Kauser, Hannah McBroom, and Kasey Ramirez, each of whom will speak about their work. At the reception, guests can enjoy a cocktail and light refreshments as well as meet the artists and explore the installations. The reception is free and open to the public. The Elevate 21c program exhibits works by local artists that live in the communities surrounding the 21c Museum Hotel property and serves to allow hotel guests the opportunity to view the work of regional artists by featuring their work in 21c's art space.
4 Yoga with Art + Yoga Story
10-11 a.m. every Saturday
Yoga enthusiasts can attend 21c Museum Hotel Bentonville's weekly yoga series Yoga with Art every Saturday. Sessions can be booked online or at the door and are $10. Sessions run from Saturday, March 16 to Saturday, July 6 and will be at 200 NE A Street in Bentonville. The sessions are led by a certified instructor Yoga Story, and attendees are advised to bring their own mat and water as well as arrive early due to limited space.
5 Men of Steel, Women of Wonder
Men of Steel, Women of Wonder is an exhibition at Crystal Bridges developed by Assistant Curator Alejo Benedetti that is being featured from Feb. 9 through April 22. The featured heroes, Superman and Wonder Woman, are iconic American characters that developed out of economic adversity and war. These beloved personae represent the best of America: truth, justice, and the American way. The featured artists in Men of Steel, Women of Wonder use these icons to explore thought-provoking themes like national identity, American values, representation, and humanity. The exhibition features more than 70 art pieces in the form of paintings, photographs, and video by over 50 artists. Tickets are available for $12 plus tax for the general public and are free for members as well as for people ages 18 and younger.
The exhibition offers a fresh take on these famous figures, and while Superman and Wonder Woman may draw a younger crowd, it is important for parents and families to note that these characters may be depicted in non-traditional ways to address mature topics like race, gender, sexuality, and national identity.
6 (Bonus) The Future is Female Package
21c Bentonville's newest exhibition titled The Future is Female is an exploration of contemporary feminist art that explores themes like identity, consumer culture, ecology, mythology, and the struggle for equality. Attendees can expect to see objects depicted in interesting ways like acrylic fingernails glued to reptilian forms and female anatomy composed of neon lights and boxing gloves.The exhibition is in the 21c hotel in Bentonville and those who book The Future is Female package can enjoy overnight accommodations at 21c, two Thirsty Vouchers for drinks at The Hive as well as two "The Future is Female" t-shirts from the 21c Museum Shop.
// https://www.21cmuseumhotels.com/bentonville/#museum