211 South Hosts "Poetics of Places: Ziba Rajabi and Suzannah Schreckhise" Virtual Exhibition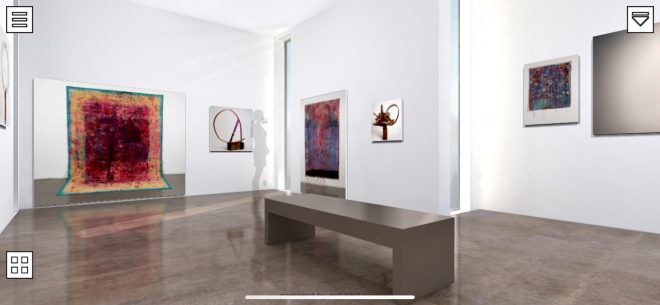 211 South, formerly known as The Gallery at Midtown Associates, launches a virtual gallery tour for the exhibition it had to postpone due to the current health crisis of COVID19, Poetics of Places: Ziba Rajabi and Suzannsh Schreckhise. The exhibition consists of a selection of paintings, sculpture and fiber art from Rajabi and chreckhise curated by Kellie Lehr.  The virtual space utilizes a template and is not the actual gallery space at 211 South. A free downloadable app called Exhibbit enables viewers to move around the gallery space from their phones (www.exhibbit.com). The gallery is scale-accurate so visitors can view each artwork at its real-world size and get a feel for relationships between works. The art is available for purchase and will remain up through the exhibition.
"COVID19 might have delayed our first art opening at the newly remodeled and renamed 211 South Gallery, but our curator, Kellie Lehr, has prepared a special virtual tour for all to enjoy.  I love having an art gallery in our real estate shop because art brings the community together," said Michelle Dearing, of 211 South.
"The actual exhibition will take place when everything is safe, and we can't wait! In the meantime, I hope this provides a sneak peak into the work of two exceptional local artists that you can enjoy from the safety of your home," said Lehr.
Both artists highlighted in this exhibition work in abstract forms. Materiality, texture, color, and shape all play essential roles in their work, which contain gestures and forms that evoke specific times and places, and question historical narratives. Salvaged pieces of wood from a dying tree in Schreckhise's front yard have been bent by hand into new sculptural forms. Rajabi's drawings from memories of a now far away home evoke familiar feelings of both reconciliation and longing. Viewer interpretation and participation are encouraged.
Rajabi received her MFA from the University of Arkansas, Fayetteville, and her BFA from the Sooreh University, Tehran. She is the recipient of the student artist grant for the Artist 3 60 program sponsored by Mid-America Arts Alliance. Her work has been included in a number of exhibitions, nationally and internationally, such as Masur Museum, LA; CICA Museum, South Korea; Aran Gallery, Iran; Art Fileds, SC; Pensacola Museum, Florida; Site:Brooklyn, NY; Amos Eno Gallery, NY; Millersville University's Skyes Gallery, PA; and Mim Gallery, Los Angeles.
Schreckhise earned her BA at the University of the Ozarks in Clarksville and was a 2018 Artist INC Fellow. She has participated in numerous state and national exhibitions, receiving 1st place at the 2019 RAM Invitational and the NEA Big Read Recycled Art Exhibition at the Windgate Gallery at UA Fort Smith, as well as Best Sculpture Award for her piece "Falling to Pieces" in the 2018 Artists of Northwest Arkansas Exhibition. She has participated in group exhibits, including Our Front Porch, sponsored in part by the Mid-America Arts Alliance. Her work has been featured in the international juried art magazine Studio Visit and several other local and national publications. Suzannah was juried into the Arkansas National Committee for the National Women in the Arts Museum artist registry in 2019 and the ANCNWAM 2021 Arkansas state Woman to Watch exhibition, Paper Routes, curated by Allison Glen.
211 SOUTH, located at 211 South Main St. in Bentonville, is a contemporary art gallery located within the offices of Engel & Volkers NWA (formerly Midtown Associates). Midtown Associates partnered with the global real estate company, Engel & Völkers in January 2020. The gallery is newly remodeled and renamed (previously The Gallery at Midtown) and focuses on showcasing exceptional art from local and regional artists and making connections between the artists and community.  Normal business hours are 9-5pm and they can be reached at (479) 268-5170.
Lehr is the Gallery Director for 211 South and an artist.  Lehr holds a BS in International Economics and spent 2013–2018 studying in the Drawing and Painting program at the University of Arkansas and is now a Master of Fine Arts Candidate at Lesley Art & Design in Boston, Ma.  She resides in NWA.  In 2019, she was selected for Art File by The Painting Center in New York and the 2019–2020 National Museum of Women in the Arts juried registry by its Arkansas committee. Recent exhibitions include 21C Museum Hotel in Bentonville, the 59th Annual Delta Exhibition at the Arkansas Arts Center in Little Rock, Tapped at Manifest Gallery in Cincinnati, and New Optics at The Painting Center in NYC. Her work is in private collections throughout Arkansas, California, Texas, Florida, Wisconsin, New Jersey, and New York.  www.kellielehr.com
20% of all sales from the virtual exhibition through the end of April will go to NWA Food bank.