The 2022 Black Apple Awards Winners Are…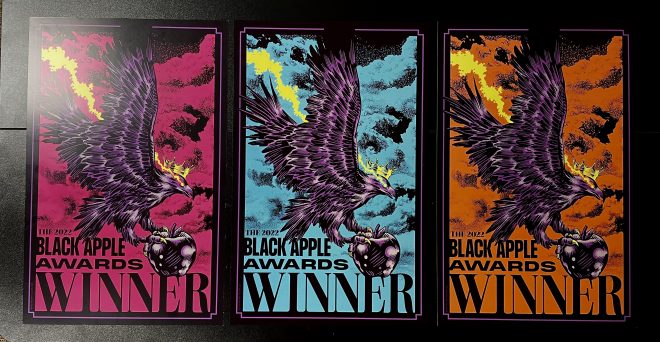 The 2022 Black Apple Awards were a smashing success. We packed the house at 214 in Springdale for our return after a two and a half year absence due to COVID-19. It felt good to be back and fill a space we've long been a fan of since the days it was inhabited by the Arts Center of the Ozarks. The gallery downstairs was filled with paintings and sculptures while the blackbox gallery upstairs featured installations, sculptures, neon art, and experimental videos.
Performances by: Abby Howard, Amos Cochran, Christian Serrano-Torres, Damentional, Cheesman and <Figure A>. Exhibiting artists:  Shelby Fleming, Eddie Love, Eric Andre', Angela Teeter, Jeffry Cantu, Joey Pressman, Cameron Fairbanks, Natalia Franco, Sara Turner, Chris Rumwolf, Justine Beech, Ashley Nielsen, Suzannah Schrechise, David Gomez, Angie Gomez, Michael LeBlanc, Fred Goss, Emily Smith, Sigrid Lorfing, printgurl, Shelley Mouber, Shabana Kauser, Aaron Bleidt, Roxy Erickson, Kellie Lehr, Cheri Bohn, Ziba Rajabi, Brioche, Eugene Sargent, Samuel Gray, Tiko, Matthew Castellano, Altered Alley, Graham Edwards, Kendall Schulz, and Robin Pedrero..Ringo Jones and Lane Kendall brought works by Love, Teeter, Goss and printgurl using augmented reality, a truly remarkable sight to see.
This magical evening wouldn't have been possible without our sponsors: CACHE, The Art Collective Gallery, Ozark Natural Foods, Edible Culture, Mount Sequoyah Retreat Center, ROARK, Sleet City Art and Supplies, American Shaman Kava Bar, Pink House Alchemy, KUAF 91.3 FM and Arkansas Soul. Awards designed by Chad Maupin of Big Bot Design.
And without further adieu, your 2022 Black Apple Awards winners are…
FAVORITE MAKER:  Gina Rose Gallina
FAVORITE 2DARTIST:  printgurl
FAVORITE 3D ARTIST: Eugene Sargent
JEWELRY DESIGNER:  Keely Wake (Flora & Fauna)
FASHION DESIGNER:  Rosie Rose
FAVORITE PHOTOGRAPHER:  Meredith Mashburn
FAVORITE ARTS EVENT: Fayetteville Roots Fest
FAVORITE PUBLIC ARTIST: Olivia Trimble
FAVORITE COMEDIAN:  Raj Suresh
FAVORITE PERFORMANCE GROUP: NWA Ballet Theatre
FAVORITE SHOW: The Wendy Love Edge Show
FAVORITE SOLO MUSICIAN: Patti Steel
FAVORITE BAND:  Arkansauce
FAVORITE DJ OR ELECTRONIC ARTIST: DJ Girlfriend
FAVORITE INDIE VENUE: George's Majestic lounge
FAVORITE FOOD TRUCK: Yeyo's
FAVORITE SWEETS: Little Bread Company
FAVORITE CHEF: Amanda Ivy
FAVORITE COCKTAIL BAR OR LOUNGE: Maxine's Taproom
FAVORITE NON-ALCOHOLIC BEVERAGE: Arsaga's Coffee
FAVORITE ALCOHOLIC BEVERAGE: Black Apple Hard Cider
Thank you to everyone who voted and attended this year's event and congratulations to all our winners!