Twirl Away: The Art of the Hula Hoop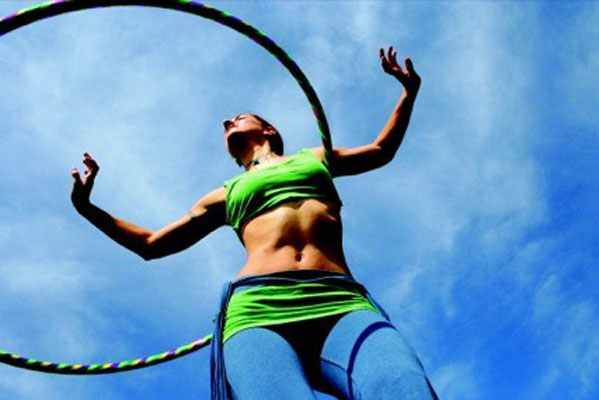 WORDS / TAYLOR GLADWIN
There is a reason you never see an angry hula hooper. Actually, there are many. For me, hooping is meditative, therapeutic, fun, physically energizing, and spiritually awakening. In no particular order, of course, because everything circular spins in a continual motion, blended into one focus. Like a spinning circle, the past has a way of repeating itself. We're used to popular fashions making a comeback, like flared pants, Wayfarer sunglasses, red lipstick, leggings, and high top shoes. These days you can see people trying on yet another popular accessory from our past: the hula hoop.
Unlike bellbottom pants and scary big eighties hair, the hoop can be traced back to as early as 5th century Greece. Before it become a popular fad in 1958, when twenty-five-million plastic hoops were sold in less than four months, the hoop was made out of willow, rattan and grapevines, and stiff grasses. Toy companies have come a long way since then, now producing hoops out of plastic tubing, but the general idea of exercise and play still exists. In 13th century Scotland, hoops were used not only for recreation, but for religious ceremonies as well. According to medical records from that era, doctors encouraged their patients with dislocated backs and even heart attack victims to exercise with a hula hoop. Yes, we're still talking about the 28 inch hoop kids used to twirl around their waists. On the flip side, within the past two decades the hula hoop has not only made a comeback, but an evolution into a visual form of art.
Hoopers gather at music festivals, campsites, adorn stages at concerts, and improve the scenery of local parks with shiny, colorful hoops, jazzed out costumes, and mellow vibes full of lively intent to entertain. Being inside of a hula hoop is like being inside of a foreign universe. When you step inside it's just you and the hoop.
Hula hooping stems from an even larger movement, known as flow art. Flow art is an outer expression of the balance and grace that come from reaching ultimate spiritual alignment. In this state, one surrenders control and is reacting to the hoop, otherwise known as being in "the zone." If you're a dancer, piano player, artist, or do anything that entrances you, you know this feeling. "Being in flow" makes you feel that you are in a separate universe, but with infrared vision and can see the colors of a new galaxy.
Flow art centers on connecting the body and mind in harmonic unison. In the spirit of connecting, practicing your art in a group of people who have the same idea of relaxation and rejuvenation can build a community of flow artists. This is when learning tricks comes in handy. Having one on one teaching is effective motivation to keep trying. When you finally nail that trick you've been working on, you'll feel like you've made it to the top of the mountain.
Flow movements have limitless amount of room for exploration and expansion through the use of toys. These artistic expressions and their accompanied tools include, but are in no way limited to staff spinning, poi, fans, and hula-hoops. These performances become even more enchanting when fire is involved.
Beginners and experts alike will soon have a studio where they can show off their skills. On May 31st, a new hula hooping studio is opening in Fayetteville called Hoop Dance Hoopla. The studio will be part of a co-operative dance studio at 6302 S. Wilkerson Road. Hula hoop classes will be held on Tuesdays, Thursdays, and Saturdays. Amy Taylor, a business major at the U of A and newly-emerged hula hoop instructor, is propelling the hula hooping evolution forward by opening the studio as a summer project, and as an outlet for her favorite hobby.
"The philosophy is that flow art is mind, body, and spirit," Amy says. "As a dancer I thought, I want to try that because it looks fun. It ended up becoming this tranquil practice. Whenever I picked up my hoop I forgot about everything else."
Taylor has been hooping for less than a year, and loves it more than almost anything. "Next to my daughter (who is three and also hoops) it's the best thing that has ever happened to me."
Flow art allows physical and emotional planes to coordinate, while body, mind, and spirit evolve into one. Whether you are three-years-old or fifty-years-old, anyone can hula hoop. Taylor's advice for beginners is not to give up, but to stay in the flow. My advice is to go to Dance Hoop Hoopla's open house on Saturday, May 31st, or the hoop classes that Hoop Dance Hoopla offers. Experience what the evolution.