TheatreSquared launches free public performance series in The Commons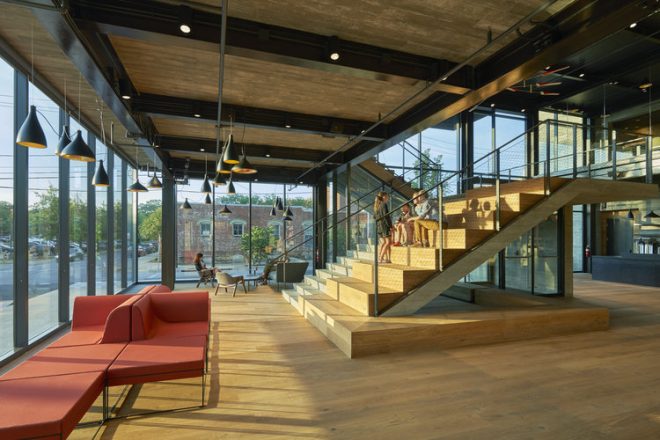 We know all the world's a stage, and TheatreSquared is utilizing all parts of their new space for that reason. The theatre company will launch a series of free new play readings and theatre happenings at 8 p.m. Sept. 17 in the T2 Commons with "Dairy Queen" by Sarah Loucks, a first-year Master of Fine Arts candidate for playwriting at the University of Arkansas.
In Loucks' play "Dairy Queen," Karen and Lee have nothing in common except for one thing: they're both teenage employees at the local Dairy Queen, where they're stuck working the 4th of July. Karen wants to run away from their small town while Lee is focused on climbing the ranks of Dairy Queen to the top. Things take a turn when they discover their manager has abandoned them–Karen and Lee begin plotting a future neither of them imagined. Reigning over a large quantity of ice cream and some hidden vodka, two teenagers imagine adventure, salvation, and America beneath the fluorescent lights of a Midwest Dairy Queen, according to a press release.
The reading is directed by Jeremiah Albers, a recent alum of the M.F.A. program in directing in the Department of Theatre, and features actors from the M.F.A. program in Acting, including: Ana K. Miramontes, Edwin Green, Leah P. Smith.
The reading is the first offering in a free series, "New Voices at the T2 Commons," which will include a variety of events in the flexible performance space, anchored by Walmart Community Seating. These one-time events will include readings of new plays-in-progress, conversations with visiting playwrights and artists, and devised theatre performance, according to a press release.
No tickets are required to attend. Audience members are invited to arrive early to explore the  the new Commons Bar and Café before the reading begins.  TheatreSquared is located at 477 W Spring St, Fayetteville, AR 72701. The first reading in "New Voices at the T2 Commons" is produced by T2 literary staff and M.F.A. playwriting candidates from the University of Arkansas Department of Theatre.