Terra Studios presents the Better World Mural: a plan for a more compassionate future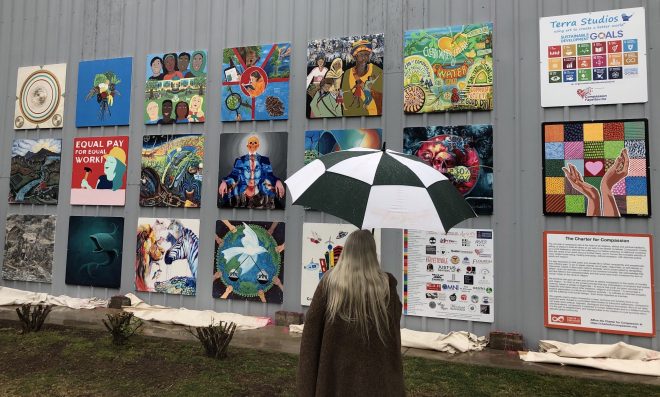 Northwest Arkansas residents celebrated the unveiling of the Better World Mural at Terra Studios and the hope for a brighter, more sustainable tomorrow. The mural has 19 separate panels that represent an aspect of the United Nations Sustainable Development Goals. Among these goals are the eradication of poverty, the end of world hunger, inclusive education, and many more.
The ceremony opened with a musical performance by John Two-Hawks who spoke about the great need we have for compassion and empathy. His music addressed themes of nature, gratitude, beauty, and compassion, and Two-Hawks explained their meaning to the audience before his vocal and woodwind performances.
"When we're connected, close, tied together, we are kinder, gentler, softer," Two-Hawks said. "Take your shoes and socks off and walk on the ground. You'll find out it changes the way you walk—you won't walk so hard anymore because your feet are closer."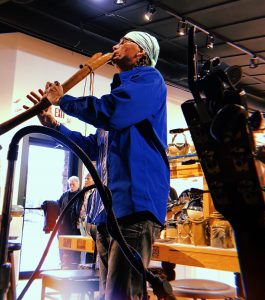 After Two-Hawks' performance, a group of student volunteers from the University of Arkansas Multicultural Center read the outline for the United Nations Sustainable Development Goals and described what was being achieved.
"This is how it will get done," student volunteer Samia Ismail said. "The global goals: a 15-year plan for everyone, everywhere, with no one left behind."
In addition to the student volunteers, Mayor Lioneld Jordan spoke on the core themes of the unveiling ceremony. Mayor Jordan described how compassion is the root of many initiatives and spoke to Fayetteville's drive as a community to be a more sustainable and open place.
"We believe in an open heart. We serve rather than being served," Mayor Jordan said. "You see, folks, I've served people all my life, I don't know anything else. It's when we serve one another, and we love one another, and we take care of one another; that's when we truly change the world."   
The Better World Mural was then blessed and the audience congregated in the wind and rain to watch the banners fall away. Each of the 19 artists created a separate piece of the mural that embodied one of the sustainable development goals that together, give hope for a more compassionate tomorrow.