TEEN SUPREME: Teenagers ready highly-anticipated debut, record EP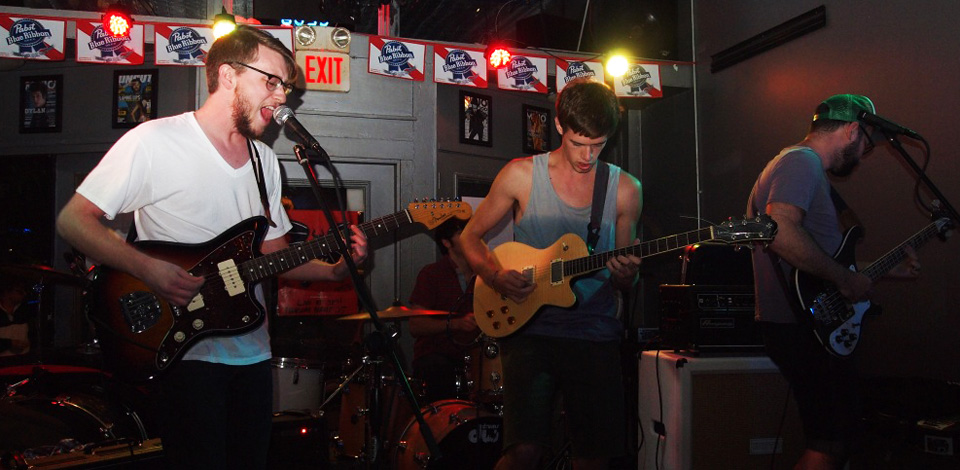 By Kody Ford
Idle Class Editor
(Click to listen to Concrete Youth and Friends.)
Teenagers make it look easy.  Beneath the black chandelier and flashing lights of ever changing primary and secondary colors, the Fayetteville-based rockers played a magnificent set at J. R.'s Lightbulb Club.  They were the opening act for King Tuff, the Sub Pop-signed garage rockers.  Teenagers proved they could hang with the big boys and even show them up.
Teenagers captivating performances have helped them develop an ever-increasing fan base in northwest Arkansas. During the set, the band performed songs from their upcoming album "Children of the Sun." Primarily a guitar driven band with licks that would make Dick Dale smile, Teenagers mix knee jerk guitar riffs with smooth melodies and a few surprises.
Vocalist/guitarist Travis Keymer's reverb-laden vocals have hints of Brian Wilson, My Morning Jacket, and Panda Bear. Keymer serves as the braintrust for the group while he's backed by established musicians like indie rocker Chase Pagan (drums), Jared Hennessey (guitar) of Swimming and Robby Huckabee (bass). Together, they don't disappoint.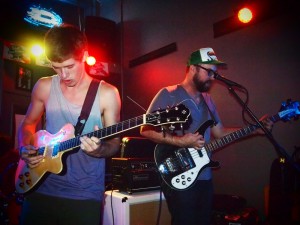 The roots of Teenagers go back to when Keymer was a teenager himself. At age 13, he got his first guitar and became versed in rock by his older brothers. Bands like Smashing Pumpkins, Weezer, Sonic Youth and Yes spoke to burgeoning musician.
"I would have to say those bands really stuck with me and created the style of guitar playing I have today," said Keymer.
About a year after getting his first guitar, Keymer started playing in a cover band with his friends. It was a memorable learning experience.
"We were fucking horrible but it was super fun," said Keymer. "We were all best friends that just wanted to hang out and have a good time and try to learn really bad songs but it was so fun and really helped me develop playing music. Mostly, for the fact that I was getting to interact with other musicians and learn timing and how to just play as a whole band and have my one part compliment the other musicians playing. I felt fortunate for that because I know that a lot of musicians spend many years just playing by themselves in their room and they miss the opportunity of how rewarding it is to play as a whole."
As he got older, he moved past cover songs and began writing his own music. After high school, he joined a band called Burn Baby Burn that was comprised of some mutual musicians in the local music scene. They recorded an EP and toured. After leaving the band, he began making music under the moniker Currents and played atmospheric instrumentals in the vein of Godspeed You! Black Emperor and Explosions in the Sky. During this time, he began to expand his songwriting.
"As I was writing the material for Currents, I also was writing folk music," said Keymer. "I always wanted to keep myself fresh and experience different styles of music. It was fascinating to me how they did connect in some ways but the thinking process was different for each style of music. It wasn't that I was bored or that I couldn't stick with one thing. It was the point that I didn't want to stay playing just one style, I wanted to challenge myself and my writing abilities."
During this time, he realized that he wanted a musical project where he could get loud and be free to play whatever moved him. That's how Teenagers came about. It's been two years since Keymer dedicated to writing, recording and performing solely as Teenagers. He's recorded "Children of the Sun" with Pagan producing. The album is a collection of old songs he had recorded from the beginning to brand new songs written a few months ago.
"I'm super excited about it because it defines what I have been working so hard to achieve over the past two years," said Keymer. "[Pagan] did such an amazing job and helped me really achieve what I was wanting in the album and helped bring new ideas into the album. We had some long nights but it was super fun and it paid off because I am super excited about the tracks."
Recently, Teenagers won a contest by East Hall Recording Studio in Fayetteville to record a free 5 song EP.
"We decided to enter in the competition because we would love the chance to get to record in an actual studio so we entered our story," said Keymer. "We were super lucky and got picked as one of the 12 bands to get to record the EP for free. We will be heading into the studio in October and recording five new songs. [W]e are taking the remaining time before October to really perfect and shed some more light on the songs to hopefully get them as solid as possible. We were so glad to have the opportunity to get to do this."
Besides the upcoming EP, Teenagers plan to release their debut LP along with some merch. They plan to book a tour by next summer.
"I feel good about what we are doing and what we are trying to accomplish as musicians," said Keymer. "We will see what happens in the next year or so. I'm excited about it for sure. "
You can follow Teenagers on Facebook. Photos courtesy of Alicia Sexauer.