STITCH ACROSS TIME: The tradition of quilting endures and evolves in Arkansas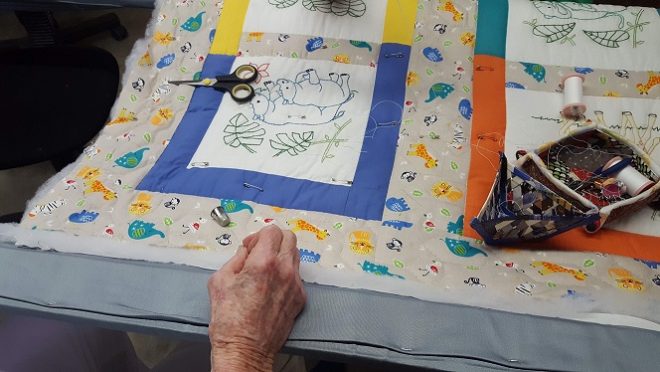 WORDS + PHOTO / JENNY VOS
In the basement of a fieldstone chapel outside of Goshen, the Son's Chapel Rural Builders Club gathers every Tuesday morning to continue a decades-long tradition of hand-stitched quilting. The club formed in 1922 to build the chapel, and now they fund its maintenance through the creation and sale of baby quilts. They share conversation, lunch and skills with one another, and welcomed me warmly when I approached them to learn more about their craft.
Quilts are unique historical and artistic objects. Whether through necessity or sentimentality, they have often been made from scrap or repurposed fabrics, memorializing an otherwise fragile material history. The task of hand stitching a full-sized quilt—sewing together the decorative top sheet, the cotton batting and the back sheet—is so massive that it takes a group collaboration to complete in any reasonable length of time. Until the advent of the modern sewing machine most quilts were made in this way: by a community of women gathered around a bare wooden frame.
Of course, the history of quilts is not always comforting. In antebellum Arkansas enslaved artisans made quilts for the white families who exploited their labor, and, as with most crafts associated with the domestic sphere, women have not always participated freely. But as society and technology has progressed, the necessity of this craft to daily life has waned, and quilting remains to those who take it up willingly and joyously. 
Two prominent Little Rock Museums are exhibiting quilt collections: Stitched Together: A Treasury of Arkansas Quilts at the Historic Arkansas Museum surveys Arkansan quilting throughout the history of the state, and the Old State House Museum's A Piece of My Soul: Quilts by Black Arkansans explores the cultural legacy of quilting in Arkansan African American communities dating back to 1890. Both are on display through the fall. 
But quilts are not only relevant to examinations of historical societies. James Matthews, a documentary artist working out of Little Rock, is exhibiting a series of works at the Arts & Science Center for Southeast Arkansas titled Eviction Quilts.
"I try to see what we are conditioned to overlook, and then to allow others to see it," Matthews says of his work. Each of his quilts is made from materials found at the site of a single eviction, an artifact of a specific disruption in a family's life. "Quilts," says Matthews, "inherently speak of home and family and safety and comfort." His deliberate juxtaposition of medium and material creates an impressive, melancholy body of work.
Like most quilts Matthews's exist both as art pieces and functional objects, and he is actively managing their transition from one sphere to the other. "I cannot justify profiting from others' misfortune," he says. "I am now looking into a way to sell the quilts and have the proceeds go to a local or regional organization working to help those who have experienced eviction or working toward improving the landlord–tenant laws in Arkansas."
In this connection between fabric and community, Matthews speaks from the heart of the quilting tradition. As a practical craft, quilting can never be fully alienated from the needs it addresses: to provide warmth, preserve history, and to bring people together. 
"I lean on my Tuesday friends for psychological connection to shared passion for quilting," says Go Strealy, a member of the Rural Builders. "Sharing like passion for constructing beautiful things with stitchery, [. . .] the quiet conversation, and women telling our stories, is enriching."
Susan McRae, a third-generation member of the club, puts it even more simply: "It made me feel at home."
The Rural Builders are always open to new members and encourage anyone interested in their work to visit them Tuesday mornings between 8 a.m. and 1:30 p.m. at Son's Chapel, or to attend their quilt and craft show 1–4:30 p.m. on September 7. For more information on these and other events, visit: