Resistance Is Not Futile: Alt Resist Opens Discussion Through Artistic Mediums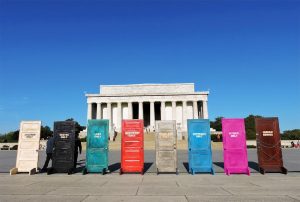 WORDS / ASHTON ELEY
She has been an artist for over 20 years, but two years ago everything drastically changed for North Little Rock resident
V. L. Cox and the direction of her work when she displayed her now nationally known Doors project in protest of legal discrimination. Cox is now inviting other artists "dig deeper" and contribute to the discussion on her new website Alt Resist.
The idea for the website first started forming in Cox's mind during the 57-block walk back to her hotel from the Jacob K. Javits Convention Center in New York City on the night of Nov. 8 2016.
"From the next day on, all I kept hearing there and when I came back home was 'I feel like I should do something, but I don't know what to do. I feel like I should say something, but I don't know what to say,'" Cox said. "Everyone had this sense of stunned loss, which went much further than just losing an election. They felt like their voice wasn't being heard."
She understood that feeling, she said, and created Alt Resist about three weeks ago as a platform where anyone can make their voices heard and contribute to civil discussion through art, filming, writing and other mediums and find useful resources.
"I know, as an artist, how powerful the arts really are," she said.
And the response had been overwhelming so far, Cox said. Alt Resist has seven contributors all from around the Little Rock area, but Cox said she is open to more contributors and different perspectives.
"It's just the interaction," she said. "I hope it promotes interaction, and we can all learn from each other."
It all goes back to the Doors, Cox said, which was the beginning of her multimedia series called End Hate. The doors were a response to state House Bill 1228, also known as Religious Freedom Restoration Act. She decided to complete an idea she had been thinking of for years, painting six initial doors from the time of Jim Crow and stenciling on them simple phrases such as "Whites Only," "LGBT Only" and "Immigrant Only".
"I did those doors because I was first of all shocked that a bill like that would have even gone to committee – a bill that would have literally taken us back to Jim Crow days overnight," she said. "When I went down to the [state] Capitol steps, I barely remember loading them in the car; I felt so strongly about making that statement. It was probably the first time in my whole career that I let myself get that gut deep with feeling and with what I thought was important and put it out there."
Cox then took her doors to the Lincoln Memorial in Washington, D.C and added a "Veterans Only" door. She has recently added a pink "Women Only" door, which has not yet been displayed publicly.
"People who would have never talked to me before came up and started talking to me," she said. There was a gentleman that came up to me at my exhibition and said he was an evangelical preacher and he goes, 'I think I've been doing it wrong.' I hope the website continues to do that."
Anyone interested in applying to be a contributor for Alt Resist, can email Cox at theartist12 (at) yahoo (dot) com.