Q&A: Slam poet Noelia Cerna writes on-the-spot poetry for "Looking for America"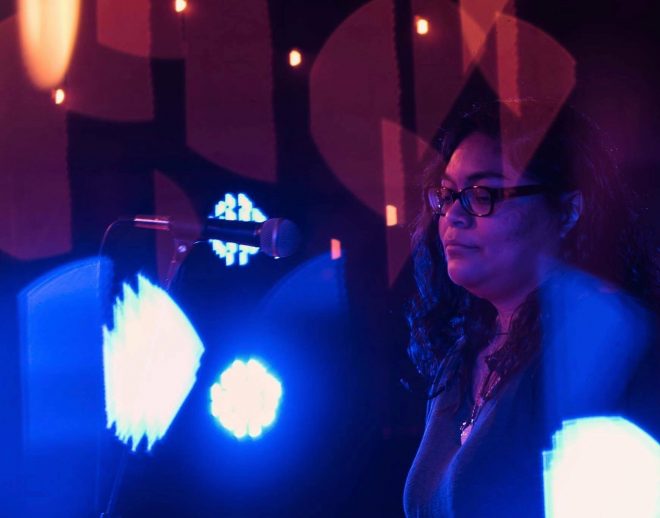 Noelia Cerna is a Fayetteville-based slam poet chock-full of experience across the country. Recently, she listened to guests' stories and wrote live poetry for them at the opening of "Looking for America," an initiative that explores immigration and identity in six dynamic communities across the country through storytelling, public art, and conversation. An opening reception for "Looking for America" is set for 5-7 p.m. Thursday, Jan. 8 at Brick & Mortar in Rogers. Cerna will be in attendance to write live poetry.
For more information on this exhibition and the opening reception this Thursday, visit this page.
We got to chat with Cerna about her involvement with "Looking for America," her background and what's next for her in 2020.
The Idle Class: How did you get involved with Crystal Bridges?
Noelia Cerna: A good friend of mine, Molly Bess Rector, was asked to recommend names of poets that might be able to do a poetry on demand set up for a political dinner event. She recommended me.
Was this your first time doing this?
This particular event, yes.
Tell us more about what the goals were and the outcome. What all was the idea?
The goal was to sit at my station and when approached to have the person answer the question "What does it mean for you personally to be an American in your community?" Once they had answered, I (wrote) them a poem based on their answers. To make it more fun, I used a typewriter. The outcome was supremely positive. People loved the concept and they ended up going home with a poem related to their answer, which is always fun.
How long have you been writing poetry? Have you ever done improvised poetry? Slam?
I have been writing since I could speak. I began writing seriously in college when I declared an English major. This was my first time ever doing improvised on-the-spot poetry. I am a local slam poet and have been very involved in the slam scene of Northwest Arkansas for about four years.
Where can we keep up with you?
The best way to follow me on social media these days is through Instagram @neverthelessnoelia
What's next?
2020. I will be teaching two spoken-word workshops, one for NWACC students and one for the Fayetteville Public Library in March. I will be presenting a keynote speech for the Northwest Arkansas Center for Sexual Assault in June and have a few features lined up in Northwest Arkansas and Little Rock. I will also be doing poetry on demand for the same organization with the same concept and question at four different events over the course of the next three months, which will then be compiled into a collection. Still looking for more gigs to put on the calendar but so far it is looking like it's going to be a great year.
ABOUT NOELIA CERNA:
Noelia Cerna is a Latina poet based in Fayetteville, Arkansas. She was born in Costa Rica and immigrated to the United States at the age of 7 and received a Bachelor's degree in English from Westminster College in Missouri. She is currently working on a book of poems discussing the experience of being a first generation immigrant and a book of essays about the Arkansas prison system. Noelia is a reader and poetry feedback editor for Tinderbox Poetry Journal, a writing mentor for Pen America's Prison Writing Mentorship program and an Associate Editor with Sibling Rivalry Press. She has been featured in Little Rock, Hot Springs and Northwest Arkansas and has performed poetry at the University of Arkansas and the Northwest Arkansas Community College. She has featured for the Open Mouth Reading Series as well as the Ozark Poets and Writers Collective and was recently featured in the Westminster College Alumni newsletter, The Sentinel Record and the Arkansas Democrat Gazette regarding her writing. Her poems have appeared in Terse Journal, The North Meridian Review and The Revolution Relaunch. She recently presented her poetry for the gallery conversation series at the Crystal Bridges Museum of American Art and was the keynote speaker for the Northwest Arkansas Center For Sexual Assault's MeToo Voices Event."