Q&A: Kristin Worrall to debut "The Recipe: Milk, Cheese, Velveeta, Love, Hope & Transformation" at The Momentary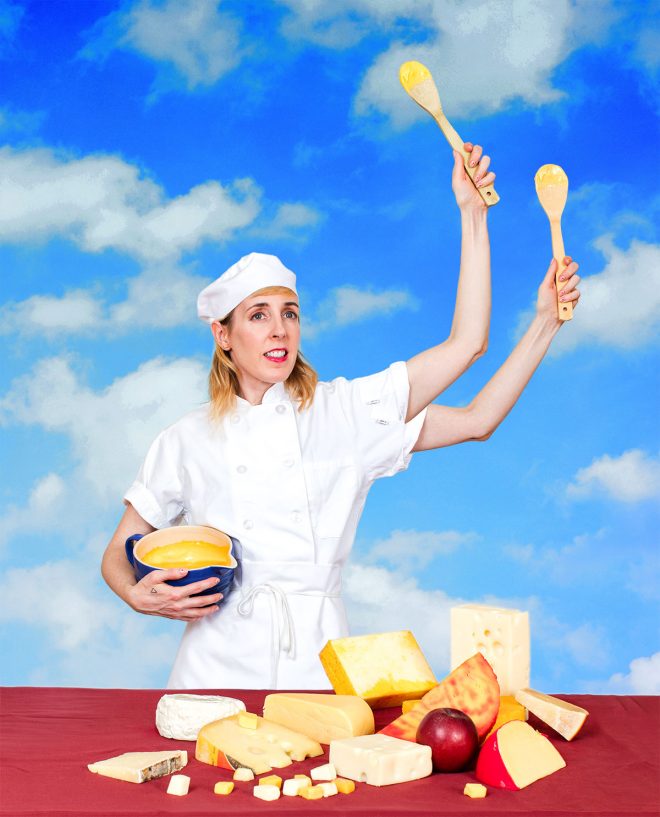 It's the space everyone has been waiting for, and it's opening this weekend in Bentonville. The buzz around The Momentary, a new contemporary art space for visual, performing and culinary arts, will soon turn into a roar this weekend with celebration galore.
The Idle Class chatted with Kristin Worrall, a performer, sound designer and pastry artist who will create an original and interactive cooking show as part of opening festivities. "The Recipe" will draw on the history of the Momentary site as a former apple orchard, hunting ground and cheese-processing plant–and audience members not only get to be a part of the action, but they will taste it, too, with post-show dish samples.
The Idle Class: How long have you been using the craft as performance art? 
Kristin Worrall: I enrolled in Pastry School on a bit of a whim. I had been working in theater for many years and was considering a career change. After graduating in 2014, initially I planned on leaving theater all together, and I'd just do pastry work, but I soon realized I missed performing! So I tested out doing a short version of this cooking show (The Recipe) in early 2016 and felt like there was something to it. I've been doing it since!
What drew you to want to perform at The Momentary as part of TIME BEING? How long will you be in NWA?
Last Spring I met Pia Agrawal, curator at The Momentary, while on a trip in New Orleans – we were both there to see a show of (Director) Andrew (Ondrejcak)'s. Pia told me about this exciting new performance space that was a part of Crystal Bridges called The Momentary, and that they wanted to incorporate *culinary* arts with *performing* arts. Right away I asked how I could be involved. I did a site visit in the late Fall and was here for a few days, and now I'm back for a week before the 2 performances – mostly I'll be in the kitchen preparing, and in rehearsal.
What is unique about this performance/cooking demonstration?
The Recipe is a performance that holds two forms – it's both a live cooking show and a theatrical performance. So for an audience walking in it may play with their expectations – which one is it? The show has elements that any play may have: I follow a (loose, ad-libbed) script; it has "characters" on stage (myself, my assistants); it has a "set" and there are "props". But what's different is that there's real food-making going on on-stage, and that's not fiction – that's the real drama that's taking place. And like most cooking shows, this one also has anecdotal chatter happening in between tasks, but the subject matter strays a bit from what you normally hear during a cooking show.
What's your favorite detail about the site history and why? How will this add to your piece?
I love that the first employee at the Kraft cheese processing plant (the building which now houses The Momentary) was a woman – a lab technician named Marie Smith. She was hired in 1947, and she retired in 1980. Before the industrialization of agriculture, cheese-making was always women's work, and I feel like Marie was a quiet nod to that culinary legacy.
When you aren't in the kitchen scheming your next concoction, where can we find you?
I do freelance pastry/catering/food styling jobs in New York City, and that keeps me very busy! I'm always working on very different projects. I also play drums in a band called CUSHIONS, so I'm playing music a lot, too.
Do you have a favorite go-to spot here in NWA?
Well, to be honest I haven't spent that much time (t)here (yet!), but the last time I was in Bentonville I loved visiting the Farmer's Markets both in downtown Bentonville and also in Rogers. And a visit to Sweet Freedom Cheese is a must! I also loved visiting the Museum of Native American History.
If you were a dessert, what would you be, and why?
I'd be a lemon meringue tart. It has a mellow, airy topping, but it's tart and rich on the inside. And it loves to go on picnics.
Is there anything else I should know about your time with The Momentary and TIME BEING?
I am so grateful to be here! I'm honored to be a part of this weekend and to help celebrate the opening of this beautiful new space.