Q&A: Brian Bailey illuminates NWA with neon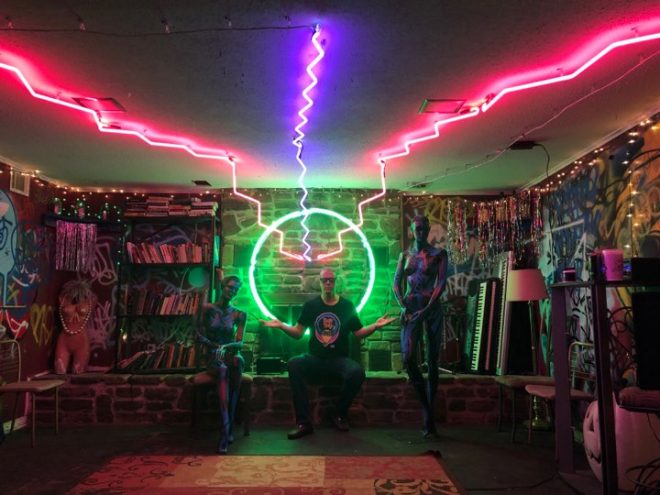 INTERVIEW // ELLEN GIBSON
There are many mediums used in the process of creating art. To stand out from the crowd, you must create pieces that shine brighter than the rest. Brian Bailey does exactly that. Using neon lights, Brian creates art that bares his soul and showcases his talents.
Brian began working as an apprentice for a neon sign business in 2009. A decade later, he uses his knowledge to create artwork that impresses. With community and inclusiveness at the forefront of his mind, he seeks to inspire Northwest Arkansas with his art installations.
We sat down with Brian to learn more about the process of creating his art and his personal reasons behind it.
IC: Why neon lights as a medium?
BB: I just fell in love with neon. I didn't choose the neon life, the neon life chose me.
IC: Why do you make this type of art?
BB: The Neon Revival Project is my life's calling. My art comes from a spiritual place. It is a baring of my soul, and you can feel it when viewing my art. My art moves and inspires people. But you don't have to take my word for it, come and experience it for yourself.
IC: What message are you wanting to convey with your work?
BB: My main message with my art actually transcends art. I hate to see our community divided into groups. We are all human beings with hopes, dreams, and goals. God has given me a talent that people seem to be fascinated with. I hope to use my talents to bring together our community and start the healing process that I have experienced from being part of the arts.
IC: What is your creative process in deciding what your next installation will be?
BB: Planning, drawing, and time can create great art. But my best art seems to come with pressure. It's when I have a deadline that I experience the true creative flow. It's like a faucet turns on and pure magic flows out.
IC: Have you worked on any collaborations?
BB: I first collaborated with New York artist, Doze Green. It was in the (mural festival) The Unexpected, which was curated by Just Kids.
I just finished a collaboration on #SelfieThrone with Kat Wilson. "Firebird," a piece by Cheri Bohn, was also included in that project.
I have also worked with Joelle Storet at Art Ventures and Brandon Bullette at The Bailey House. There are future collaborations coming as well, but those will be revealed in time.
IC: Can you sum up what your work means to you?
BB: Pure passion and healing. It means more to me than I can put into words.
IC: Is there anywhere where people can go see your art in action?
BB: There will be many opportunities, but my artwork is all over NWA. I have run my sign company, Illuminati Sign Co. for years and am currently working on an app where you can go on a neon hunt to every place I have (art)works at.
And I'm designing a new creation, titled "The Neon Wave," which will all be suspended and floating. More will be posted about that when it is further along.
IC: Can we find you on social media?
BB: My Instagram is neonlightartist_. I am working on getting my website updated as well. Keep an eye out and visit it at brianbaileyneon.com
IC: Is there anything else you would like to say?
BB: We as a community need to realize we are only as strong as our weakest link. Be kind to your neighbor. Let's fight poverty and not the poor.