The Prison Portrait Exhibition Project showcases collaboration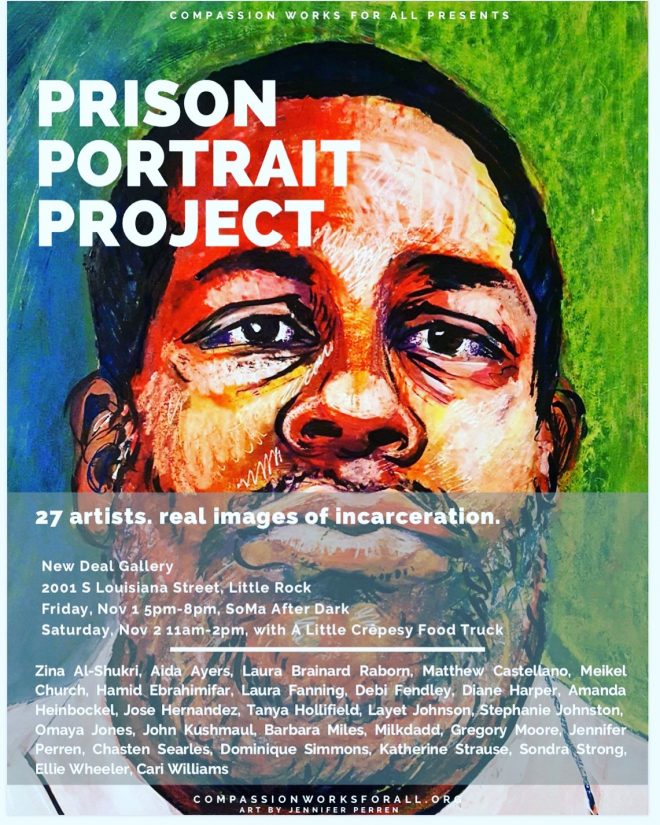 WORDS / CHRISTOPHER BEAUMONT
Sponsored by Compassion Works for All (CWFA), the two-day Prison Portrait Project exhibition debuted at The New Deal Gallery in Little Rock last month to showcase portraits of incarcerated people, done by various artists as a collaborative project.
It started when artist Eleanor Wheeler [Instagram @eleanormous] approached CWFA Executive Director Morgan Leyenberger a couple years ago with an idea to draw portraits of people who are incarcerated. As an organization serving people in prison, Leyenberger believed this concept could be an essential contribution to ongoing conversations bringing attention and humanity to women and men behind bars. 
From one artist's vision, the project evolved into a collaborative process. CWFA spent nearly a year soliciting participation from around the country. "Participation required the willingness to be vulnerable to an artist and to the world – to be seen through someone else's perspective – no bars, no walls," Leyenberger says.
Incarcerated persons across the country responded to requests for photos and prose. A group of Arkansas painters, print makers, and sculptors selected one subject to represent through their artistry. Since cameras are rarely allowed in American prisons, this afforded a unique opportunity for artists to connect with people living behind bars and convey their stories through art.
"With the help of Little Rock artist Tanya Hollifield [Instagram @tanyahollifield], we matched 26 artists with 12 incarcerated men to explore and depict one person's punishment experience in the context of mass incarceration," Leyenberger says.
"The project . . . is about the relationship between the artist and subject, politic and personal, past and present, massive scale and singular, comfort and discomfort," Leyenberger says. "Each person living behind prison walls who chose to submit their photo had to come to terms with being viewed by others; being judged. Each artist who entered this project elected to explore a stranger's experience."
Artist Jennifer D. Perren (Instagram @og_ojenn) chose to work on Kenneth Key because his cropped hair, beard, and build reminded her of her father who passed away in 2010. "It was a sentimental choice," Perren says. "I knew I wanted to do a straightforward portrait that was big and colorful. The kinetic mark making and the colors in the portrait let his face come alive. I wanted the portrait to be undeniably full of life, energy and potential."
"I loved working with artists and hearing their perspectives about what it was like depicting someone in prison," Leyenberger says. "Many artists said they had to stretch themselves and moving into a space where they felt comfortable working with a subject who had committed a crime. It's always a pleasure, in my job, when volunteers or ""free world"" people are exposed to the criminal punishment system and to people living in prisons. Inevitably, folks are pleasantly surprised by the humanity, love, and normalness of people captured behind bars." 
Perren's family has a background of mental illness and she says, "I've seen how good people make poor choices when ill, under duress, and when they are truly unsupported by economic, healthcare, and other systems. I relate the struggles of people who have been incarcerated to those experienced by my family."
In the artist statement for Hannah Lemke's [Instagram @milkddad] piece "My Name is John Ponder," she stated, "John's serving a life sentence for a crime he committed at only fourteen-years old. At fourteen, I was taken out of school, secluded, and not allowed to speak with anyone. This is the reason John's story resonated with me. We are different yet alike. We've both been isolated, alone, yet surrounded by others. 
"Freedom is something the bird has that both John and I crave, but even though he is physically locked up, he is spiritually free. I'm not sure I've achieved that. In his letter he conveys the prison cages but can't break him. I've been broken and caged. Many of us have." 
The Prison Portrait Project is an extension of Compassion Works for All's mission to offer healing and hope by living and teaching compassion, Leyenberger says, and hopes this project will give its viewers a lens of compassion by which to see our fellow humans." Each piece and artist statement is shared with CWFA's extended-prison family. Subjects receive a copy of the art, but some are not allowed to keep art in their cells, so their family or friends will receive the art on their behalf. 
Leyenberger defined the exhibition turnout as spectacular. Twelve pieces sold in only two days and most artists whose pieces did not sell are displayed at River City Coffee and on the CWFA website: Compassion Works for All Prison Portrait Project Art
Exhibition attendee Ellis Widner (Instagram @elliswidner), Sunday Style Editor for Arkansas Democrat Gazette, perhaps summed the exhibition up most simply: "The show speaks for itself. Twenty-six artists coming together is incredible. Compassion does work."
The New Deal Gallery is located at 2003 S Louisiana ST, Little Rock, AR 72206. Open by appointment only.
Keep up with gallery news and other info on their Facebook.
Compassion Works for All is located at 1400 W Markham Suite 308, Little Rock, AR 72201, 501-508-4334, email. Their mailing address is PO Box 7708, Little Rock, AR 72217-7708. Keep up with their valiant efforts and other info at their website, Facebook, Instagram @compassionworksforall, and YouTube 
River City Coffee is located at 2913 Kavanaugh, Little Rock, AR 72205. Keep up with them on their website, Facebook, and Instagram @rivercitycoffeelr