Photographer John Rankine to Debut New Series "Men with Earrings"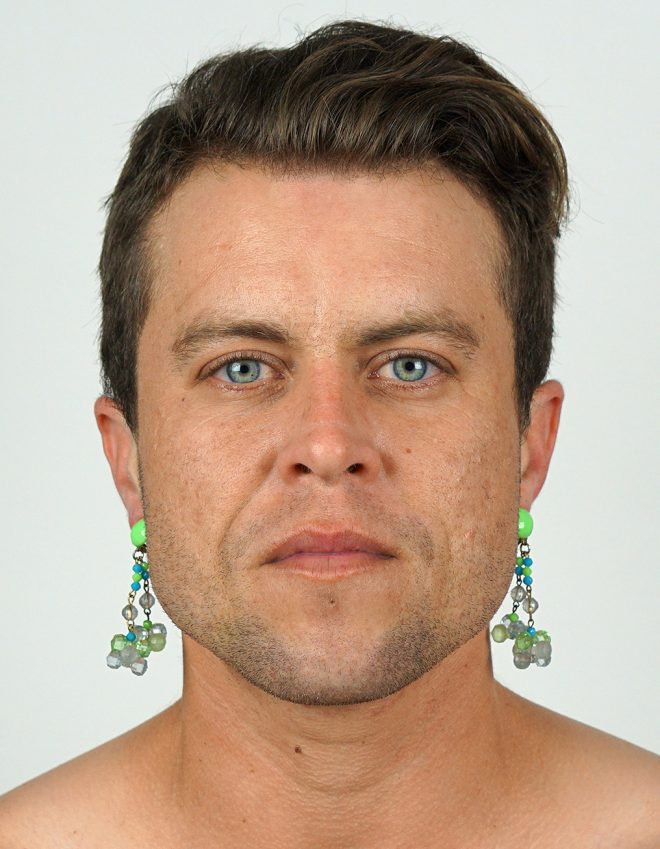 Recent Artist 360 grant recipient John Rankine will debut a new series of photographs at Brews in Eureka Springs at an opening reception November 1 from 5 – 8 p.m. "Men With Earrings" is a series of 60 portraits of Eureka Springs, Arkansas, community members who identify as male, all wearing clip-on earrings. The exhibit will run through December 17. Brews is located in downtown Eureka Springs, across from the post office. Everyone is encouraged to don clip-ons for the show. Earrings will be provided for people at the door.
"Years ago I purchased a large collection of vintage clip-on earrings and would occasionally select and don a pair before going out in public – to the grocery store, the movie theater, waiting in the doctor's office, etc.," Rankine said. "I was always surprised by people's reactions to simple ear-bobs worn by a man – from averted eyes and embarrassed giggles, to compliments, hostile looks and even a shout out of 'fuck you faggot'.
"Thus became the impetus and inspiration for the series; portraits that bend gender roles and examine masculinity, man's projected feminine side, identity politics, conformist roles and societal norms that challenge perceived notions of gender and identity," said Rankine. "I chose models from the community of all backgrounds, ages, ethnicities, body types and sexual orientations. It was important to include several members of the transgender community who identify as male. Many of the model/subjects chose their earrings from the large selection provided, most wanted me to choose what I thought best, while several brought clip-on earrings that were their mother's or grandmother's. Although the portraits were shot from the shoulders up, subjects were asked to pose shirtless, adding an unexpected vulnerability to many of the photographs."
All photographs were shot with on his Sony A6000 camera without digital filters.
Rankine is an award winning multi-media artist who has made Eureka Springs home for the past 25 years. He was a 2011 recipient of the Arkansas Arts Council's Individual Fellowship for outstanding achievement in the arts in Arkansas and was recently awarded the Artist 360 grant from the Mid America Arts Alliance and the Walton Family Foundation for his Men With Earrings project. His work can be seen at the Eureka Fine Art Gallery, a cooperative of eight local artists who own and operate the gallery in Eureka Springs. He has been curating monthly exhibitions at Brews, a coffee/beer and gallery establishment for the past four years.