One man's role in introducing punk rock to the south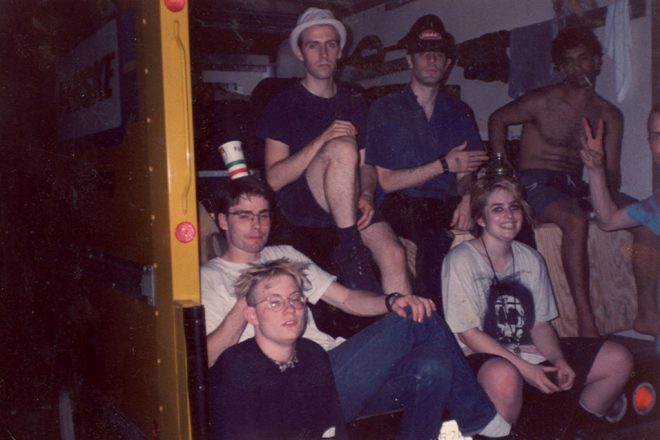 Photo by Jane Mabrysmith
Little Rock's Fletcher Clement was bringing punk rock and alternative bands to Arkansas stages in the early '90s before they were even on the scene through his company The Ghostwood Collective.
The founding of the company was by happenstance.
Clement lived in the Home of the Blues and the Birthplace of Rock 'n' Roll while attending Memphis State University in the late '80s. This put him in the right place at the right time for making music connections.
"I lived in Memphis, and maybe I could tell you who to call when you called me, and I would always point people to the same place: the Antenna Club."
The Antenna Club, now a historical marker, was the spot for all things punk, new wave and rock in the '80s and early '90s. A rugged scene, the club was a place for up-and-coming artists to be born.
"At the time, back in the mid-to-late '80s, Memphis was known for the Antenna Club," Clement said. "It was the stopover point between Atlanta and St. Louis and Dallas and New Orleans. Kind of out in the middle of nowhere."
When friends and acquaintances would contact Clement in hopes of being seen on the scene, he would refer them to the Antenna Club's manager. Soon, he went from being a "logistical good guy" who connected people with the owner of the club to the eventual founder of The Ghostwood Collective, making connections for groups to venues across the country, but mainly in Arkansas, Louisiana and Tennessee.
Since 1993, his company has produced shows by artists like the Dixie Chicks, Insane Clown Posse, Lucinda Williams, Crystal Method, Herbie Hancock, Staind, Kirk Whalum, Jo Dee Messina, Slayer and Slipknot.
"I've done a little bit of everybody," he said.
One band Clement brought to Memphis and Little Rock from Washington D.C. was the post-hardcore group Fugazi. Nearly three decades after the fact, Fugazi vocalist Ian MacKaye had a vivid and fond recollection of his time working in the area, and with Clement.
"We did three shows in Little Rock," MacKaye said. "We did Mandrake's in '90, Vinos in '91, and then we played the River Market Pavillion in 2002; and he (Clement) was involved with all those."
Fugazi toured worldwide, playing well over 1,000 gigs, but being a band out of Washington D.C., he said the group related to areas like Little Rock.
"In the early punk scene, I started playing in punk bands in 1989, and at that time it was basically nobody thought of D.C. as being a music town, so we really related to cities who weren't accustomed to having bands come through, because bands didn't come to Washington either," MacKaye said. "So when we started that was a big part of our ethic was to play, anywhere people wanted to see us we'd just go, and we found that not only did we make friends, these shows were usually sold out. I mean, they were great — they were great gigs, and memorable." 
"We didn't think of those towns as stops along the way," he said. "For us, every gig was the point. So when we got there, we didn't go into Little Rock with any less fire than we would have gone into New York or L.A. We aimed to win the night every night. So it wasn't as if it was just a gig. We were so happy to be able to play music, and it was really made possible by the people who came to the show, and obviously the people who organized it, and Fletcher was one of our people for sure."
MacKaye described Clement as being a light that drew Fugazi into the area.
"In every town there was usually somebody, a man or a woman or a boy or a girl who made it happen, who were just there," he said. "They wanted to see music, and they were just like I'm going to make it happen. … I feel really grateful to people like Fletcher, who were, they were like the people standing outside in the dark with the lamp; the lantern, and drawed us in."
Through Ghostwood, Clement was among the first to bring certain bands to Arkansas, putting things in front of people that they probably thought they would never see in their own hometown.
"Some of the original church burners like Mayhem—I brought them to Little Rock on the hottest day of the year to date, back in August of 2000, I think it was, and that's the kind of band you would have to travel to the Milwaukee Metal Fest to see because they're only playing one date in North America before they go home or something."
But these weren't necessarily big box shows he was putting on through his company. Nearly all shows he produced were under 1,000 seats, giving attendees a more intimate experience with these soon-to-be big names.
"I think I brought the ability to be in the right place at the right time, and never stop listening to the street," Clement said. "I surrounded myself with people who cared as much as anyone about something different, and I always felt like if I could put something in front of people that made their eyes wide and their mouths open and their feet go flat and they just stand there in awe, just absolutely blown away.
"Whether it be the band they never thought they'd see, or never thought they'd see and hear, or they never heard them and they were just that impressed. If I could walk in the room and see that, I always felt like I did my job, and it's always about seeing something you wouldn't necessarily see. Something different, something cool."
Clement fell away from the music scene as his daughter grew older, but now she is a recent college graduate, and he is thinking of getting his feet wet again.
He may even write a book of his journey with helping the Natural State grow in its music scene. With a working title of "Hell Slept at My House," a published chronicle of his wacky adventures in The Ghostwood Collective may soon be in the works.
In the meantime, Clement knows what's on his immediate to-do list: "Find something to do, get into some trouble and blow up some speakers."