Offshoot Film Festival offers solid selection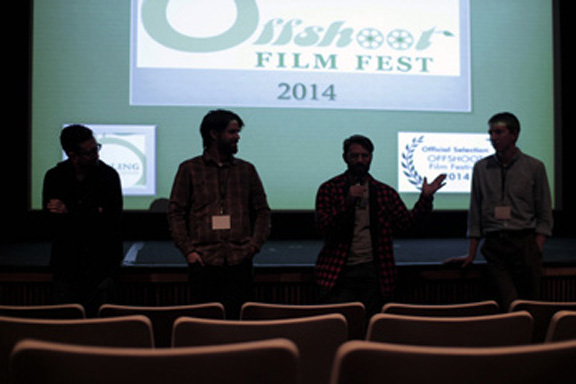 Editor's Note:  The Offshoot Film Festival took place on October 2 – 5, 2014, at the Global Campus in downtown Fayetteville. We sent local filmmaker and musician Joseph Hitchcock to check it out.  Here are the reviews of his favorite films.
WORDS / JOSEPH HITCHCOCK
"13 Pieces of the Universe"
(Directed by Tara Sheffer)
"13 Pieces of the Universe" is a mesmerizing 19-minute drama written and directed by NYC-based filmmaker Tara Sheffer. Filmed in the small Arkansas town of Gillett, "13 Pieces" tells the story of Sara (Emily Cotten), a 16-year-old girl dividing her time between two divorced parents (Kyle Fuhrman and Christine Sheffer) and 13-year-old Opal (Gracie Fuhrman).
"13 Pieces" exemplifies that sought-after quality of storytelling that instantly solidifies a perfect trust between viewer and filmmaker. Every frame of Sam Cutler-Kreutz's photography is perfectly constructed, from the first awe-inspiring shot to the last, with every pixel inviting you into Sara's world of smoke, water and summertime insect ambiance. The film comes off as so honest and real that most of the time I have trouble believing that the characters are actors and not living, breathing people.
The film's occasional technical flaws even work to its benefit. A sudden, erratic camera pan early on somehow adds to the mood, and some poorly-recorded audio makes the film feel even more real.
I saw a handful of films I loved at Offshoot this year, but 13 Pieces is the one I couldn't stop thinking about. 13 Pieces is a perfect example of why it doesn't matter how amazing your camera is, how well your sound is mixed or how large your budget is. What matters is pouring your soul into your art and allowing your art to become you. That is filmmaking.
————–
"Gone Doggy Gone"
(Directed by Kasi Brown and Brandon Walter)
"Gone Doggy Gone" is one of the funniest comedies I've seen this year, and definitely one of the most deserving of my laughter. Written and directed by Kasi Brown and Brandon Walter, the audience is introduced to Abby and Eliott Harmon (Brown and Walter, respectively), a married, child-less couple, who, to their friends' vexation, obsessively care for their small dog, Laila, as if it's a baby, but when their dogsitter, Jill (Shaina Vorspan), decides to kidnap Laila for ransom, the Harmons pull out all the stops to try to get their "furbaby" back.
I'm a huge fan of character-driven comedies, so this ended up being quite my cup of tea. The virtually never-ending barrage of punchlines is merely a method to illuminate aspects of this endearing group of personalities to the viewer. All of these characters feel like real people, and none of the comedy destroys that suspension of disbelief.
Cinematography in comedies, while acceptable from a technical standpoint, typically doesn't aspire to be much more than just a documentation of improv, but the photography in "Gone Doggy Gone" not only is technically flawless but occasionally adds to the comedy with visual cues as well. As far as audio, there's really nothing to complain about. The score is not really anything you haven't heard before, but it does its job.
Though a couple conflicts in the story seem a little too easily dealt with, Gone Doggy Gone is easily something I'd recommend to anyone. It's sweet yet edgy, sexy without being raunchy (though it comes really close) and most importantly, strikes an emotional chord – that is, if you sympathize with Abby's feelings about babies. And come on – that dog is adorable.
————–
"Stuck"
(Directed by John Hockaday)
John Hockaday's "Stuck" is the kind of film that makes you question the sanity of the director, yet simultaneously be grateful for his madness. Spence (Scott McEntire) is an uptight glue salesman trying to provide for his family. His immature brother, Bob (P. Jay Clark, in an absolutely perfect, ridiculous performance), tells Spence that their parents have died in a skydiving accident and asks to move in. The rest of the short focuses on the trials and tribulations of the brothers learning to get along in the same household again, and about fun ways to use glue…or something. It's also a musical – if only for the first two and a half minutes.
"Stuck" delights in its own weirdness, and if one enjoys that sort of thing, this short can be an awful lot of fun. Jarrod Beck's cinematography is very creative, and it seems like a lot of work was done to emulate the look of film, occasionally pulling it off. There's a handful of bizarre scene transitions and visual gags that I don't think I've ever seen before. The set design is magical, with a level of detail that is normally reserved for feature films.
While the story itself isn't that new or interesting on paper, the wacky, childish lens Hockaday allows to see the world through is what makes Stuck work. The strength of and energy behind Hockaday's odd style is reminiscent of some of the great cult filmmakers, and I can't wait to see what he goes on to do.