New HUB project to explore veteran life in Fort Chaffee through photography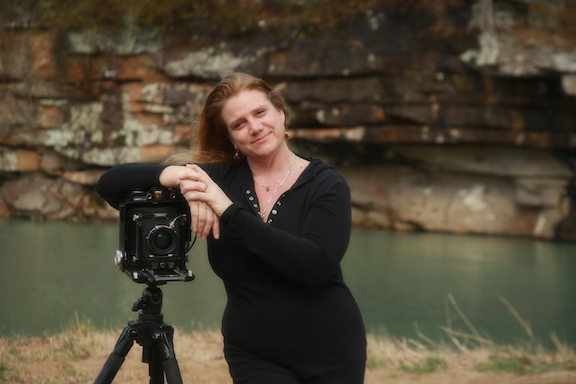 WORDS / THE HUB
The third project in Ernest R. Coleman Building Company (ERC)'s arts program at The HUB directed by artist Kat Wilson will begin development this spring.
Artist Diana Michelle Hausam will make several visits to become acquainted with the Chaffee area veteran services and historic sites as well as the veterans who continue to utilize services in the area. Working primarily in black-and-white, Hausam will take candid portraits of the veterans she interviews, intending to highlight the timelessness of the area and the integration of the old and the new as the area develops. The resulting photo essay will be published as a series on ERC social media accounts.
One of Hausam's most important works is the documentary film Westland, which explores the legacy of outsider artist Tim West, with whom she spent six years gather information and images for a documentary on his work. Her dedication to West is central to keeping his memory alive, and Wilson selected Hausam to complete this project precisely because of her connection to and support of her subjects.
Hausam's vision for the project stems partially from her relationship with her father, who is a former service member. Her process will be documented by filmmaker Kendee Hughes, who will create a short film piece about the project and post on ERC's social media. The style of the documentary will mirror Hausam's gritty, black-and-white photographic approach. Hughes also created a short film for ERC about the work of composer and sound artist Amos Cochran, which can be found here.
By hosting this art on social media platforms, ERC hopes to enable greater access to the art being made at and for The HUB, thereby supporting and extending community for patrons and those interested in exploring the community.
The HUB is a development project focused on building community that includes retail spaces, townhouses, luxury lofts, and an exciting new restaurant. The HUB is a part of Providence, a community of high-end single-family homes and the only development connected by an internal trail system to the Fort Chaffee trails.