THE SOUND OF SOUTHERN VOICES: Mary Steenburgen talks music, acting & Arkansas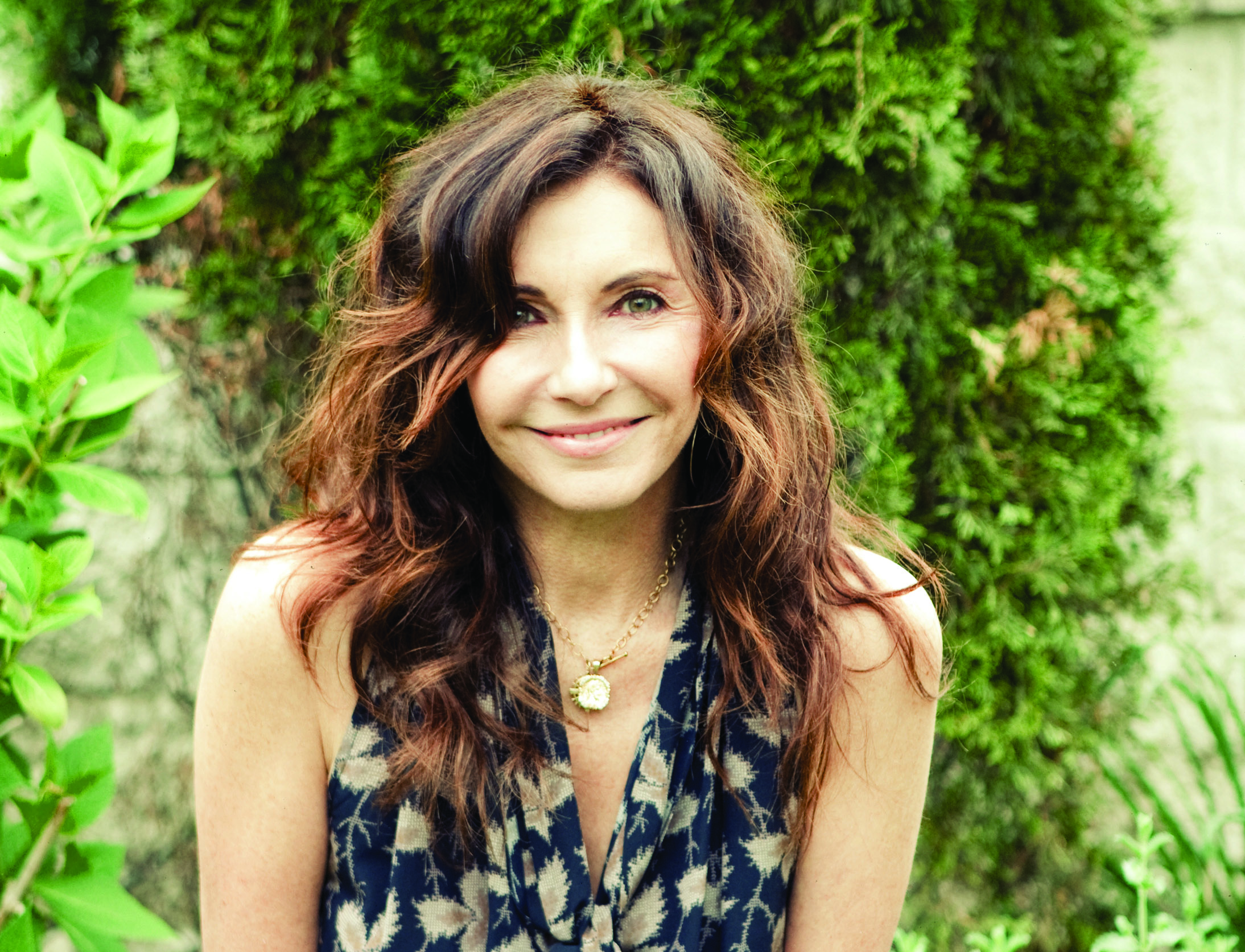 WORDS / KODY FORD
PHOTO / HEIDI ROSS
It started with a simple procedure. Mary Steenburgen underwent general anesthesia for a minor surgery on her arm. But when she awoke, things had changed. The music had started.
She felt odd for a few days afterwards and found herself increasingly fixated on melodies that played in her head. Someone would speak to her and soon those words were transformed into notes on a scale. She had no idea what was happening to her. This continued throughout the summer. Someone gave her a copy of Musicophilia by Oliver Sacks. In the book, the neurologist discussed situations where someone experienced a specific incident only to become preoccupied with music afterwards.
"I don't know if that's what I have or if it's exactly what happened," she says. "I just know that my life changed. There's a point when I said yes to it. I told myself I'm not sure what this is or why it's here but whatever it is, you have an opportunity to push it away and deny it or to say yes."
Like many challenges throughout her life, Mary said yes. She studied music theory and songwriting and what qualities made some songs better than others. As her confidence began to build, she reached out to a friend in Martha's Vineyard, where she and her husband Ted Danson have a home. She would sing what she heard to her friend, who helped her set it to music. That summer, she wrote hundreds of songs with her friend and sent a demo tape of 12 of the best tunes to her manager with a request for him to send them anonymously to an entertainment lawyer.
"I didn't want to wonder if my being an actor might affect the outcome or the response to the music," she says. "I wanted it to be 'it's terrible or it works'." The word came back to her manager that this kid was good and the lawyer wanted to meet. "I went over and I've began working with this lawyer. He sent me to Universal [Music Publishing Group] and they signed me to a publishing deal."
It was the second time in her life that her talent lead to a lucky break. Her first one had been in a reception room at Paramount Picture's New York City office when she met Jack Nicholson, who cast her as the female lead in his second directorial effort, a western called Goin' South. Two years later, she would win the Academy Award for Best Supporting Actress for her role in Jonathan Demme's Melvin and Howard. She'd come a long way since her childhood in North Little Rock. Growing up in a working class family in central Arkansas, her family were
"They just were kind of quiet champions of dreams and that was a really cool environment to grow up in," Mary says. "One of the things I always loved about where I came from is that was true where I came from, whether it was people at my church or people at school. There was kind of a lack of cynicism and discouragement."
While she wasn't raised on the stage or film sets, she had an appreciation for the arts. Two friends, a gifted singer and a gifted musician, sparked her artistic "a-ha moment." One day she wished that she good at something like they were and the voice in her head answered, "But you're an actor. That's what you are." The seeds had been planted and it grew
from there.
She credits being a voracious reader as a child for her desire to act. While films and television defined the story, books gave Mary the ability to let her imagination take over.
"When you read, you were discerning the questions in your brain and you were doing the art direction of the house and you were deciding how the man's voice sounds and how the lady mopes," she says. "There's a certain amount of the author giving you details but all of those nuances are your imagination at work. So I always encourage young artists to read or explore areas of imagination that have not been laid out fully by somebody else. So for me, the realization that I was an actor came from not being on stage or being in a movie, it came from reading and the fact that when I read, I was transported – I laughed and cried and felt things. [T]the next step was to put that on its feet and make that a dimensional world."
After high school, Mary enrolled at Hendrix College. While she only studied there a year, the experience gave her the push she needed to pursue her dream. When the theatre department held its senior production of "The Night Thoreau Spent in Jail," a play by Robert Edwin Lee and Jerome Lawrence, Mary was cast as Lydia Emerson, the wife of Ralph Waldo Emerson. A freshman appearing in a senior production was nearly unheard of at the time and Mary reveled in the experience. One of her professors, Kenneth Gilliam, encouraged his student to go to New York City to study her craft. He gave her a list of acting schools and placed a checkmark beside the best – The Neighborhood Playhouse School of Theatre, which was ran by the legendary Stanley Meisner, who developed the Meisner Technique. He taught legendary actors like Steve McQueen, Robert DuVall and Gregory Peck. Mary only applied to the Neighborhood Playhouse and became one of Meisner's pupils.
"It was an absolute miracle I was able to study under him for two years," she says. "I was on set [of FX's Justified] yesterday and there was a moment we were trying to figure something out in the scene and I went straight to what my teacher taught me. It still works after all these years."
Mary arrived in Manhattan armed with a defensiveness about the South. Given the racial tensions in the south at the time and negative stereotypes long associated with Southerners, she expected people to look down on her and anyone else from the region. However, she found her worries to be unfounded.
"I felt that people were fascinated about [Arkansas] and thought it was beautiful," she says. "Occasionally, people would say I drive through there and it's gorgeous but I really never heard bad things."
However, one aspect of her upbringing haunted her as she embarked upon her new career as an actor and she found herself faced with a choice – to keep or lose her accent. A speech teacher at the Neighborhood Playhouse encouraged her to lose it so she would be able to play a wider array of parts. She chose to alter her voice, a move she doesn't regret.
"I love the musicality of the South, the sound of Southern voices," she says. "I love the fact that after a drink or two I'm as Southern as anyone has ever heard. I'm fine with that and I enjoy that about myself, [but] probably about two-thirds of the roles I played, I wouldn't have been able to play without losing my Southern accent. I think it was a good choice."
Mary went on to star in films like Back to the Future, Part III, What's Eating Gilbert Grape? and Elf. While appearing opposite of Hollywood heavyweights like Johnny Depp, Leonardo DiCaprio and Will Ferrell has been a highlight for her, she focuses on the small victories in the process of acting as the true highlights of her career.
"I'm kind of a geek in both acting and music so for me a lot of the moments that are important to me are little quiet process moments like on a set when you're struggling with a scene and you figure out the key to it," she says. "Step Brothers was one of the most hilariously funny films to work on because a large part of it was improvised. We would spend the morning on a scripted scene and afternoon was improvised.
Despite being in such high profile films, Mary stays connected with Arkansas. She and her husband are investors in South on Main, a restaurant affiliated with The Oxford American Magazine. The magazine is a non-profit and Mary serves on its board of directors. Given the tenuous nature of the publishing industry, the OA sought a way to showcase Southern music and culture beyond the page. Warwick Sabin, former publisher of the OA, knew the perfect chef to make this possible – Matt Bell, who also happens to be married to Mary's niece Amy. Things came together naturally. According to Sabin, Mary played an instrumental role in South on Main's inception and development.
"Mary was tremendously supportive and absolutely instrumental in bringing South on Main to life," he says. "She had an understanding of what we were trying to achieve and she was very helpful in so many ways and continues to be. I think that her creative vision is evident in the aesthetics of the restaurant. She's been very much an advocate in promoting South on Main to a national audience."
Her advocacy for the restaurant also extends to her role as an ambassador for the Natural State.
"I really the best part of partnering with them is…that they have adopted Arkansas as a second home. It is their commitment to stay involved in the arts in Arkansas and promote Arkansas as a center for the arts," says Matt Bell.
Mary says some of her favorite artistic places and events in Arkansas are Crystal Bridges Museum of American Art, the Argenta Theatre, The Little Rock Film Festival and the Hot Springs Documentary Film Festival.
"I feel like both of [the festivals] are just soaring and growing and doing such interesting things," she says. "I feel like filmmaking in Arkansas has taken a while to take hold but films like Mud and others that are being shot and conceived of there. It's very exciting."
Recently, Mary had a brief appearance in Valley Inn, the coming of age romantic comedy shot last year. However, her cameo wasn't typical. She and American Idol winner Kris Allen performed a song they wrote for the film.
"I had to pick a song that I'd written and compose an accordion solo and play with a band," she says. "For me at age 61, that's pretty scary but I think it's important to scare oneself and surprise yourself and to not say 'I don't do that.' We encourage children to do everything…but then there's some unwritten age where that's no longer true, but no one ever told me what that day was, and I'm assuming that my expiration date is gonna be the day I croak. Until I reach that, I'm not gonna stop going."
VISIT: SouthonMain.com