Louis Watts talks art & Arkansas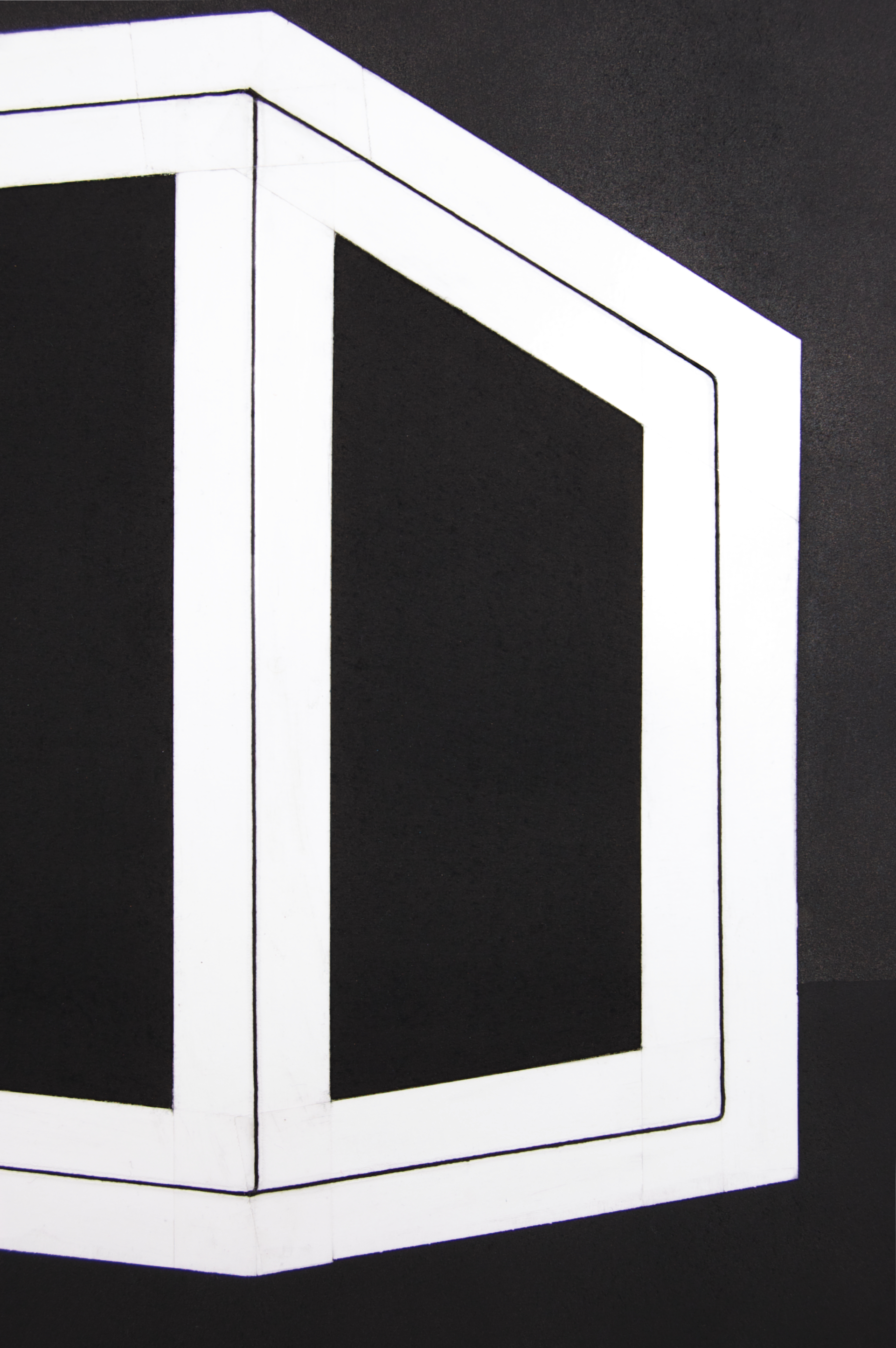 INTERVIEW / SAMANTHA SIGMON
Louis Watts is one of those artists who lets their pieces speak. Abstract, minimal, stark, and graphic come to my mind when viewing his images. Most of his work is fairly large in scale, and although very present in today's world, seems rooted in some of the work coming out of the art world in mid-20th Century America when artists were questioning the 2-D canvas and images created on it, focusing instead on color or form. Some time needs to be spent with each of Watts' projects as whole installations to discover that, in many ways, they chronicle the artist's personal life and our own experience of the everyday.
For instance, "Daily Toil (256 Compositions)" was a meditative process on the idea of creation as an everyday labor. Each day for one year, Watts created a simple drawing, a circle within a rectangle. After the pieces add up, subtle changes in each one are noticed to serve as a reminder of "the small wonders present in the commonplace." In another project, "The Geologic Series," Watts digs into paper with hard graphite to create geologic maps of each state he's lived in. This is a long-term project due to the time consuming nature of each piece.
Watts's upcoming show at Little Rock's Boswell Mourot Fine Arts will feature work from his "Yes Yes Series."  Originally created from items lying around his office at his job, these pieces started out as exercises in resourcefulness and chance, and have slowly transformed into a more sophisticated body of work. They seem to connect to each other through hard lines, stark black/white contrasts and geometric shapes. While in Little Rock, you can also check out his work at the 57th Annual Delta Exhibition at the Arkansas Arts Center until September 20.
This week I was able to chat over email about the artist's life up to this point. He's definitely a traveler and a thinker, and I'm looking forward to seeing his plans unfold.
Tell me a little about yourself and your background?
I'm from Little Rock, though I grew up in a military family so I lived all over the country before settling there. After graduating from Central High in 2002 I went on to get my BFA from Arizona State University. After school I came back to Little Rock and started playing in bands around the area, but was still interested in pursuing visual arts so I decided to move to NYC and see what I could make of it.
I had fun while I was there, worked for James Turrell's studio in Brooklyn, drank a lot of Evan Williams green label, and met a lot of my great friends there and also my wife. Ultimately my wife and I decided we didn't want to settle in New York, so after a stint as boat captains in Montana, we moved to Seattle for a couple of years. After living in a incredibly gray climate we decided to relocate somewhere closer to one of our families and were fortunate enough to both find jobs in Bentonville, so we moved there in 2013.
We just moved from Bentonville a couple of months ago. We are now in New Hampshire, closer to my wife's family. So, check back with us in a couple of years and there is a good chance we'll be somewhere completely different. I can't seem to settle down anywhere. Though, with that said, Arkansas will always be my home.
Tell me about Truck/Art, your mobile art installation parked in Downtown Bentonville.
I got the idea for Truck/Art while working for a food distribution company in Seattle. I worked a delivery route and would spend a lot of time in the back of a big box truck. I really got to like the [large truck] and thought it would be a nice space to house a gallery of sorts.
When I moved to Bentonville, I found a good truck for a decent price, and I had a yard where I could work on converting the truck into the gallery. So, basically as soon as we moved to town I started working on bringing the idea into fruition.
The truck is retired now. I always saw the truck as one holistic piece rather than simply a gallery that housed my other work. This was the reason that while I had it up and running I only showed my own work in it. To me it made as much sense to put other people's work in it as it would to ask someone else to finish your painting or sculpture for you, which, I suppose nowadays a lot of people do. I guess I'm a hardcore purist when it comes to truck installations.
There were lots of times I'd go through all the work to get it set up and then I'd be the only one in the truck for the whole evening. No one would come in even if there were crowds of people across the way at the 21c bar. I think the project was a little out there for Bentonville. I'd say most of my visitors were either from out of state or kids. The kids were actually my favorite visitors. I feel pretty safe in saying that most of them were not seeking out contemporary art on their own time very often, but nevertheless they always satisfied their curiosity about just what in the hell the truck was and would come in and check it out.
I was sad to retire the truck, but I learned a huge amount about my practice from the project. I'll also say, don't be surprised if you see another project in Arkansas with "Truck/Art" plastered on the side in the future.
What is your take on Bentonville now that is has hit the international scene for art?
Crystal Bridges is a nice museum. I actually worked there for a year in the prep department. I got to handle some amazing work and their back collection is impressive if a little scattered. I love that it is there and that people in the region have a quality art museum somewhat nearby. It's also good for the kids. Growing up in Little Rock, with a mother who worked at the Arkansas Arts Center, I know first hand how important it is to be exposed to the visual arts at a young age.
The art scene in Bentonville drops off very quickly past Crystal Bridges. 21c is great too, but as a hotel, it functions as a boutique for visitors and can really only do so much in terms of contributing to the local art scene. I know that Bentonville has its Arts District plan that it is slowly unfolding, so I'll be interested to see how that shakes out. One of the things that drew me to Bentonville beyond being closer to Little Rock than Seattle was the notion that I could come in and do something right away since there really wasn't too much competition. I think if more artists start to do the same it could be a great place. The financing for a vibrant art market is there so if a few tastemakers get into positions of power I think the scene could really take off.
What or who inspires you in your creative process?
The biggest driver of my creative process is a compulsion to come to terms with the visual language. I truly am confused by it, as I think is only natural, and by communicating within its undefined parameters I can really try to understand it. My favorite artists are those who also struggle with this in their work. Artists like Agnes Martin, Hamish Fulton and Don Vliet.
Tell me about your show at Little Rock's Boswell Mourot Fine Arts at the end of July.
The show opens on July 25, with a reception at Boswell Mourot and will be up until the 8th of August. The show has no title, I'm not interested in altering the works by employing language. So, the show is not "Untitled," it simply does not have a name.
The exhibition will primarily consist of selected work from my "Yes Yes" series. It will be my first solo show with the gallery and will be an introduction to collectors and connoisseurs not familiar with my work already.
It wasn't planned this way, but the show is actually coming at a great time because I also have a piece up at the Arkansas Arts center in this year's Delta exhibition. So if someone sees that piece and is interested in learning more about my work they can come to the Boswell Mourot gallery and vice versa.
What have been some highlights of your art career in NWA?
Undoubtedly, running the the Truck/Art project in Bentonville was the biggest highlight. It was also great bringing the truck to Fayetteville for the Black Apple Awards Nomination event. It put the piece in front of a whole new audience. I also had a piece up in 21c for a while, which was great. I've been working really hard for the past six years or so developing my practice and, while I was in NWA, I really got a good amount of opportunity to show my work, and it has been a satisfying experience.
The move to New Hampshire has been a nice change, we are right in the White Mountains which are great. I can be out my back yard and onto the top of a mountain in about three hours. The people are alright too, except for when they talk about the Red Sox.
For more information about Louis Watts, visit louiswatts.com.