Lit Fest Artist Q&A: Getting that extra Vitamin D with Milkdadd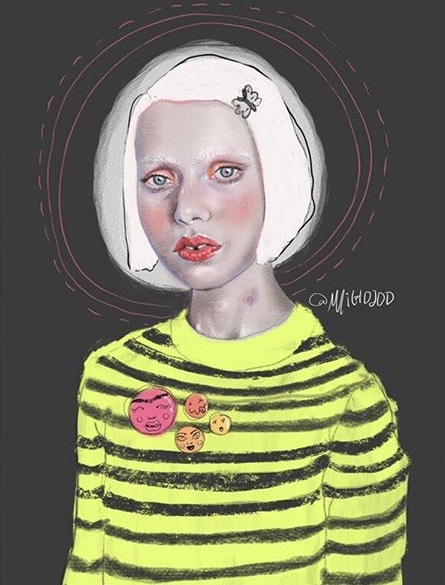 Little Rock artist Hannah Lemke, better known as "Milkdadd", will be a maker at the Central Arkansas Library Festivals sixteenth annual Arkansas Literary Festival on April 25-28 on the Library Square. The festival will feature award-winning authors, artists and television producers and will be free and open to the public. We talked with Lemke about her involvement with the festival and her art career.
IC: So what exactly is your involvement in the festival?
HL: I will be a maker there, I'm going to be a local artists there where I will have some prints and I'll set up some original works that I've got on hand and I will probably do a little bit of live painting.
How does this benefit the festival?
I think that it definitely brings the community out. Just the arts community in general in Little Rock is so close knit and you know, whether it's literary, music, art or theatre everyone just really comes out and we all support each other.
Why did you agree to be a part of the festival?
Well, I'm not originally from Arkansas. I moved here a few years ago, and I moved into Little Rock last summer actually. Just in the past 10 months, Little Rock has just kind of welcomed me in to its community and I just love being a part of it. I've never been to the Literary Festival, I've always had to work. I used to work downtown at the coffee shop so I would get to watch people come in and out and talk about it. But I get to be there actually myself so I'm super excited to be involved with it.
So how do you think this will help you as an artist?
I've done a handful of pieces for such (events) but it's never really about the sales. I love meeting people and like them getting to actually put their hands and their eyes on my work. It's fun to just get to ask questions and then they get to look at something and ask questions. Just meeting the people that are going to be there and all the other artists and being part of that is really important to me. It's always good experience.
How did you start getting into art?
I have been painting and doing art my entire life. I started doing it pretty heavily at about 15 (years old), I was homeschooled and I really didn't have much of a social life so I started painting a lot. I finished up high school early and went to college at about 17 and just started pursuing it schoolwise. It has always been my focus, I've never wanted to do anything else and I've never thought about doing anything else. It's always been absolutely what I do.
Have you exhibited your art anywhere?
I had my first exhibit at 16 in the town I grew up in, I'm originally from Louisiana. Then I had a little show at this community college I went to in Monroe. I went to UCA for a year and I was in two Black Box student art gallery shows and also in a yearly show. I also had two small shows at Nexus Coffee here in Little Rock, and then I've shown at Gallery 360 for two different shows. This year I will have a solo show at the bookstore downtown in August.
You said that you paint a lot, but what exactly do you paint?
I like to paint faces of people. I'm kind of obsessed with the psychology behind the way people hold themselves and their body language and their microexpressions. Also the way they interact and they way they look at you. I've always been very socially shy, and so big crowds make me nervous. So as a kid and as a young adult I start to kind of learn the science behind why people act, or move, or talk or look a certain way. I've sort of learned it from that point, so now it's me just still kind of obsessed with the idea that someone can look a certain way and it just creates this entire way about them.
Is this something that you've always done?
I've always loved to paint people, yeah. I painted landscapes for a hot minute when I was like, 18. I grew up on a lake next to the Mississippi River and so it's in a swampy area. So I did really enjoy painting lake scenes. I don't really do it often, but that's one scenery, landscape thing that I enjoy. I still did custom portraiture. Before I started really being able to express myself through portraiture and just through my work I did custom portraiture like family portraits.  
Do you think you'll continue to paint people throughout the rest of your art career?
Oh absolutely. That's the one thing that I will never stray away from. I hope that people can look at my work and they can relate and they can feel something, or just that the colors look warm and enjoyable to them. My work is just me trying to put my headspace and my thought process out there. I'm making it just to live. Art is part of my day, my week and my life. It's how I breathe. If someone can read into it and understand it or, you know, take away something else. I've had people come up to me and say "Oh wow, that made me feel something" and I think that's cool. But honestly it's just me coping with life. It's something that I do, like you wake up and make breakfast and go to work everyday. I wake up, make breakfast and I want to paint.
So I'm curious, where did the name "Milkdadd" come from?
Okay so my favorite drag queen is Milk, and I remember hearing the name and it just stuck with me. I like the word, I like the name, I like the concept, I like milk and I just like it. The sound of it just feels good to me. Then I had a series of other usernames in the past like three or four years that had the word "milk" in it, but they just really didn't hit, they didn't really click. I was at work one day and my coworker and I were talking about art and just bouncing around ideas and I wanted to re-create my Instagram because my posts were just getting weird and I wanted to create a space for myself just to have an outlet for that. So we're bouncing around ideas and I wanted the word 'milk' involved. I wanted something that people wouldn't know if I'm a girl or a boy. So for almost a year I didn't post my face, and I had nothing about my name or who I was. I wanted to be kind of like J.K. Rowling. I wanted to be an artist, not a man and not a woman. I'm kind of curious if people did think I was a man, if that's how my art would be accepted or viewed. It was really just kind of a social experimentation. I was just curious, I didn't really expect for "Milkdadd" to be a household name. It's funny because it's stuck now. "Milkdadd" with two D's, the extra D is for the extra Vitamin D. I know when we said "Milkdadd," that was it. I will always keep "Milkdadd."