THE LEGACY ISSUE: The Sculptor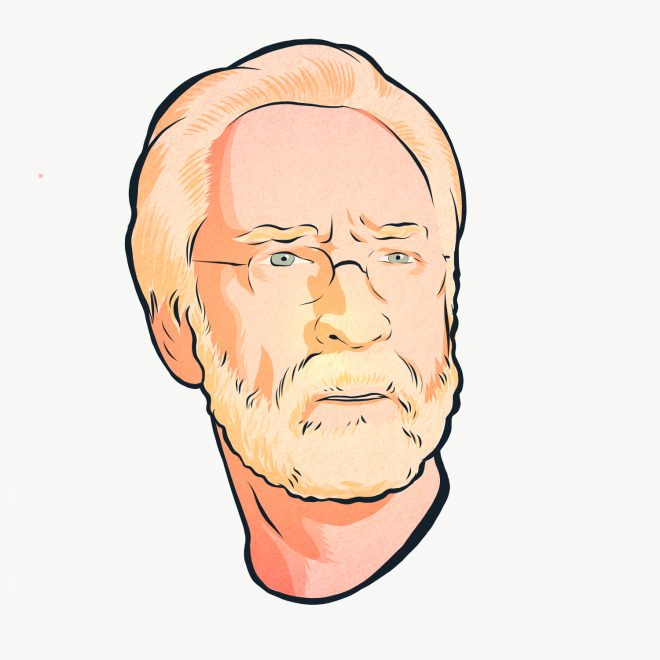 Arkansas Arts Council presented Michael Warrick with the Arkansas Living Treasure Award in 2020. He  has created sculptures for parks in Changchun, China, and Hanam, South Korea. In the Little Rock area, his sculptures can be found at the National Park Services Central High Museum, the Central Arkansas Library System, the Statehouse Convention Center, the Vogel Swartz Sculpture Garden, the University of Arkansas Ottenheimer Library, the CARTI Cancer Center, the Bernice Garden, the UAMS Winthrop P. Rockefeller Cancer Institute and more. In 2019 and 2020, he installed sculptures at the University of Arkansas at Fort Smith; the city of Southlake, Texas; and the Grove in Whittier, California. He also works as an art professor at University of Arkansas–Little Rock. A retrospective entitled Michael Warrick: Clay, Metal, Stone, Wood will take place at the UALR Wingate Center for Art and Design's Brad Cushman Gallery from June 1 to July 22. Warrick is represented by Boswell Mourot Fine Art in Little Rock.
What first drew you to art?
There is something in the creation of art that gives me a deep sense of satisfaction. Learning about processes and ideas has been a natural interest since an early age. There was no art in grade school back in the 50s and 60s so I had to learn about making art on my own. As a way to earn money I worked as a helper for elders in my neighborhood and my dad. I used those funds to buy art supplies and "How To" drawing books.
Was there a piece you made at some point early in your career when you felt like you'd found the vision for your work?
There was a large-scale installation sculpture that I created for the University of South Dakota in 1989 that really helped me clarify the vision of my artwork. That year I had read "Letter from a Birmingham Jail" by Dr. Martin Luther King Jr. and wanted to develop a work that strongly reflected on the type of quiet strength it took to commit to non-violent protest and helping others overcome their difficult circumstances. The work that I developed was titled "Dangerous Dreamers" and demanded three full months of fabrication and a week to install for it to be realized.
What is your work process like? Do you have set hours you make yourself stay in the studio or do you do it when you can?
Since I am drawn to creating objects, life-size works and large-scale public art the process is unique for each type of work. The common denominator is the vetting process of drawing and writing in my sketchbooks as an experimental dialogue with myself. Once I feel like the concept is worth developing, I will take it to the next step of more complex drawings, working in clay, developing a concept in wax as a preparation for bronze, 3-D renderings and possibly a model for a monumental concept.
A good process example is a work I finished the third week of February. I have had a drawing that my son Phillip did when he was 3 ½ years old posted in my studio for 20 years now. It is a wonderful and simple drawing of me in a rocket ship. On Dec. 26, I was reading the Democrat-Gazette about the architect Michael Graves and his creative philosophy, i.e. "Form, Function and Whimsy." It reminded me of that drawing and spurred me to do a drawing of my own about a cat and a dog on a rocket adventure. A few weeks ago, I was telling my business agent in Colorado about that drawing and he encouraged me to develop it further. So, during our snowstorm in February I developed a mechanical drawing of that project so that it could be 3-D rendered by a friend in Baton Rouge. Once the rendering is realized I will develop a budget and submit it as a work of public art in California and Little Rock. 
Regarding my studio practice, I have set days that I work in the studio because I generally have three to ten different projects in development at one time. It is usually Monday, Wednesday, and Sunday during the semester and most every day during the work week when I am not in school.
What are the hardest forms to work with when sculpting? Marble, porcelain, metal, etc.
All forms and materials have their unique qualities and level of difficulties. Carving a large-scale marble sculpture is probably the most difficult because it requires knowledge, finesse and hard physical labor. Stone can be unforgiving when it has a fracture or a piece is broken while in the process. If this happens you need to start over.
Do you prefer creating figurative pieces or abstract pieces? What sort of a challenge does each bring?
For life-size and small works my primary subjects are the figure and portraiture. For monumental work I prefer creating abstractions of everyday objects. Each approach brings a different set of design and technical skill sets.
How did you get into teaching art?
When I was a Junior at Illinois State University my instructor asked me if I was interested in teaching a non-credit class to undergraduate students. That lasted two years and I found that I very much enjoyed helping people visualize their ideas. A few years later I had the chance to teach a beginning drawing class. This led me to a stronger interest in teaching part-time at a community college and then into being an artist-in-residence/artist-in-education. My next step was to teach college full-time at South Dakota State University. In 1990 I moved to Arkansas to teach full-time at the University of Arkansas at Little Rock. I often hear from former students who have made a life in the arts. It is extremely satisfying to know that I have been a small part of their creative development.
What do you love about teaching?
Helping and observing students create a series of well thought out works that are meaningful.
What are some general lessons/philosophy you try to impart on your students?
Realize your passions. Be professional. Create with integrity.
Why did you decide to do the Seeds of Hope piece at the Winthrop P. Rockefeller Cancer Institute?
I wanted to create a work that could give people hope in their darkest times and I wanted to serve others in a way that was more than artistic.
How did it feel to be named an Arkansas Living Treasure?
To be recognized for the 50 plus years I have learned the craft of metalworking is validating. The effort over those years to learn how to weld, cast and fabricate with stainless steel, cor-ten steel, iron, aluminum and bronze has been an enriching experience. Over the decades I have consciously worked hard to pass on my knowledge through teaching many students, friends and community members.
How far along were you into your career when you started doing public art pieces?
I was very fortunate that within a decade after graduate school I was able to successfully create a few temporary public art works in St. Louis and Chicago.
What factors do you take into consideration when creating work for public spaces?
The factors that I take into consideration for my studio practice is to develop works that are visually accessible, unique in design, and how they integrate into their environment. Another aspect of the way that I create and solve problems is to collaborate with other professionals such as 3-D renderers, 3-D printing companies, engineers, architects, landscape architects and occasionally other sculptors.
I read that you've done some work in China for the Sister City program on behalf of Little Rock. Can you tell me about that experience?
I have had two great experiences with the Little Rock Sister City program. The first was to be invited to participate in the seven-week long 9th International Sculpture Symposium in Changchun China in 2008. I was one of fifty sculptors from around the globe who created monumental works of sculpture for the Changchun International Sculpture Park. I was also one of six sculptors from Sister Cities that created a monumental sculpture for the Sister City Sculpture Park. I built many fond memories and friendships.
My other experience with the Little Rock Sister City program was to create a sculpture for another Little Rock Sister City, Hanam, South Korea. The work that I created celebrated youth. It was designed on the computer, 3-D printed and then cast in bronze. Using recently developed technology married with the old school technology of plaster, sand and kilns helped me learn new possibilities in metal casting. Once finished it was shipped to Hanam where it was placed in their new Sister City Sculpture Park. Three other Little Rock Sister City delegates and myself went to the dedication in December of 2017. They even provided us with a two-day trip to Jeju Island off the southern coast of South Korea, where a World Heritage Site is located. I had an amazing and wonderful experience there as well.
Are there any other public art pieces you are proud of?
I am particularly proud of two pieces that were done in 2001 and 2017 as collaboratives with my former business partner Aaron P. Hussey of Baton Rouge, Louisiana. We designed, developed and created the "Central High Commemorative Garden" that is part of the Central High School district in the National Park System. This work celebrates the "Spirit of Central High" and the "Little Rock 9." We also designed, developed and created the sculpture "Straight Lines on a Round World" that is in front of the Little Rock Statehouse Convention Center. This piece celebrates the 1803 Louisiana Purchase and the mapping of that territory. 
Aaron and I share a common interest in how history can be an integral part of public art and we were very honored to have the opportunity to create both of these public art works.
Tell me more about your upcoming retrospective at UALR?
The exhibit will be at the UALR Wingate Center for Art and Design's Brad Cushman Gallery from June 1-July 22. It is titled Michael Warrick – Clay, Metal, Stone, Wood and celebrates significant sculptural works from the last decade. The primary approach to this body of work will be focused on portraiture and the figure. Numerous pieces will be borrowed from local and regional collectors and I am also in the process of creating a number of new pieces in bronze, aluminum and clay for the exhibit as well.
Is there anything else about your career you'd like to mention?
I have been very fortunate in my 35 years as a sculptor to have had so many great opportunities to develop small sculpture, set designs, life-size figurative works, large-scale installation environments and monumental public art. Much of what I have been able to produce is due largely to working with great people that share a passion and integrity for what they create.