THE LEGACY ISSUE: The Architect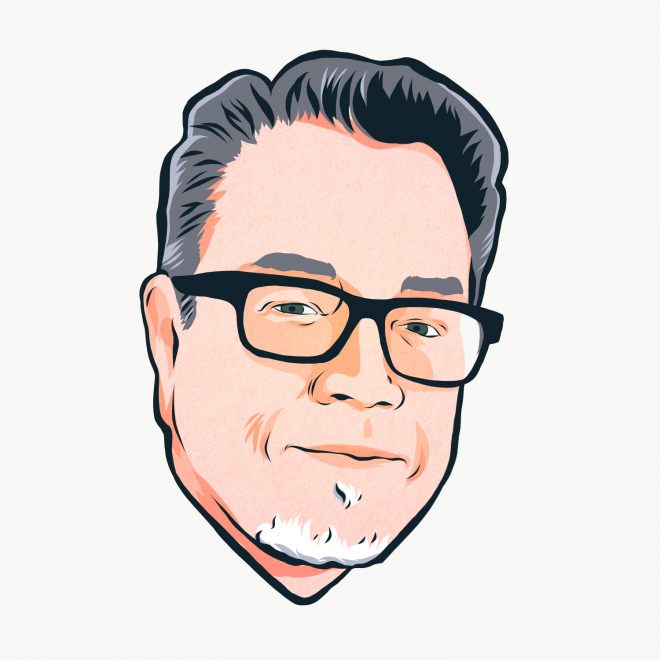 He put himself through college as a door-to-door Bible salesman. He's wrestled a bear, received an award from Ronald Reagan and spent part of his career as a cartoonist—not necessarily in that order. But most know Marlon Blackwell as an award-winning architect who has designed and drafted his way around the world.
Marlon is the founder and principal architect at Marlon Blackwell Architects (MBA) and teaches across the country, primarily as the E. Fay Jones Chair in Architecture and a distinguished professor in the Fay Jones School of Architecture and Design at the University of Arkansas. He is a proud educator, paying keen attention to detail while forming meaningful relationships with his students and clients alike. MBA projects have been widely published and won over 120 state, regional, national and international awards. As an AIA fellow, Marlon has won many prestigious accolades himself, including the 2020 AIA Gold Medal—the architecture institute's highest honor—and the 2020 Southeastern Conference Professor of the Year. Just this year, he has been elected to become one of the elite 21 members of the American Academy of Arts and Letters, and he is the only member architect with a practice outside of the East and West coasts.
How has design evolved and what do you think are the main driving forces in that evolution? 
I think it's evolving to be more synthetic, in the mechanical, electrical, structural and envelope [realms], in terms of how the systems of architecture become more integrated into the process of design and [to be] much more front-ended than it used to be. It's become more collaborative between other disciplines and the construction industry.
It's also evolved to be more self-aware, relative to the impacts it makes socially, environmentally and economically. The desire tends to be in many ways more inclusive and accessible. Driving forces are climate change, social unrest, limited resources as well as the advances of technology both in construction industries and architecture. Digital connectivity is also a driving force with its higher degree of connectivity. It streamlines the process. Everything has been accelerated; the speed [at] which things happen has increased. Yet, there's still such a role for beauty. 
How would you describe the evolution of architecture here in Arkansas from Fay Jones's days in the 1950s to now, and where do you see architecture here going?
I think the best architecture in Arkansas, extending from the time of Fay Jones, is work that is still responding to place, the material culture of place as well as the vernacular [needs, methods and practices unique to a region]. The best work I think recognizes the history of a place but also suggests what the future may hold. I think architecture in many ways is now more of a local and global venture, [and] I see higher aspirations and more risk-taking for architecture in Arkansas; this is not just by the architects but by owners and stake-holders. It's more progressive in the way we're thinking about architecture and its relation to the quality of life in a community. 
Do you have a specific project you're the most proud of?
Our projects are like my children; I love them all. In terms of what we were able to accomplish with so little, I'd say the St. Nicholas Church in Springdale. Seeing any work built and so well received by others (not just architects) creates such a great sense of pride for what we do. 
Is there a dream project in your drafts you haven't completed yet?
I've always wanted to do a project where there's more darkness than light. Something truly evocative and spiritual. I've created these moments in certain projects but have yet to do an entire project along these lines.
Have you always had the belief that architecture can happen anywhere, or was that something you learned as you delved into the practice? 
This is something I learned over the years as I realized that for architecture to be truly impactful, it had to be able to happen anywhere and for anyone; it could not just be reserved for the elite. In many ways, it's the mission of architecture to enrich and dignify the everyday experience of people who engage [with] buildings and places. 
As an award-winning, acclaimed architect yourself, who was your mentor as you pursued the craft, and how did their work influence yours? 
I've had many influential friends and mentors along the way: Fay Jones, Glenn Murcutt and Peter Eisenman among others. I think each of them in their own way reminded me that you have to start your practice the way you want to end it. In other words, you really have to start out doing work that has high aspirations and is executed at the highest level possible because you don't suddenly wake up at the age of 50 and decide you want to do good work. Doing good work is something that you have to practice at every day. Every project counts no matter how prosaic or modest. There is no bread and butter.
What's your absolute favorite work of architecture you've seen over the years? This could be something that inspired you to become an architect when you were younger, or even something in the past year. 
There's so much that it's hard to have favorites but one that I keep coming back to would be the La Tourrette Monastery by Le Corbusier. It's a monastery made out of concrete; stunningly rich and complex. So, on one hand there's that but on the other there's something like the Pantheon in Rome representing the purity of an idea, realized in its simplicity. I have similar feelings about Thorncrown Chapel and the traditional Ozark Barn.
When COVID-19 struck, many businesses, practices, and academic institutions were impacted. Have you had to adapt your teaching/involvement in the academic realm? Has that affected MBA at all? 
We had to adapt. Zoom is now the format by which most teaching gets done these days. However, at the U of A and currently, at Yale University, I have chosen to teach not only by Zoom but make every effort to teach in person when allowed. Currently, I'm quarantining for 5 days in New Haven so that I can teach for 2 days at Yale next week. It's very important to me and I believe to the students as well to have this form of hybrid teaching during these times. Relative to MBA, we've had to adapt as well. Many of our client, consultant and even internal meetings are being done virtually. However, we've been fortunate to still come to work in person with half of the staff in the office for a week at a time, social distancing and wearing masks but having the opportunity to sit and meet and work together to keep the office as productive as possible; it certainly helps with morale as well.

As an architect, you're leaving bits of your legacy across all sorts of landscapes and regions. How do you hope to be remembered? 
I think I'll leave that to others to figure out. I hope it's good, though.
Besides sketching ideas for your next building, do you have other creative hobbies that you go to when you need to step away? 
I'm trying to develop those as I work an awful lot. I do like to get out on the river and go fly-fishing. Ati and I have just bought some land on the Kings River where we will build a cabin and where I plan to spend time in the coming years. If I need to just step away for a bit, there's nothing like a good cigar and bourbon on occasion to get the creative juices going again.