Q&A: Killing your idols with Dangerous Idiots' Aaron Sarlo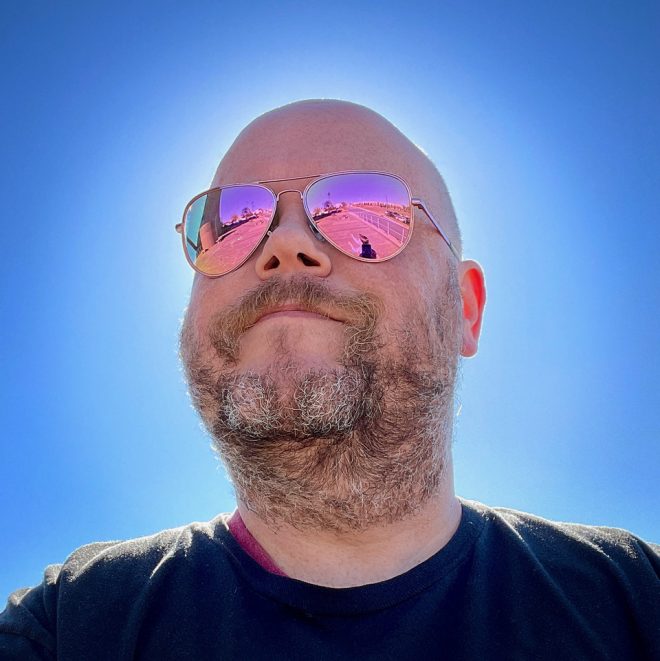 photos courtesy of Aaron Sarlo
Depriving Little Rock's Aaron Sarlo of music would be the equivalent of taking a fish out of water. Music is so integral to Sarlo's nature it's unsurprising that he's dedicated most of his life to bringing it into the world. After being scouted as a teenager at his second-ever live performance at a battle of the bands hosted by the now defunct Little Rock mag Spectrum Weekly, Sarlo and fellow Techo-Squid Eats Parliament bandmates were scouted by Ardent Records, a Memphis label associated with the legendary power pop band Big Star. When Techno-Squid disbanded in 1995, Sarlo moved to Boston, where he traded in his old band's lightly punk-inflected balladry for the sludgy slowcore of Slept.
And then the rug was abruptly, devastatingly pulled out from under Sarlo's feet—not once but twice. The death of two loved ones sent him into a grief so disorienting and immense he sold all his gear, moved back to Little Rock, and stopped writing songs for the first time since music had become an all-consuming force in his life.
Time passed. Sarlo married, had a son named Magnus, and became a nurse alongside his wife, Sarah, with whom he recently celebrated their 20th year anniversary. In 2009, he couldn't deny his nature any longer, and like a fish returning to water, he started the rowdy three-piece bar rock outfit Dangerous Idiots with drummer Greg Olmstead and bassist Jake Rutherford. Sarlo started writing songs for the Dangerous Idiots, and they wouldn't stop coming. Despite what he may have believed at his lowest moments, Sarlo's gift of understanding himself and the world through music had not been extinguished, just temporarily obscured.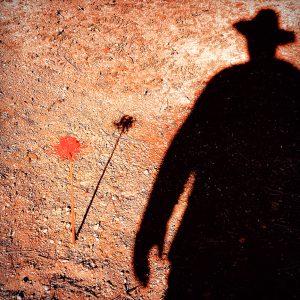 Last year's Tormentor or Mentor captures Dangerous Idiots in all their irreverent, foot-stomping, chair-throwing glory. Across the album's eight songs, the band deliver an overdriven concoction of bluesy, muddy, punchy guitar rock, which, if one were forced to pin under a genre label, could best be described as "stoner punk."  A part-time stand-up comic, Sarlo addresses topics as wide-ranging as crushing sadness, the eternal joys of marijuana, Rob Zombie films, and cat vomit with playful, self-assured gusto. A disclaimer for listeners with irritable landlords: When playing through Tormentor or Mentor, the urge to turn the music all the way up and risk disturbing your neighbors will be irresistible.
The Idle Class caught up with Sarlo to learn more about the recording of Mentor or Tormentor, as well as the personal history of this seasoned veteran of Arkansas's alternative music scene and his upcoming solo album.
THE IDLE CLASS: What is the inspiration for the album title Mentor or Tormentor?
AARON SARLO: The album title is phrased as a question. It kind of got me thinking about the songs I had been writing. A lot of disillusionment came up, with people I had held in high regard, people I had put on a pedestal….I've never been one for idol worship. I've always been a fan of the music itself; it would be my friends who knew trivia about the band members….I hesitate to use the word immorality here because I don't want to give the impression that I think I'm high and mighty, but the title is a reaction to the shallowness going on with some folks.
[The title] also arises from a place of self-reflection, asking yourself, "Am I being the person I wanted to be when I was a kid?"…Though this question may seem general, it gets more individualized when you think of a person's specific experience with disillusionment. We all have our different mentors, and we all have our different tormentors.
TIC: Over what period of time did you write the songs on Mentor or Tormentor?
AS: The main chunks, like "Sad Today" and the riff for "Thick," for example, were written before my son was born in 2013, 2014. The lyrics came about later when I was home with my son raising him and having a lot of time with my thoughts. Before [my wife and I] had a kid, I was just playing music all the time. "Sad Today" was originally I song I wrote for an older band called Laundry for the Apocalypse. We were based out of Little Rock. Eventually, the band dissolved, but I took that song and pumped it up for the Dangerous Idiots.
TIC: Tell us about the process of recording Mentor or Tormentor with Greg and Jake.
AS: I have an in-home studio. Recently, I got some upgrades that bring it into the 21st century. I was old-school for a while. We did record the rhythm tracks for the bass and drums and some of the guitar at Wolfman Studios, which is owned by Jason Tedford, a local sound guru. Over the course of the pandemic, we refined the tracks there. In May 2019, we tracked the basics at that studio.
The pandemic was actually a stress-reliever, even though both my wife and I were laid off because I wasn't booking shows and her job shut down because of the pandemic for months. The pandemic actually gave me time to learn more about production. I've been around it my whole life, but I had never focused on it….I got into Logic and even started teaching myself the drums.
TIC: What was your musical upbringing like?
AS: I got a guitar when I was 14 because I wanted to meet girls—not any more complicated than that. I hadn't been learning how to play it, and then a friend of my dad comes visits and asks me, "Hey, do you mind if I play something?" He just wailed on it right in front of me. I was this 14-, 15-year-old kid, and I knew right then I had to start playing for real. So I got this chord book, started learning chords. I started learning a lot of Beatles songs because they're fun. A couple years after that I got a four-track recorder and started laying down some demos. And then my friend Clay [Bell] and I made an acoustic duo and started playing local venues [in Little Rock].
The first time I was on stage was with Clay. I was 16, and it was at Vino's back when it was still called DMZ, before it became Mandrake's. It was a packed room, and I was handed a bass guitar, expecting a guitar. I remember asking, "Why is there only four strings?" And I learned how to play bass that night. So that was Clay and I's band Techno-Squid Eats Parliament. Our second gig was at the [now defunct] Spectrum Weekly Musician Showcase battle of the bands, which was later taken over by The Arkansas Times. We came in second place and got signed by Ardent Records, this label out of Memphis [founded by John Fry, producer and mentor to Big Star.] The label had folded in the '70s, but Techno-Squid got to be part of its revival in the '90s. We were labelmates with Alex Chilton and Jody Stephens was our A&R guy. Jody is one of the nicest people I've met in the music industry.
TIC: By all means, you're a veteran of Little Rock's alt-rock music scene. How have you seen it change over the years?
AS: I don't know the scene in the late '80s, early '90s. I used to run a radio show for KABF called Shoog Radio focused on Arkansas music. I was a DJ for three years, so I was really adamant about finding as many bands as I could from here and I would always come up short in the '80s, so I'm not sure what was going on during that time. I would call the late '80s, early '90s more of a proto-scene, which consisted of mostly punk bands. Trusty was huge, so was Econochrist. These bands have a legendary status now.
I remember that this punk scene was unaccepting toward music that wasn't punk….I remember being bullied when I was younger by some of the punks for not being "punk" enough….To me, it seemed as though there was a definite stigma. If you weren't punk, you weren't authentic. That's how it felt back then. I played music in Boston for five years [in the '90s], and it was a much more inclusive scene.
I was raised in a household that was very left-wing. Both my parents were gay. I was not taken to church. My family voted for left-leaning tickets or Democrats back in the day. From day one, I was taught inclusivity as my default mode. So as a teen, I was with my four-track making pretty acoustic songs that, at the time during the '90s, no one seemed to give a shit about….Other kids would give me shit because I wasn't into angsty, screaming rock. It rubbed me the wrong way. When I started DJing for Shoog Radio, I remember that a lot of those same Arkansas bands were being played. So when I took over, I made the effort to bring everybody in. The scene now feels a lot more Americana, acoustic. It's calmer. There's a lot of synth pop too, which I really like.
TIC: What happened between your time playing with Slept in Boston and before the Dangerous Idiots started making music in Little Rock 2009?
AS: There was this girl, Rachel, in Boston. I'd known her for three years. She was my best friend. I woke up one morning and found her dead on my bathroom floor. It was very difficult. I had a bit of a nervous breakdown, and I wasn't right for a long time. So I moved back home [to Little Rock].
I sold all of my gear. I had this great Rickenbacker guitar and had this amazing 1979 American-made Telecaster, with all the frets worn down from years of playing. Playing that was like playing a stick of butter. Oh, I miss it. I sold all my gear because I wasn't right, and I didn't make music for years.
After my friend Rachel passed away and I moved back home, a few months later my youngest sister was hit by a car and killed. For a long time, I just cried myself to sleep every night. For that time of not making music, I was focused on getting better. I'm not completely there yet.
About six months later, I got a job at a movie theater. I became work pals with my coworker Sarah. We'd see movies on our days off. A year later, we started dating, and then, we got married after three years of dating. At that point, I was focusing on being with her and enjoying being alive and being glad to have friends. All that other trauma aside, after years of submerging myself in music, I had forgotten how to enjoy my life, so I let myself do that for quite a while with my best friend Sarah.
TIC: When did you pick up an instrument again and start writing songs?
AS: One of the things Sarah and I did was we went to nursing school, and I was a nurse for a couple of years. It sucks being a nurse by the way—not to dissuade people from going into that profession. I couldn't smoke weed because I was in nursing school and didn't want to get kicked out, so I compromised and bought a ukulele for $100. After I got out of nursing school and I had more time, I started writing songs again.
An early one was "Penis Tsunami," which I released in 2019. It took me a long time to actually record it. It was a comedy song that sounded like a rhinestone '70s country ballad. It has ribald lyrics, and I enjoyed the bejeezus out of writing it. I wrote it originally because I wanted to make my parents laugh. My mom's no longer with us, but the two of them had bizarre, super good sense of humor. I took it to the local comedy club, and it was a success every time I played it. I use humor as a coping mechanism, and that's why you get the lyrics that you get from me. If I didn't have humor, I don't know if I'd still be here.
My friend Shayne [Gray] from Techno-Squid gave me an acoustic guitar he had lying around. I wrote a song called "Can I Get a Role Model." I wrote that song in what felt like three minutes. It poured out of me like pancake syrup. I wrote another song called "Sad." After that, I just had songs rolling out of me, intact in the way I'd like them, without any rewrites. A whole album's worth of songs came out of me all at once. I still keep the guitar picks I used when I was writing those songs in a little baggie. Most of those songs became the first Dangerous Idiots album, which has a remastered 10th anniversary album on Spotify.
TIC: You mentioned two new EPs from the Dangerous Idiots that will be released in 2022. You also have a 10-song solo album called One More Time for the Photographers you hope to record and release in the near future. What can you tell me about the solo project?
AS: I've been writing on this dulcimer I was given as a high school graduation gift. It's been in a closet for 30 years. Sarah told me eight years ago, she goes, "Why don't you get that dulcimer out and play it?" So I did. I hooked it up to an amp and put a little delay on it and a lush reverb, so it sounded really spacey and beautiful.
I haven't really played these songs [on my solo album] for anyone. Some of them are very sad….It's very hard for me to sing this stuff live because I just can't get through it. I don't want to play that music for money, and I'm gonna probably have to do so because people love pretty music like that….A lot of these songs I wrote in my head. Having a kid, you know, I can't go up to the studio for four hours and flesh out a riff. I end up having to work at my lyrics and ideas in my head until I can get to my phone and jot them down….I also want to take the time to produce this album properly. The Dangerous Idiots makes loud music. You can kind of run and gun it, just stick a microphone in front of the app and rock out. It's capturing the energy of a performance….With this solo work. I really want to capture what each song is at its core. Each one of them is this desperately sad, hopeless little cry. I want to get them recorded just right. Want to get that just right. When that comes out, it'll be like nothing I've ever done. I generally make happier music.
TIC: You've seen the beginnings and ends of many bands over the years, and you were introduced to the music industry at a young age when you signed to Ardent Records. Looking back on your decades of experience making music, how have your creative motivations fluctuated?
AS: My motivation is the feeling of creating something that pleases me. It is a deeply satisfying feeling. Now as an adult with more experience, I can better critique my work and decide if it's any good. There's no better therapy than existing inside music and being a part of it. That's my main motivation. Sometimes it's about learning a song that will go over well with a crowd because I have to make money so I have to play shows. I really like being a father, I gotta admit. I wish I could do that full-time. I should have done it years ago. [laughs]