Justus Fine Art Gallery announces September show with Jennifer Libby Fay, Donnie Copeland, Robyn Horn & Dolores Justus
The September exhibit at Justus Fine Art Gallery will showcase new work by textile artist Jennifer Libby Fay with selections from her recent solo exhibit 
Tentative Resolve
 at the University of Arkansas at Fort Smith. New painted paper on canvas "Striations" by Donnie Copeland will also be featured, along with work by Robyn Horn, Dolores Justus and others. The exhibit will open with a reception on
Friday, September 2
from
5-9 p.m.
, in conjunction with the monthly Hot Springs Gallery Walk. The show will be on display
September 2 – 30, 2016
.
An accomplished handweaver and fiber artist, Fay's current body of work focuses primarily on textile surface design and multiple dying techniques, embellishments and fabric manipulation. Fay's colorful abstract and modern textiles have been included in exhibitions and collections throughout the U.S. Recent solo exhibitions of Fay's work include: Tentative Resolve, University of Arkansas Fort Smith, Exhibition Gallery, Fort Smith, AR (2016); Windfall, Smith Ranch Gallery, San Rafael, CA (2014); Winds of Change, Primary Colors Gallery, Independence, MO (2013);  Rubicon, Arts Center of the Ozarks, Springdale, AR (2012); and Don't Forget to Breathe, Tulsa Artist's Coalition, Tulsa, OK (2011). Along with her accomplishments as an artist, Jennifer Libby Fay is also a successful designer and entrepreneur.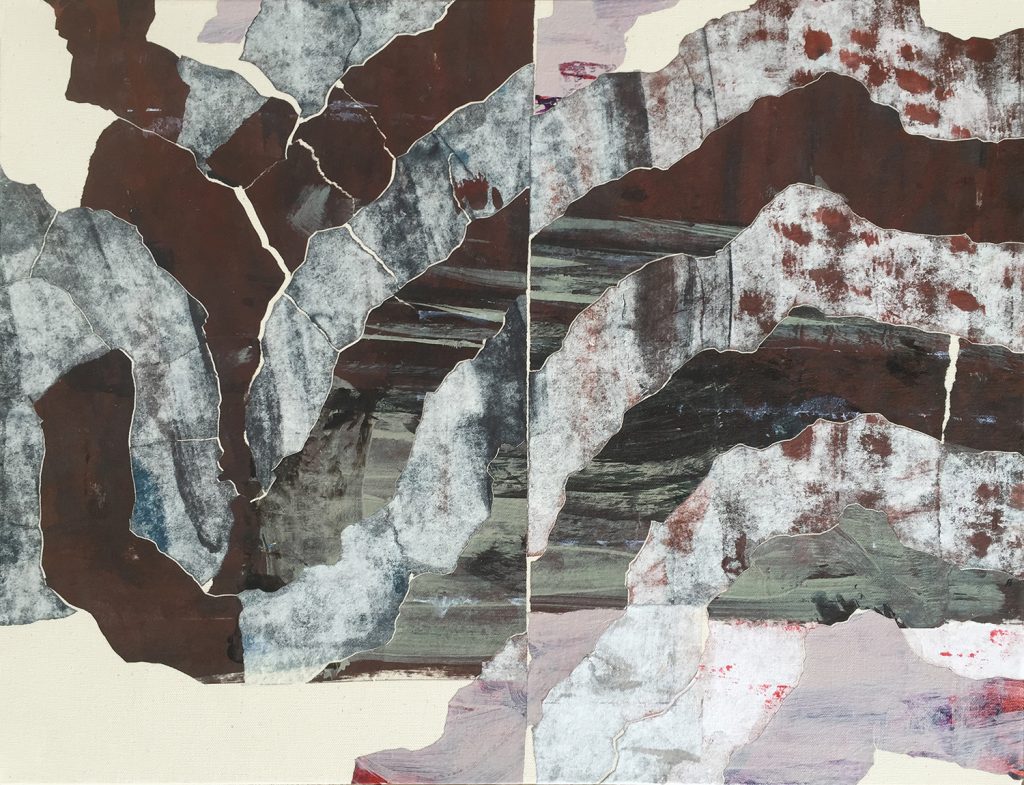 Donnie Copeland primarily works with painted paper to produce his collaged canvases that emphasize pattern, color, and mark. Copeland's paintings were featured in a solo exhibit entitled Interrupted Paths at the Aughinbaugh Gallery of Messiah College in Mechanicsburg, Pennsylvania in 2015. His work was also included in Abstract AR(t) at the Alexandre Hogue Gallery at the University of Tulsa in Tulsa, Oklahoma in 2016. In 2012, Copeland's work was part of Boundary Hunters, an exhibit featuring seven contemporary painters at Alfred University's Fosdick Nelson Gallery in Alfred, New York. His work has been included in many other exhibitions, along with corporate and private collections.
Robyn Horn's wood sculptures reflect the accomplished artist's interest in the contrast and complement of natural design with her own vision of form, movement, and texture. Her textural paintings are another medium for reflection of her artistic focus by continuing to address the play between organic and applied design. Robyn Horn's work has been included in numerous exhibitions, and private and public collections. A few major museum highlights include: the National Museum of American Art, Renwick Gallery, Washington, D.C.; Victoria and Albert Museum, London, England; Museum of Fine Arts, Boston, MA; Museum of Fine Arts, Houston, TX; Yale University Art Gallery, New Haven, CT; Ogden Museum of Southern Art, New Orleans, LA; Crystal Bridges Museum of American Art, Bentonville, AR; Los Angeles County Museum of Art, Los Angeles, CA; Arkansas Arts Center, Little Rock, AR; and many others.
Dolores Justus' paintings draw inspiration from the natural world, capturing its forms and patterns, along with reflecting on the essential. Working in oils on canvas, along with watercolor and acrylic on paper, Justus creates interpretations of the landscape that range from minimal suggestions to more detailed work.  Her paintings have been exhibited and included in collections throughout the U.S. and abroad for nearly thirty years. A few recent exhibits include: Finding Center (solo exhibit) at the Annesdale Park Gallery in Memphis, TN (2015); Migratory Patterns (solo exhibit) at the Malkin Gallery of the Bass Cultural Arts Center in Greenville, MS (2015); Sea & Sky at the Degas Gallery in New Orleans, LA (2016); and the Anniversary Show at Greg Thompson Gallery in Little Rock, AR (2016), among others.
Owned by artist Dolores Justus, Justus Fine Art Gallery offers a wide range of original art including sculpture, paintings, ceramics, photography, and more by recognized artists. Opening receptions are held in conjunction with the Hot Springs Gallery Walk held from
5-9 p.m.
the first
Friday
of every month in downtown Hot Springs. Hours are
10 a.m. – 5 p.m.
,
Wednesday
through Saturday or by appointment.