Justus Fine Art Gallery announces July exhibit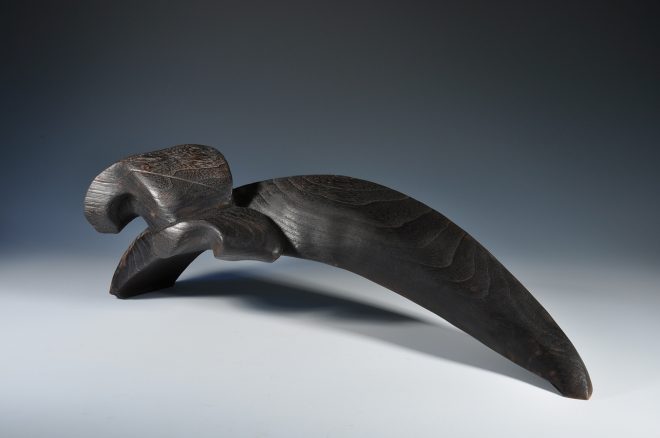 The July exhibit at Justus Fine Art Gallery will include new work by Dustyn Bork, Robert Fogel, Matthew Hasty, Dolores Justus, Jill Kyong, and Sandra Sell. Work by Robyn Horn, Tony Saladino, Gene Sparling, and others will also be featured. The exhibit will open with a reception from 5-9 p.m. on Friday, July 6, in conjunction with the monthly Gallery Walk. The show will be on display July 6-31, 2018.
Memphis artist Matthew Hasty is known for his luminous southern landscapes. Included in the exhibit is Hasty's "Summer Smolder" which captures the color and atmosphere of a summer sunset. Hasty's work has been exhibited and collected internationally.
Robert Fogel's abstract sculptures are exercises in reduction that are based on land forms, rivers and geologic features whose designs have left an impression with the artist. A selection of Fogel's recent works in steel and acrylic will be featured in the exhibition.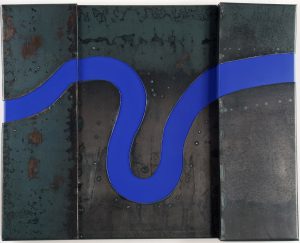 Dustyn Bork's paintings balance shape, form and color. Bork is an Associate Professor of Art at Lyon College in Batesville, Arkansas. 
"These abstractions are meant to be akin visually to koans: a Japanese tradition of stylistically imbedding pieces or snippets of dialogue into a text. In these hybrid visual works, there are large sections or segments of shape or pattern. Just as Koans seem to embody a  hidden or mysterious connections, these works offer abstract entrance points to the concrete structure from the forms the were derived." – Dustyn Bork
New work by Dolores Justus will also be featured in the exhibit. Justus' landscape paintings blur the line between abstraction and representation. Her work has been included in numerous exhibitions and collections throughout the U.S. and abroad.
The latest table/sculpture by Jill Kyong entitled "Stick Table" will be featured along with other work by the artist. Kyong teaches woodworking courses at the Museum School of the Arkansas Arts Center.
Sandra Sell's wood sculptures continue to garner national attention. She was recently honored with winning first place in Materials Hard + Soft 2018, an international contemporary craft competition and exhibition hosted by the Greater Denton Arts Council in Denton, Texas. Two new sculptures by Sell will be included in the July exhibit.
Additional work by internationally acclaimed sculptor and painter, Robyn Horn will be shown. Her work has been included in numerous museum, corporate and private collections. A selection of Gene Sparling's wood-turned vessels will also be included in the July exhibit. Sparling's work was also included in the 2018 Materials Hard + Soft Exhibition. A selection of Tony Saladino's gestural abstract paintings will be a part of the show, along with work by additional artists.
Owned by artist Dolores Justus, Justus Fine Art Gallery offers a wide range of original art including sculpture, paintings, ceramics, photography, and more by recognized artists. Opening receptions are held in conjunction with the Hot Springs Gallery Walk held from 5-9 p.m. the first Friday of every month in downtown Hot Springs. Hours are 10 a.m. – 5 p.m., Wednesday through Saturday or by appointment. Justus Fine Art Gallery is located at 827 A Central Avenue in Hot Springs, AR. For more information, call 501-321-2335 or visit online at justusfineart.com.
Featured Image:  "Walnut Curl" by Sandra Sell