Justus Fine Art Gallery announces August exhibit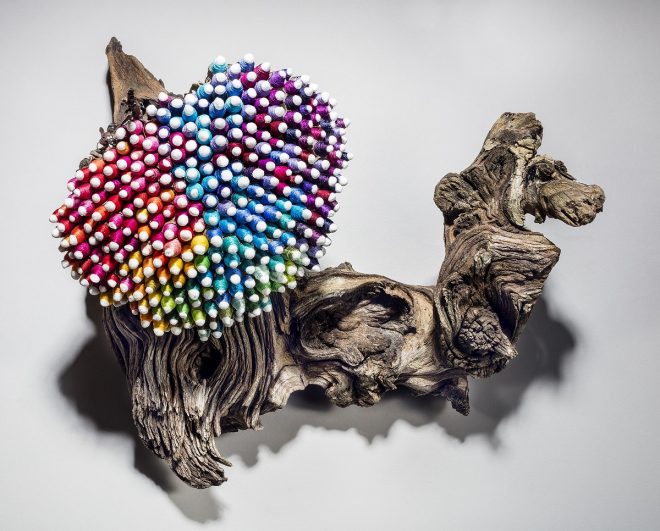 Justus Fine Art Gallery will feature a selection of paintings and sculpture by Elizabeth Weber during the August exhibit beginning Aug. 7.
Weber's paintings employ a vibrant color palette with dramatic use of light and texture, while her sculptures use natural materials to create forms that seem to be crafted by nature itself. One series of her sculptures suggests home and safety, while balanced on a bed of thorns. Her sculpture entitled Home, replicates a paper wasp nest but on a much larger scale (the sculpture is 5-feet-wide). Other pieces are colorful adaptations of wasp pupae on actual wasp nests which are nestled on found pieces of wood.
The August exhibit will also include work by Michael Ashley, Kristin DeGeorge, Robyn Horn, Tony Saladino, Sandra Sell, Gene Sparling, Emily Wood, and others. The show will open with a reception on Friday, August 7 from 5 to 8 p.m. Due to COVID-19 precautions, no refreshments will be served during the opening. Attendees are asked to wear masks and to maintain the recommended social distancing during the opening.
"I truly feel that I did not choose to be an artist. It is the tread that weaves the fabric of my life, I dream in full color and sound, I hear the trees speak of their memories in the form of song as they drop their leaves, and I recognize raw beauty even when it's not pretty…Without art, there is no deep breathing, no peace." – Elizabeth Weber
ABOUT THE ARTIST
Elizabeth Weber's paintings and sculptures have been included in notable exhibits including the 62nd Annual Arkansas Delta Exhibit hosted by the Arkansas Arts Center, virtual exhibition, Little Rock, Arkansas; Part to Whole: The Making of Art, the Artist, and the Artist Group at the Galleries at Library Square, Little Rock, Arkansas; the 31st Annual Tallahassee International at the Florida State University Museum of Fine Arts, Tallahassee, Florida; the Irene Rosenzweig Biennial Exhibition at the Arts & Science Center for Southeast Arkansas, Pine Bluff, Arkansas; along with exhibitions at the National Association of Women Artists, New York, New York; Cerulean Gallery, Amarillo, Texas; Xanadu Gallery, Scottdale, Arizona; Boswell Mourot Fine Art, Little Rock, Arkansas; and others.
ABOUT JUSTUS FINE ART GALLERY
Owned by artist Dolores Justus, Justus Fine Art Gallery offers a wide range of original art including sculpture, paintings, ceramics, photography, and more by recognized artists. Opening receptions are held in conjunction with the Hot Springs Gallery Walk held from 5 to 9 p.m. the first Friday of every month in downtown Hot Springs. Hours are 10 a.m. – 5 p.m., Wednesday through Saturday and by appointment. Justus Fine Art Gallery is located at 827 A Central Avenue in Hot Springs. For more information, call 501-321-2335 or visit online at 
justusfineart.com
.