Inverse presents Tulsa performance artists for one night only at Stage 18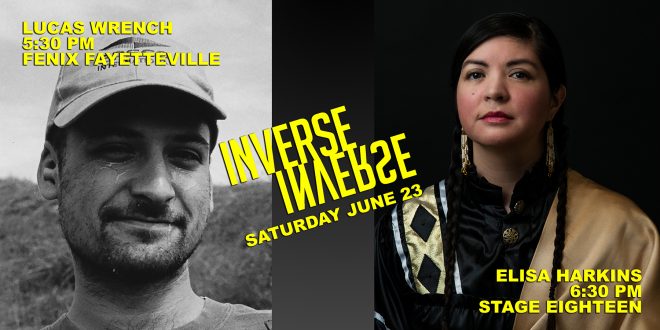 Inverse Performance Art will present Tulsa artists for ONE NIGHT ONLY in collaboration with Fenix Gallery and Stage Eighteen. Artists Lucas Wrench and Elisa Harkins will perform in downtown Fayetteville this Saturday, June 23 beginning at 5:30pm. Join us at Fenix Gallery, 16 W. Center St, beginning at 5pm. Wrench will perform on the square beginning at 5:30pm. We will then walk to Stage Eighteen, 18 E. Center St, where doors open at 6:00pm and Harkins will perform at 6:30pm. Directly following the performances there will be an artist talk at Fenix Gallery where refreshments will be served.
Lucas Wrench is an artist and events curator currently serving as the Manager of Public Programs at the Gilcrease Museum in Tulsa, OK. Wrench previously worked as the Kress Interpretive Fellow at Tulsa's Philbrook Museum, and as the Associate Curator for Machine Project in Los Angeles, CA.  His current work focuses on performance art conventions, and the tropes, genres, and traditions of live entertainment. Lucas will be performing "A Nice Jester" at 5:30pm on the Fayetteville Square. Follow Lucas on instagram @spaghetti__warehouse
Elisa Harkins is a Native American (Cherokee/Muscogee) composer and artist originally hailing from Miami, Oklahoma. Harkins received her BA from Columbia College Chicago and her MFA from the California Institute of the Arts. She has since continued her education at the Skowhegan School of Painting and Sculpture. Her work deals with the concept of "Performing Life", in which the performance intersects with her actual lived experience. Tackling subjects such as adoption, enrollment, and the 1990 Indian Arts and Crafts Act, Harkins uses electronic music, sculpture, and the body as her tools. She has exhibited her work at documenta 14, The Hammer Museum, The Broad Museum, SBC Gallery, MOCA North Miami, and the MCA Chicago. Harkins is an enrolled member of the Muscogee (Creek) tribe. Elisa will be performing "Wampum" at 6:30pm at Stage Eighteen. Learn more about Elisa at her website www.elisaharkins.org.
Inverse Performance Art Festival strives to foster local dialogue about performance art on an international scale and build a community of performance artists and supporters. Organized by Cynthia Post Hunt of Fayetteville, Arkansas and Emma Saperstein of San Luis Obispo, California, the festival presents new work and engages local, national, and international communities. Inverse facilitates various forms of engagement: for the space, for the artist and for the viewer. Inverse is an artist-run, community-supported inclusive platform and works with artists from around the world. Inverse provides opportunities for performance work to be cultivated outside of city centers and is committed to supporting new and emerging artists.
Fenix Fayetteville is a self-governing group of artists working in all disciplines, committed to a culture of mutual support, community, and collaboration. Members add their vibrant voices to the creative culture growing in northwest Arkansas, contribute to the active arts scene, and serve the community through their creative and educational work.
Stage Eighteen is a performance venue, art gallery, and full bar located in the heart of downtown Fayetteville, AR featuring live music, comedy, theatre, film, visual art, and much more.