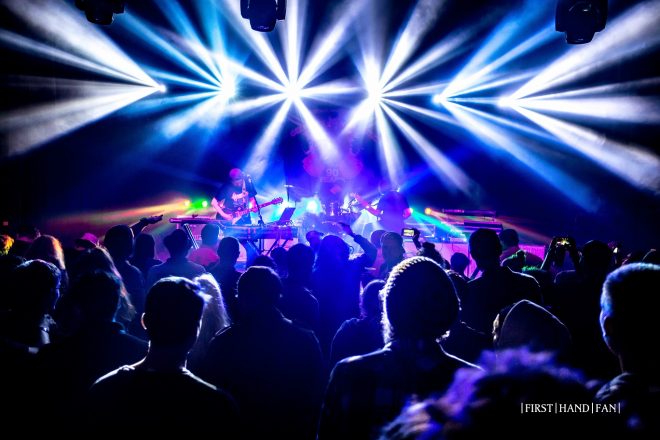 Legendary venues aren't backing down to COVID-19. History won't allow it.
WORDS / SOPHIA ORDAZ
PHOTOS COURTESY / FIRST HAND FAN
---
George's Majestic Lounge
If the walls of George's Majestic Lounge could talk, they would relay almost a century of history. As Arkansas's oldest and longest-running live music venue, George's was one of the first nightlife establishments to integrate in Arkansas and the first bar to broadcast color TV. Now, alongside the many beloved legacy venues in our state, George's is braving a global pandemic in eager anticipation for a nearing COVID-free future.
"Generations have come to George's the past 94 years for generally the same reason: to have that social interaction and escape from reality for a few hours," says Brian Crowne, owner and talent buyer at George's. "Live music and good times make memories for a lifetime and George's has been blessed to be a place that facilitates good memories. When folks and generations can have great memories of George's in their 20s, 30s, 40s, [through] '80s, they feel a sense of pride and ownership themselves."
George's closed its doors to concertgoers March 13, a week before the state mandated that all bars, restaurants and live venues cease in-person operations. The past year's closures have decimated the live music industry, depriving musicians from a steady source of income, leaving tour crew members unemployed and threatening the livelihood of independent music venues worldwide. A typical year at George's consists of at least 250 shows—Crowne had to cancel or postpone hundreds in 2020.
"We went from a positive revenue business to a 100% expense business with no revenue," Crowne says of George's closure last March. "I knew immediately we would be the first to close and the last to reopen at any sort of capacity. The industry of gathering people shut down globally."
During the five months George's closed, Crowne and his wife and business partner, Day, planned how the Dickson Street mainstay might serve patrons and musicians in the safest way possible. In preparation for their reopening last August, they had UV air purifiers installed in the air conditioning units, placed hand sanitizer stations throughout the venue and built an outdoor stage. Patrons must wear face masks at all times and are prohibited from being near the stage or dancing, per state mandate. Though  the venue is operating at 20 percent capacity and attendance can be hit or miss, Crowne is hopeful for George's future and trusts that interest in live music post-pandemic will be overwhelming.
"There is definitely a light at the end of the tunnel now. I hadn't seen one in a long time. I'm somewhat optimistic that late summer or fall will start to feel a little more normal," Crowne says. "I think people are starving for live music in volume and they will come back strong once we have the bands they want to see booked. We are social creatures and gathering together for live music is important to folks and important for our mental health."
Patrons can look forward to George's Majestic Lounge resuming outdoor concerts with the arrival of spring weather. In the meantime, look to George's for a range of socially distanced entertainment, including Houston honkytonkers, the Chad Cooke Band; '90s alt-rock cover band, The Mixtapes; and the Arkansas Bluegrass Bash in June.
Stickyz
With its stained glass windows, painting-adorned interior and cavernous back room, Stickyz Rock'n'Roll Chicken Shack has been a centerpiece of Little Rock's River Market District for over two decades. The eclectic locale's tucked-away seating is perfect for catching up with friends over chicken sandwiches and fried okra before heading to the adjoining performance hall to enjoy local and out-of-state live music. Though the pandemic has placed restaurants and bars under an unprecedented amount of strain, Stickyz is still going strong thanks to community support.
"We felt [the pandemic] immediately," says Chris King, owner, operator and talent buyer at Stickyz. "Our numbers plummeted by about 85 percent beginning the week of March 16, and if it wasn't for the love and support we received from our regulars and members of our community I don't know if we would've made it through the first two months."
At the onset of the pandemic, Stickyz made the switch to curbside service, delivering more to-go orders than ever before in the restaurant's history. During the second phase of Arkansas's reopening, Stickyz rearranged their seating along social distancing guidelines, put up hand sanitizer stations and began using disposable menus. In July, concerts resumed in Stickyz's open patio space, and shows have now returned to the indoor stage with a cap on the number of attendees.
"I think a lot of people have great memories of the shows we've produced [at Stickyz]," King says. "We have always tried to be a place that folks can come to for national and regional touring artists as well as a variety of talented local bands and musicians. We hope to make people feel like they don't have to travel to neighboring cities in order to see big-time touring artists."
With vaccine distribution unfolding across the nation, King is optimistic about Stickyz's future. For 21 years, Stickyz has provided Arkansans their Southern food fix and a curated selection of live music, and that's not going to change anytime soon.