HOT DIGGITY DOG: Even NWA's fur babies can be stylish with the help of Mt. Oakley Threads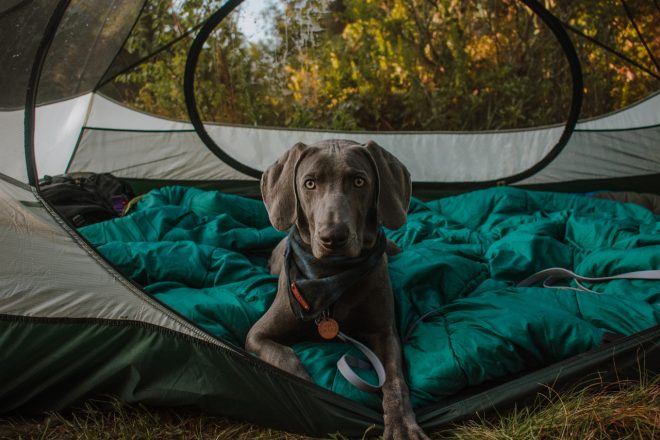 WORDS / SUMMER EL-SHAHAWY
PHOTO COURTESY / MOUNT OAKLEY THREADS
After working her tail off, Caitlin Villescas started Mt. Oakley Threads, a business dedicated to keeping our furry friends in fashion, in August 2017. She named her endeavor after her beloved German Shepherd Oakley.
"I had struggled with anxiety and the only true place that I ever found my peace and clarity was when I buried myself in the great outdoors," Villescas said. "But something was missing: a companion and a friend. Oakley waltzed into my life all in good timing and showed me just how great adventures can be if you dive in wholeheartedly."
Through her experience with Oakley and her love for the outdoors, Villescas was inspired to create a brand that represented her passion for adventure. She said by doing this, she hoped to inspire and support others.
"I wanted anyone who was struggling on their trail to feel the same joy that I do when I venture about and to always have a best friend to look over at and enjoy the ride," Villescas said.
Mt. Oakley Threads has a storefront in Elm Springs that currently acts as a workshop where customers can come by and see the range of fabrics and supplies that also appears on her Etsy site. Villescas uses the space to make each of her products to order and is working hard to incorporate a retail space.
Villescas thinks it is important to support local small businesses and meaningful brands, and that in particular, Arkansas has the heart that keeps small shops thriving. According to Villescas, there are a couple reasons Mt. Oakley Threads can thrive in NWA. "If you live in Northwest Arkansas, I'd say there are two things on your mind every day: wishing you were outdoors hiking a trail, and 'I wonder if my dog is thinking about me too.'"
The items at Mt. Oakley Threads reflect Villescas's love of the  outdoors. Villescas works in her favorite earth tones, as well as rugged flannel and plaid. Her collars, bandanas and blankets each offer fun styles for furry friends, and she is working to add more adventure essentials to her shop.
Villescas said her favorite pieces to make are collars.
"Although it's a detailed task, it's always so rad to receive a photo of their pet wearing it. The time and love that goes into every item is just as important to me as it is for you."
More information about Mt. Oakley Threads can be found on the store's Facebook page and Etsy site.