Knit Yourself the Perfect Poncho for Fall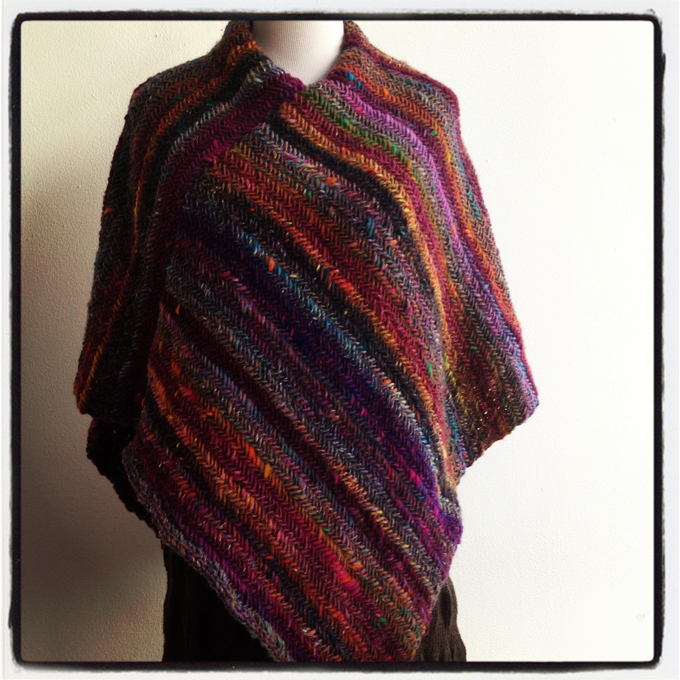 WORDS / CYNTHIA PARKER
THE PONCHO
It is the perfect layer.  Throw it on, and whatever you are wearing is transformed.  Chic when worn over a skirt and boots – Boho when worn with jeans. Grab a hat, gloves and scarf and you can face the coldest day.
The Herringbone stitch on this poncho adds a layer of sophistication that elevates it to a higher level of fashion.  It is not hard to knit, appropriate for an advanced beginner.
Materials:
1000 yds. Worsted or Chunky weight yarn
US 17 – 24 or 32" circular needle
Gauge: 14 stitches and 14 rows = 4"
Size:  One size
Herringbone stitch:
Row 1 – Knit 2 stitches together through the back loop, dropping only the right hand stitch off the tip of the left hand needle.  Repeat to last stitch, Knit 1.
Row 2 – Purl 2 stitches together, transferring only the first stitch to the right hand needle.  Repeat to last stitch, Purl 1.
Make 2 pieces as follows:
Cast on 93 stitches.  Work Herringbone Stitch as described above until piece is 9" longer than it is wide. Cast off.
Making up:
This is the confusing part, but once you understand it you will be able to make a poncho with any stitch or fiber you desire.
Lay one rectangle right side up – horizontally.  Place the remaining rectangle right side up, vertically, along the top edge of the first rectangle at the right edge and sew the seam where they meet.  Flip the piece over from left to right.  Fold the top edge all the way down to the bottom edge, then fold the left edge over to the left edge of the piece and sew the seam.  Done.