Little Rock's Glittercore releases new album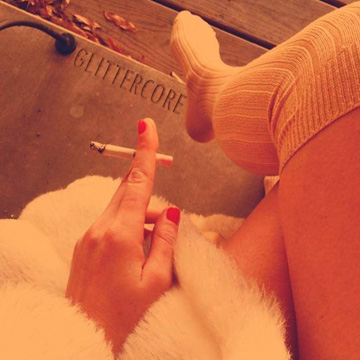 WORDS / RACHEL HILL
The woman sits on the porch wearing a white-fur coat with one of her knee-high socks crossed over the other, her fingernails are painted red and she is ashing a cigarette over the name in the concrete that reads: GLITTERCORE.
Glittercore released their new album May 1. Paul Bowling who is one of the power trio's members said they made the album to introduce themselves again.
"The cover art is by Shannon L. Murphy. We really like this album cover and have gotten good feedback on it so far. It has this androgynous bittersweet Andy Warhol-esque beauty to it but also has a sort of meditative morning after 'did I do the right thing last night?' sort of vibe" drummer Shayne Gray said.
Glittercore became a band in 2011 but went through a few different band members until late in 2012 when they found their sound. Bowling is lead vocals/ guitar, Gray is the drummer and KV is the bass player.  Glittercore's album may be new to the music scene but the members of the band are not. Bowling, Gray and KV have been in other bands since the 90s. The band plays original material that is usually written by Bowling. The band's sound is similar to the rock bands in the 90's, Glittercore has been compared to  the Pixies, Alice in Chains and a heavier Pink Floyd.
"It's funny that we get a lot of comparisons to psychedelic, drug influenced rock bands because our entire band is probably the most sober band in Little Rock" Gray said.
Glittercore's members are all adults with families and jobs outside the band. Gray is 42 years old and is the youngest member of the band.
"We think we have the energy on stage of kids in their 20s but perhaps with the wisdom and experience of more seasoned musicians" Gray said.
The new album is primarily alternative rock with elements reminiscent of stoner rock psychodelic, power pop,  and electric post-punk. Bowling said the songs on the album express a "personal healing process involving honesty, reflection, awareness, acceptance and the ongoing, ever-changing quest for humility and peace."
Gray, who has been playing with Bowling since 2009, said the songs meant a lot to Bowling.
"This  album is some of the most brutally heartfelt songs by Paul to date. I think it can take you on a journey of highs and lows and fast and slows. It's mixed to listen as a whole from beginning to end with headphones. I like how one songs bleeds into the next until the sparse apocalyptic, reflective end" Gray said.
VISIT: GLITTERCORP.COM