Gus Carlson release new book "Eve of the Ozarks: Girl and Goat"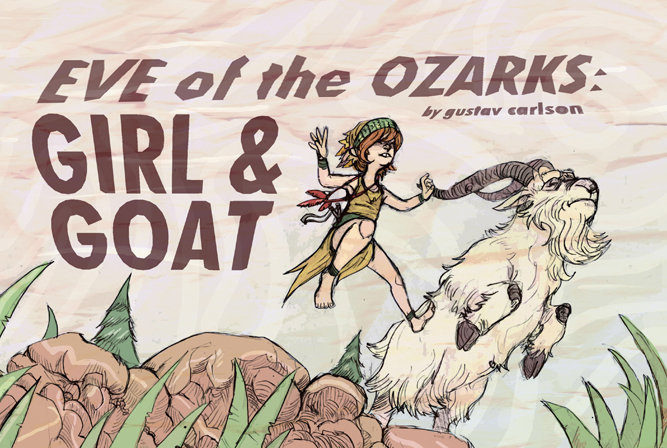 WORDS / TAYLOR GLADWIN
Gus Carlson is Northwest Arkansas's mastermind behind the Ozark folk comic, Eve of the Ozarks. Eve is a wide-eyed eight-year-old adventuring through the Ozark Mountains in the early eighteenth century Ozark Mountains. With her best friend and ally, a goat named Hieronymus, Eve explores the untapped Ozarks, encountering mythical monsters and folklore creatures, all of whom she is able to communicate with. You might have seen Eve running through the pages of The Free Weekly. Now she's prancing around the Ozarks in Carlson's publication of his new book, Eve of the Ozarks: Girl and Goat.
Carlson is doing something very unique. Currently he is the only person drawing comics featuring the Ozarks, and his art is his sole income. Eve of the Ozarks: Girl and Goat is a collection of seven short stories. Our heroine lives in a time before the first human settlers appeared in the Ozarks. In each story Eve encounters monsters pulled from Carlson's imagination, like the angry one-antlered elk who guards the bluffs, and from Arkansas folklore, such as the Gowrow, a giant worm who lives beneath a tree and eats grotesque amounts of apples.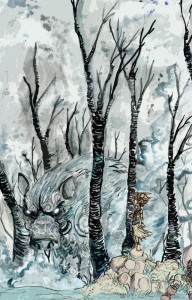 Because the stories take place during different times of the year, readers get to see Arkansas in every season through Carlson's detailed illustrations. With the main facet of the book being that it takes place in the majestic Ozarks, Carlson felt that naturally the book should be printed in color. Although he's been drawing for as long as he can remember, comics didn't come until college. Carlson is indeed an artist and a storyteller, but why comics?
"It feels like the best parts of each medium devised into a single form. Also, you have a series of panels suggesting the flow of time, but at the same time you get to see the entirety of the page. Creating this strange tension of being in the moment and at the same time being very much engaged with the past and future all at once," Carlson says.
[heading]A CHILD OF THE OZARKS[/heading]
Carlson remembers going on family road trips and listening to the hillbilly Arkansas comic, "Lil' Abner," on the radio and being particularly proud when he learned how to draw in the backseat without getting carsick. For him, growing up in the Ozarks was, "a lot of fun running around on a goat farm and getting into imaginary adventures." One aspect of art is that it reflects the atmosphere where the artist finds inspiration. When art represents a specific region, the spectacle of that region is preserved and can be appreciated by its citizens in a whole new way.
"It adds a sort of reliability to [the region], but at the same point, you are getting a specific person's vision of it, so it's kind of a familiarity but hopefully a new lens upon that place."
"Eve of the Ozarks" highlights an older, overgrown version of the majestic beauty and folkloric nature of Arkansas. An authentic Ozarkan, Carlson grew up in the Boxley Valley region on his family's goat farm. While the tool for Gus's art is his drawing, his vision comes from his childhood perspective of the Ozarks.
"It's just really beautiful here. All the stories and histories of the area are so unique and untapped by a lot of creators. I think it's a hidden goldmine. There's a wealth of material and I keep finding more and more so it's hard to run away from it," Carlson says.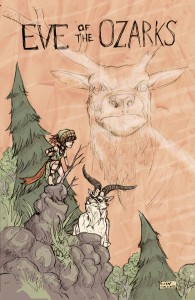 In terms of audience age, Eve of the Ozarks is a relaxed nine and up, but beyond numbers, Carlson thinks of it as, "for adults who are nostalgic to certain kinds of children's stories that they just don't make anymore." That's why he's making it.
"I miss those kind of really fun stories that had something beneath the surface. Kids are aware of it, they just don't know why they're aware of it," he says. In the story, "Snow Day for a Sad Sap," the message comes when the depressed sap creature who pores from the trees helps us remember that even in the darkest of winters, whether environmental or emotional, there will always be spring.
While it can feel overwhelming at times to be the illustrator, writer, and publisher of a story, Gus's favorite thing about drawing Eve is that he gets to run wild with his ink and his idea.
"I don't ever have the ending of any issue figured out when I start it. I just see what happens. I try to explore it as much like a playground as possible. I can chose the direction in a heartbeat and I love it."
Carlson is currently working on a second Eve of the Ozarks book, which be told entirely as double-page spreads. Having drawn monsters before comics, he's particularly "stoked" about drawing Eve scaling a giant with enormous lice that she must combat. Carlson's ideas and illustrations are both graphic and whimsy, just Eve. When it comes to drawing and storytelling, the sky's the limit. "Always another mountain to climb," said the boy from the Ozarks.
Eve of the Ozarks: Girl and Goat is available www.eveoftheozarks.com and at Nightbird Books.
Images courtesy of Gus Carlson