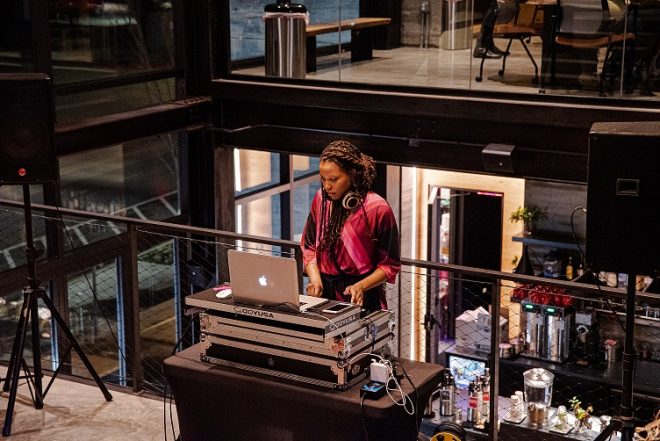 Local DJ superstar Ambrosia Johnson discusses her journey into the music-mixing life. 
WORDS / SUMMER EL-SHAHAWY
PHOTO / LAUREN RAE
---
Ambrosia Johnson is a DJing powerhouse professionally known as DJ Afrosia J whose gigs keep her guests vibing to her beats all throughout the night. 
While she was studying broadcast journalism at the University of Arkansas, she discovered KXUA 88.3 FM, the college radio station. Through KXUA Johnson had access to festivals in the region and began nurturing her newfound passion: live music. Johnson began hosting a radio show on KXUA that highlighted local artists while also playing her favorite EDM tracks. After a while, Johnson began receiving calls from listeners who were local DJs, complimenting her mix sets.
"These incredible DJs and musicians would eventually let me tag along to their live performances where they encouraged me and taught me the art of the craft, and soon after I began receiving calls for my own DJing opportunities," Johnson said.
As she started participating in the world of DJing, Johnson said she initially felt isolated because the mainstream artists were largely male.Through social media, however, Johnson has been able to find a wealth of women who inspire her, including Peggy Gou, UNIIQU3, DJ Shalé and Trudy. 
Johnson said her unique brand is all about being eccentric, eclectic, and inclusive. Being a natural, down-to-earth girl, she is the love child of Erykah Badu and Janis Joplin.
"I quickly overcame my fear, worked overtime, took my brand seriously, and just infiltrated this male-dominated industry, ready to conquer and ready to entertain," Johnson said.
Johnson said the process of DJing isn't as easy as some people think, and playing track after track isn't everything a DJ does. She herself didn't understand the complexity of the process until she began to practice the mixes she'd been hearing in her mind.  
"If you are able to clearly hear the unique beats and melodies that are rhythmically intertwined in lyrical and instrumental tracks, quickly combine them without interruption, then you're well on your way to becoming a great DJ," Johnson said.
DJing is now Johnson's primary source of income, and to her, music means freedom. She said that often times, music is a metaphorical journey that provides people with an escape from stressors in their lives. Through beats, timing, and synchronicity, Johnson takes her audience where they want to go and said she feels overjoyed to make a living sharing these experiences with her audiences. Above all, she loves what she does and finds joy in finding the perfect timing and transitions to transport her audiences through space and time.
"I take my audiences on a journey," Johnson said. "A journey through my days of childhood, past heartbreaks, or maybe just a special uncharted journey that creates the perfect vibe that everyone will remember partying to in the future."